Go to the Archive index
---

Wall Notes, April 1997
by Ken Thomas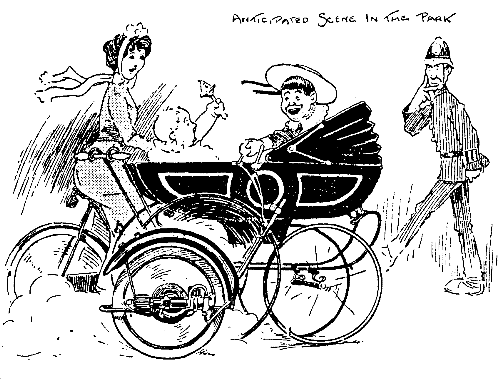 Here is another Wall cartoon by Tom Radford, printed in Motor Cycling on 22nd November 1909 under the heading "What the inventor of the Wall Autowheel did not anticipate". I only hope the little'un in the pram can steer it as the driver is going backwards.
Shown is one of A W Wall's first attempts at the Autowheel, reported in Motor Cycling the week before the cartoon. It was shown on stand 88 at the Stanley Show. The horizontal engine of 1½" bore and 2" stroke was an air-cooled, two-stroke, flat twin; only one cylinder fired; the other, by way of a long truncated piston, pumped the charge into the working cylinder. The hub contained a flywheel and 6:1 reduction gears. The mudguard was the oil and petrol tank.
The marque has been very active lately and some of the points raised are members asking about engine numbers. As far as I know (with the usual disclaimer) Autowheel numbers started at 3000 for 1913. They claimed to have sold 1,750 units that year so this would mean that at the end of 1913 they should have reached 4750. I own a 1913 model with engine number 4436. For 1914 they started at 4000 but, as they had already used 750 of this series they must have started at 4750. The claim for 1914 was that 10,000 units had been laid down: 5,000 by Autowheels and 5,000 by BSA. If this claim was carried out then 1914 Autowheels engine numbers should have reached 9750.
1913 early units had tubular engine mounts front and rear, induction direct over the inlet valve and no silencer box on the front engine mount; later 1913 models had a platform engine mount at the back and tubular at the front. 1914 models have platform mounts front and rear, induction into the side of the cylinder block and an exhaust box in the front engine mount. Does any member own a 1913 model with front and rear tubular mounts?
One other item of interest regarding UH magnetos: the UH stands for Unterberg and Heilinle.
---
by Tony Lloyd
Wall Autowheel Trench Pump
I am indebted to Nick Devonport for sending me an article from a magazine called "The Stationary Engine". A correspondent had unearthed an incomplete World War I Trench Pump driven by a Wall Autowheel engine and was looking for information. By pure coincidence only a few months ago I found an original article on this device in a 1915 copy of Motor Cycling. In the article there are two views of the pump on its bedplate and a picture of the Admiralty observed demonstration. (Don't ask me why the Admiralty was interested in Trench Pumps.)
For six hours the pump lifted 3000gals/hr through a head of 10ft. A specially designed one and a half inch centrifugal pump was fitted and water cooling was provided by an ingenious spiral of copper pipe wrapped round the cylinder fins. As far as I know this is a unique piece of history and I hope we can manage to get it working. Can anyone help with a carburettor in the first instance? The pump is also missing and this may prove more difficult but not insurmountable.
---
by Tony Lloyd
I've been Wall Auto-Wheel Marque specialist for a couple of years now. Though certainly not an expert, I hope I've been able to help those who've asked for info on a subject. I get an average of one enquiry a month and can usually find settings, re-prints, etc, to point people in the right direction. John Workman, the VMCC expert, has been a mine of information, and I'd like to acknowledge his freely given advice.
I made one of my pilgrimages to the British Library Newspaper and Periodical Archive in NW London recently, and came across a couple of snippets concerning the marque which I hadn't heard of before.
Auto-Wheel Rally organised by "Cycling"
In the issue of Motor Cycling for 7th October 1913 there was an article about the previous Saturday's Auto-Wheel Rally. It was organised by the sister publication, Cycling, at Wisley Hut (a hotel on the Portsmouth Road). "Instead of the lordly motor being in the ascendant, its place was taken by a swarm of Auto-Wheels."
The winner of the cup for the best Auto-Wheel "had travelled over 10,000 miles with its aid". One had a full size trailer and one was fitted to a tandem.
Non-Technical Explanation
Then, on 31st October 1913, there was an article explaining in non-technical terms how the Wall is fitted to the cycle and the method by which the suspension allows the wheel to follow undulations in the road surface. Tips are included on sieving petrol when pouring it into the tank and grinding in the petrol tap spigot if it leaks. After this an explanation is given of how a carburettor works, comparing it with the ball-cock in an ordinary cistern.
Also in this article was a picture of a pair of handsome silver vases awarded by Cycling for the smartest Wall outfit at the recent Auto-Wheel Rally. Second prize was a fine leather tool case complete with tools. Rally organisers please note!
Next time I visit the Library I'm going to check the corresponding issues of Cycling.
Elementary My Dear Watson
Sir Arthur Conan Doyle seems to have had shares in the action. On 11th November 1913 there was a blatant piece of advertorial which I'm sure only got published because his name was on it. Nevertheless it is quite interesting.
He claims to have some involvement in developing the device which has an "enormous future". They will soon be in use by the "hundred thousand" and will "give a boom to the cycle trade", nor will it interfere with the motor cycle trade for "the young fellow who loves power and speed will still prefer the motor cycle and the Autowheel will be a kindergarten device". No worries about political correctness in those days. He then goes onto suggest that dad (paterfamilias) can put it on his bike for business, mum (mater) can put it on hers for a spin on Saturday, and one of the boys can fit it on his for the summer holiday. "In a year or so they will be everywhere, they are cheap, effective and meet a popular want!"
Most people enjoy reading period periodicals; for those who do I can recommend a visit to the library which is right opposite Colindale tube station. Be sure and take some ID though. I'll write again in a few months after I've researched 1913 volumes of Cycling. In the meantime, I'm always pleased to get info from members on the marque, including experience of use.
---
by Tony Lloyd
Mr R O Clarke, Wall Autowheel Rider
I received a very interesting note from Mrs E Twemlow enclosing a photo of Mr R O Clarke on a Wall Autowheel. I would guess the period to be early twenties and on the back it says "R O Clarke Secretary of Meeting, Norfolk M/Cycle and Light-Car Club". Mrs Twemlow writes that Mr Clarke was a pioneer motorcyclist who competed in the 1908 TT on an FN, finishing third in class. He served in the RFC in WWI and rode a 250cc Levis in the 1920 TT which he almost won, but took a spill and finished fourth. Where he fell is now known as Clark's Corner.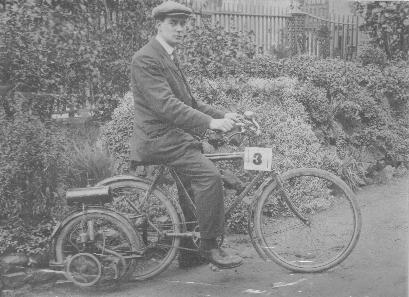 Unfortunately Mrs Twemlow didn't include her address so hopefully a reader will recognise the name and pass on my thanks to Mrs Twemlow for this interesting bit of history.
---

Go to the Archive index