Bitza autocycle
John Ewart
In the ornithological world, once knowledge gets out of an unusual bird or one of abnormal colouring, bird watchers travel miles just for a look. I think they're called 'twitchers'. I've yet to hear of NACC members rushing off to see a yellow Quickly or a purple Solex - but I've bought something that's a real mixture.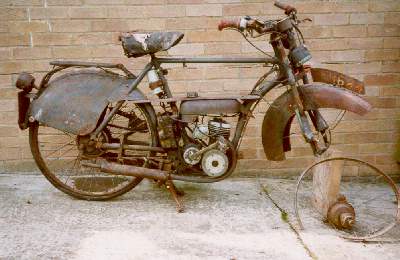 The frame is from a Cyc-Auto; it's been cut about and extra tubes welded in. The spring forks are homemade. The engine has a Villiers JDL barrel and is, maybe, an industrial version; it's about 100cc. It has a separate clutch and 3-speed gearbox, which could be Albion. The one definite part is the Trojan petrol tank - but in an odd place. The wheel hubs look like BSA Bantam and have been fitted with 26"×1 3/8" rims. The number plate indicates 1949 registration and someone unknown has spent a lot of time putting it together.
What do I do with it? It's very heavy and needs tyres that are more robust. It does have pedal so is a 'cyclemotor'. It's certainly unique; maybe I'll restore it next century.
If a cyclemotor twitcher is out there - at 50 years of age it isn't going to fly away. Burying it might be preferable!
---
First published - October 1999
---