Go to the Archive index
Letters to the Editor - February 2000
---
Dear Andrew,
I am writing to inform club members of the sad fate of Mike Wilsdon's Transport Museum at Kew in Surrey. The premises that house the collection has been sold to property developers and Mike has been give 6 months to quit.
The museum is a fascinating place to visit, not only for the many rare and wonderful exhibits, but it is also a unique educational facility. Any club members who have not visited the museum (which includes a cyclemotor section) and wish to do so, preferably in a party, can contact Mike Wilsdon at 41, Burlington Avenue, Kew, Surrey to make an appointment before time runs out. He also has a vast number of transport artefacts that need a good home: from trade bikes to Trusty tractors and beyond.
Yours sincerely,
Graham Pike.
---
Dear Andrew,
Peter Campbell's stirring article in the December magazine, New Hudson Restoration, has moved me to put pen to paper.
I acquired a New Hudson, also 1952 model, in pretty good condition, just lacking a stand and engine covers, which it still does, and also missing its silencer. My son, then aged about 17, fitted new coils and got it going quite easily. Then he cleaned and painted it up. As its brakes were poor and as we had no practical use for it, we stored it at the back of the garage. However, I did get the brake shoes relined.
A chance visit to Carl Squirrell's motor cycle shop resulted in me joining the NACC and, with great help from Michael Flood, my New Hudson is now on the road, licensed and insured, albeit with an oversize Honda silencer. It starts readily and goes well. I think that I have been lucky in that it has only done a small mileage.
As Peter says it is a thing of beauty and a joy to behold. As soon as there is warm weather next year, I intend to use the New Hudson quite a lot for local runs around here.
May I take the opportunity to say what an excellent magazine Buzzing is?
Yours sincerely
Keith Ashby
---
Transport of the Future

Is it a bird, is it a plane, or is it the most comfortable and practical modern cyclemotor you have seen? Built from a Saracen Dual Suspension ATB modified to the rider's requirements, powered by an uprated 50cc Bernardi Buzz. Owned by Leicestershire member Tony Everard, it's a very smooth and extremely nice machine to ride.
Yours sincerely,
John W Hook.
---
7 Maxwell Drive, Papatoetoe,
New Zealand.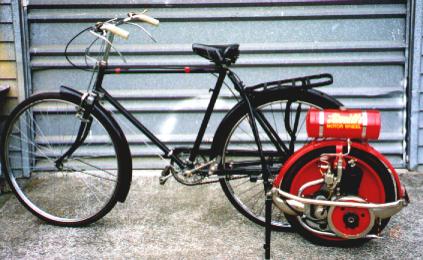 Dear Andrew,
I have a Wall Auto Wheel, which runs very well and I am sometimes asked to lend it to museums to put on display. It was originally designed by Mr A W Wall. Who was the Mr Wall, its inventor? Does anybody out there have any details of his life? And what was his connection with Sir Arthur Conan Doyle?
I have an old motor cycle book that shows Arthur Conan Doyle, complete with deerstalker hat, knickerbockers & motor cycle costume of the period. He is holding an early motor cycle of unknown make, possibly a prototype of a Roc motor cycle. Are there any clues on this? Did he have shares in this? Sherlock Holmes would know; he would have found in elementary!
I would be interested to hear of any responses relating to Mr Wall.
I also have a Smith Motor Wheel, made in Milwaukee, USA in 1916. It has a 150cc AIV engine and has been restored at great expense. It has very similar characteristics to the Wall but, of the two, I much prefer the Wall. The Smith is too hard to start; there is an 8-to-1 reduction between the engine and the road wheel. Once under way, it packs a might punch and, having no neutral, cam be quite dangerous unless ridden with caution.
Yours sincerely,
Patrick Wood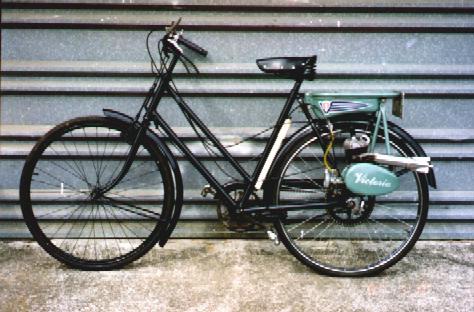 Another of Pat's machines: a Victoria
---
First published - February 2000
---

Go to the Archive index
---