Go to the Archive index
---
Autocycle A B C
No.4 - Bown
Bown was a cycle and motor cycle manufacturer that became part of the Aberdale Cycle Company in the early 1930s. William A R Bown had a seat on Aberdale's board and was commissioned to produce a replacement for the Aberdale autocycle (the subject of part 2 of this series). The replacement was needed because of the introduction of the Villiers 2F engine and all makers of Villiers-powered autocycles were redesigning their Junior de Luxe engined machines to use the 2F.
Aberdale was provided with a factory at Llwynypia in 1949 under the Labour Government's Advanced Factories Scheme. This factory produced both autocycles and motor cycles, which were originally launched under the Aberdale name at the 1948 Earls Court Show with production scheduled to begin in March 1949. February 1950 saw the autocycle's appearance on the market as a Bown product.
The new frame was unusually well engineered for an autocycle, being a cradle type with duplex down tubes, Otherwise, the Bown had all the usual features of the 2F 'family' of autocycles: 4-inch [102mm] hub brakes front & rear, Villiers lighting set, lever operated throttle, strong rear carrier, rear stand and pressed steel girder forks. Some more individual features were inverted brake levers, a box silencer mounted between the frame rails under the bottom bracket and a spring loaded jockey wheel to tension the pedalling chain. The colour was maroon with gold lining and its price (in March 1950) was £58 15s 8d [£58.78], which included £12 10s [£12.50] Purchase Tax. Production ceased when the factory closed in 1954 with about 2,000 autocycles having been produced.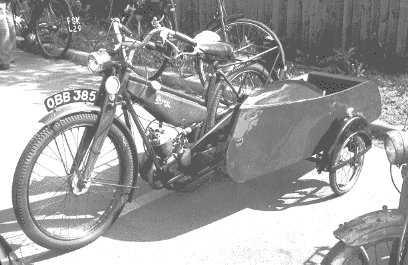 A Bown autocycle fitted with a Watsonian sidecar
The next article in this series will describe the BSA autocycle.
---
First published at www.autocycle.freeserve.co.uk in April 1998
A more recent and more comprehensive article on the Bown autocycle is Enter the Dragon.
---

Go to the Archive index
---