Go to the Archive index
Autocycle A B C
No.9 - Dayton
The Dayton Cycle Co Ltd at Dayton Works, Park Royal Road, North Acton, London NW10 originated at 221-222 Shoreditch, London E1 as Chas. Day & Co and was a well-established manufacturer of high quality bicycles. Although primarily a pedal cycle manufacturer, Dayton made occasional forays into the motor cycle arena. The first of these was the Dayton Motorised Bicycle, a 162cc machine produced in 1913 and, as its name suggests, little more than a stengthened bicycle frame with an engine attached.
The name "Dayton Motorised Bicycle" was resurrected when Dayton produced its autocycle, just before the Second World War. This machine was very similar in appearance to most other pre-war autocycles, having inverted brake levers, rear stand and the smaller style of fuel tank. It was also fitted with a rear carrier and a curved toolbox mounted low down between the left-hand chain and seat stays. Both brakes on the Dayton were cable operated and the machine retailed at 17 gns [£17.85] in 1939, a guinea cheaper that most other autocycles. The autocycle was only produced for the 1939 season; Dayton did not produce any autocycles after the war although they continued as producers of pedal cycles.
Dayton's final excursion into motorised machines was a scooter, the Dayton Albatross, produced from 1954 to 1961.
Very few Daytons were made; it is probably the rarest of all autocycles (excluding those that never made it past the prototype stage). At the time of writing, the NACC has only heard of one surviving example of the Dayton autocycle.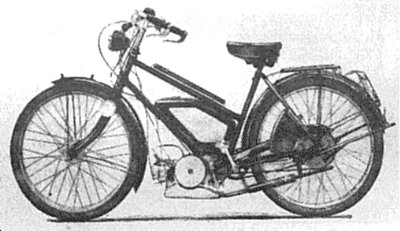 1939 Dayton autocycle
Note for US readers.
There was also a 'Dayton' produced in the US. This was a strengthened bicycle with a modified Smith Motor Wheel as its front wheel. It was built by the Davis Sewing Machine Company of Dayton, Ohio and was not connected in any way with the British Dayton.
The next article in this series will describe the Excelsior Autobyk.
---
First published - September 1998
---

Go to the Archive index
---