Go to the Archive index
Autocycle A B C
No.12 - HEC
There were two UK companies using the name "HEC" for motor cycles. The HEC we are considering was the Hepburn Engineering Company, which set up HEC Power Cycles Ltd of 234 Pentonville Road, London N1 to manufacture autocycles. There was no connection with the Hewins Engineering Company of Taunton that produced HEC motor cycles from 1922 to 1924.
The HEC Power Cycle was machine that differed from the Villiers powered 'norm': it had an 80cc Levis two-stroke engine. The die-cast crankcase incorporated an oil-bath primary chain-case that enclosed the clutch and the duplex chain primary drive. The final drive was also by chain. This was unusual in using the same size chain as the pedals. Overall gear ration was 14:1.
Introduced in 1938, the prototype machines differed only slightly from later production models. The usual controls were fitted, using inverted levers to operate the brakes. The improvement of a back-pedal brake was later offered as an option - HECs fitted with this had a conventional brake lever. A rear stand and a carrier were other useful features that had not been included on the prototype but were incorporated on the production version. To accommodate the rear stand the exhaust had to be changed. On both models the engine exhausted into a large alloy expansion chamber; the long tail-pipe of the earlier machine continued to the back of the rear wheel but later models had a second tubular silencer and a short pipe to leave room for the stand to be lowered. A less obvious improvement was a change to a three-point, rather than two-point, mounting for the engine. Before World War II the HEC was marketed at the price of 17gns [£17.85].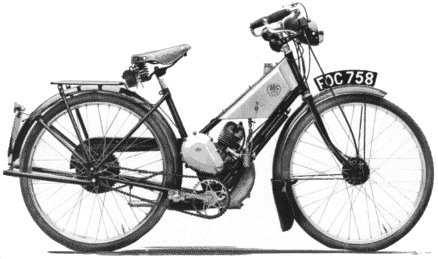 1939 HEC Power Cycle
According to employees of HEC, there were some special versions of the Power Cycle. These were a 'racing' version, which had smaller wheels—about 20 inches diameter, normal machines had 26 inch wheels—and dropped handlebars; and a tandem.
HEC moved to Thorp Street, Birmingham in 1939 (at the rear of the Hippodrome theatre). Production of the HEC stopped at frame number 885 on 3rd May 1940 when the Thorp Street works was bombed. The remaining bits and pieces were removed to the Levis works at Stechford, where the engines for the HEC had been built.
The Power Cycle did not reappear on the market after the war, although the Levis engine was still available and used in some foreign machines, the Swedish-built Apollo for example.
The next article in this series will describe the James autocycle.
---
First published - December 1998
---

Go to the Archive index
---