Go to the Archive index
Autocycle A B C
No.15 - Malvern Star
Although not a British make, the Malvern Star, both in its history and appearance, closely follows the pattern of its British cousins. Malvern Star Bicycles was founded in the early years of this century by Tom Finnegan who ran a small bicycle shop in Malvern, a suburb of Melbourne, Australia. Ton Finnegan retired in 1920 but, under the ownership of Bruce Small and with the publicity gained from its association with the renowned racing cyclist Sir Hubert Opperman, Malvern Star grew greatly in size, from producing five bicycles a week in the 1920s to having 100 branches and 1,000 agencies throughout Australia by 1945. Through a series of mergers and take-overs it became part of General Accessories, Australia's largest cycle maker in 1980. Although different sources dispute the date when Malvern Star began production of autocycles in Australia, the Malvern Star followed the pattern of British autocycle and it is most likely that their first model was a Junior de Luxe powered machine, built just before World War Two. The very first models, like their British counterparts, had a small petrol tank & a cycle-type fork and appear to be based on the Norman Motobyk. A number of autocycles was built during the war years and, as in Britain, these were intended for essential workers such as Civil Defence wardens. There were two models, an unsprung Economy model and a de Luxe version with a pressed steel girder fork. The design of the frame changes during the war years, almost certainly being home-produced as supplies from the UK would have been dificult during the was years. Bracing bars were added to the rigid fork version and a longer petrol tank was fitted. The use of the longer tank again mirrors UK production.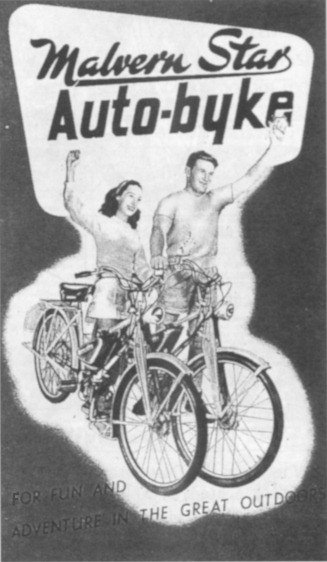 Brochure for the Post War,
Villiers JDL version of
the Malvern Star Auto-Byke
After the war, the Junior de Luxe-powered model continued but reverting to a smaller tank. This triangular tank is very similar in style to a speedway bike's tank. Although the Auto-Byke was nearly all Australian made by now, it still used British-made Villiers engines. So When Villiers stopped making the Junior de Luxe, in 1949 Malvern Star was forced to mirror UK production again by making an autocycle with the Villiers 2F engine. This 2F-engined model looks similar to the British-built Norman (or Rambler) autocycle, but small differences indicate that it was of Australian production. Autocycles were declining in popularity and production ceased in 1952. Malvern Star also produced a motor cycle version; this has no pedals and uses the Villiers 1F two-speed engine. Apart from that, it is little different from the 2F machine, so it still looks like an autocycle. This model was only made in 1951
Although the Malvern Star name survives it is now carried by Taiwanese-built bicycles.
The next article in this series will describe the New Hudson autocycle.
---
First published - March 1999
Revised - November 2014
---

Go to the Archive index
---