Go to the Archive index
Autocycle A B C
No.20 - Sun
The Sun Cycle & Fittings Co. Ltd., Aston Brook Street, Birmingham 6 produced its first Sun-Villiers motor cycle in 1931. However, it had not produced any motor cycles for several years when it launched its autocycle range in February 1940.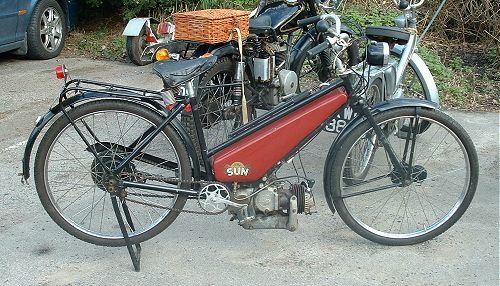 A surviving example of the Sun autocycle
Three models were announced: the Standard had a rigid fork and was powered by the Villiers Junior engine. It retailed at a price of £21. An extra pound would buy the de Luxe with a Villiers Junior de Luxe engine and a spring fork whilst another 10/- made up the price of a Super de Luxe machine. The Super de Luxe model was the same as the de Luxe but with the addition of louvred engine covers.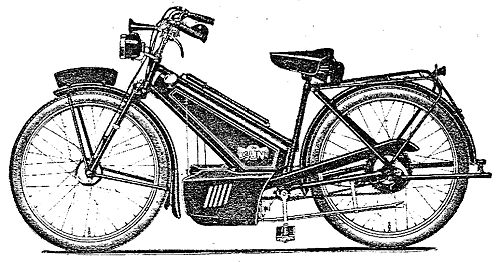 1940 Sun Super de Luxe autocycle
The Sun followed normal autocycle practice with the larger style of fuel tank, 'non-inverted' handlebar levers for both brakes, rear stand, Brooks saddle and a long straight tail-pipe from the Villiers engine's expansion box. There was no tool box, the tool kit being carried in a small leather saddle bag. A pump was supplied and this was mounted above the frame top tube. Two-inch section 'Oversize' tyres were fitted to 26 × 1¾ wheels. The Webb spring fork was not a girder type: it was a telescopic fork.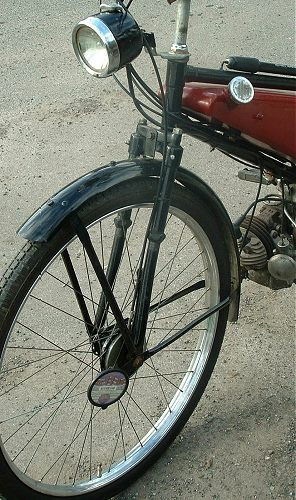 The Sun's spring fork
After the end of the war, the Sun autocycle was re-introduced with very few changes. The tank had been slightly modified and the telescopic fork had been replaced with a more conventional Webb girder fork. That was about the only change - the machines were similar enough for Sun to still be using the picture of the 1940 Super de Luxe in its advertisments as late as 1949.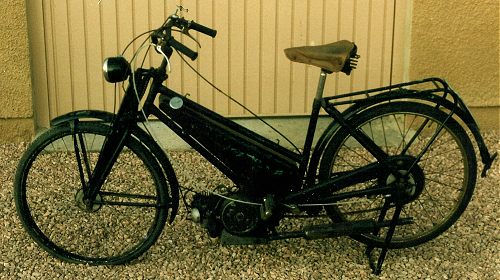 1947 Sun autocycle
In common with other autocycle manufacturers, Sun changed to the Villiers 2F engine in 1949. The distinctive features of the 2F-engined Sun were its motor cycle style saddle tank and its diamond-shaped exhaust silencer with a fish-tail.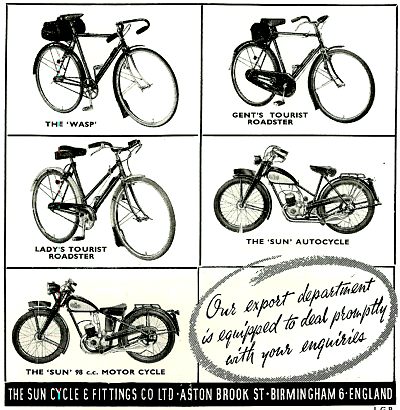 Some of the 1949 range of Sun machines
Surviving Sun autocycles are less common in the UK than other makes of the time. This is because a large proportion of Sun's output went for export.
The final article in this series will describe the Three Spires Petro-Cycle.
---
First published - September 1999
Revised - November 2006
---

Go to the Archive index
---