Go to the Archive index
Moped Miscellany—No 3
De Dion–Bouton
If someone told you they had a De Dion–Bouton moped, would you believe them?
De Dion–Bouton is famous for its cars and three-wheelers that were popular at the turn of the century. Large single and twin cylinder De Dion–Bouton engines were also used in two-wheelers: the standard turn-of-the-century machines that used frames like massively strengthened bicycles. But a moped?
Conventional wisdom has it that this activity was limited to around the beginning of the 20th century. In any case, we know that De Dion–Bouton's automobile production stopped in 1923. But De Dion–Bouton mopeds do exist, and here is an example: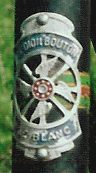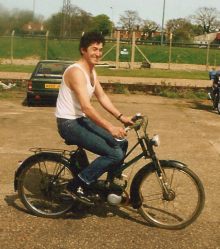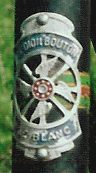 So, what is this moped? Its outline and design suggest the post-war period more than the 1930's but a 'De Dion-Bouton' badge is fixed on the front and the name is repeated on the chain-guard.
De Dion–Bouton broke into bicycle construction in late 1909 or early 1910, on its old production line at the rue Ernest. And not just any old bikes! They put all the skills and expertise of the De Dion-Bouton factory into these machines; built to satisfy their customers 100%. Their production also extended to autocycles: 100cc machines of the French écclésiastique style with Stanless engines. An example of one of these De Dion–Bouton machines of the inter-war years can be seen at M Chapleur's cycle and motor cycle museum in Lunéville, France. The moped illustrated above is much later in date. The clue to its origin is in the words 'Le Blanc' on the headstock badge.
Etablissements Chichery in the Le Blanc district of Indre, for many years built cycles, mopeds, autocycles and motor cycles under the marque name of Dilecta. They also managed to acquire the rights to the De Dion–Bouton name and, during the 1950s and 1960s, their output used both the Dilecta and De Dion–Bouton names indiscriminately.
Having several marques was a common practice in France at that time. In Chartres for example, the local assembler, constructor and wholesaler was Ets André Gagnon (André Gagnon was mayor of the town for many years), which traded its products under the names:
Réalty,
Radiane,
F.A.G. (Fabrication André Gagnon),
Carnutes.
At Lons-le-Saunier there was the Lédonien cycle agency with:
Debello,
Clipper,
Clarus,
Triomphus.
Ets Baud in Le Doubs with:
Betty,
Elfil,
Luxia,
Jurasport.
Ets Jeunet at Dole (Département 39) with:
Captivant,
Jurax,
Sewa,
Radia,
Eurocycles.
F Simon with:
Sif,
Esper,
Prester,
Semper,
Mondia,
Elite,
Sport,
...
An example of the De Dion–Bouton moped can be seen at the North Walsham Motor Cycle Museum, Norfolk, Great Britain.
---
Thanks to La Vie de la Moto and G Cook for information.
---
First published - February 1997
---

Go to the Archive index
---