Go to the Archive index
Moped Miscellany - No6
The Hercules Grey Wolf
First a word of explanation: there are two makes of moped called "Hercules", one British, one German. The German Hercules is part of the Fichtel & Sachs group of companies and still produces cycles, both powered and unpowered. The British Hercules name is, after a succession of take-overs, now owned by the Raleigh cycle company. The moped described here is a product of the British Hercules company.
The Hercules Cycle & Motor Co Ltd of Rocky Lane, Aston, Birmingham launched its moped at the Earls Court Show in November 1955. The Grey Wolf was a truly British machine, unlike many of its contemporaries. Although many British companies were selling mopeds with their names on, in many cases these were re-badged imports from continental Europe. Other companies used German or Italian engines in their own frames. The Grey Wolf, however, had a British made engine, an engine that carried the name of a long-respected motor cycle engine manufacturer: J.A.P.
This 49cc two-stroke engine was unusual for a moped in that it was mounted with its crankshaft running fore & aft. In the front was a Miller flywheel magneto, and behind was a clutch and two-speed gearbox. A pair of bevel gears turned the drive through 90°. From here a conventional chain took over and transmitted the power to the rear wheel.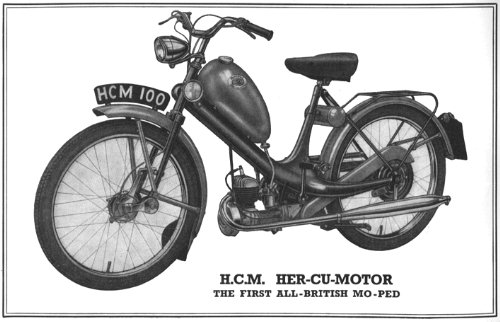 The frame followed the usual sweeping lines that were popular at the time. The main frame members were two large D-shaped tubes. These were arranged back-to-back to give the appearance of a single round tube; they ran from the headstock to above the bottom bracket, where they divided to become the chain stays.
A distinctive feature of the Grey Wolf way its front suspension. This was of the short leading link type, the suspension medium being rubber in shear. A parallelogram arrangement took the torque reaction from the half-width front hub brake.
The name "Grey Wolf" was soon dropped in favour of "Her-cu-motor" - often abbreviated to HCM. Presumably the change was made to allow the use of more flamboyant colours than the distinguished grey of the original models. A reminder of the first name remained in the Wolf's head that appeared in the centre of the tank badge.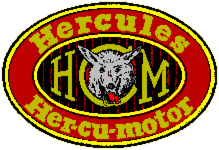 ---
First published - May 1997
---

Go to the Archive index
---