Go to the Archive index
Moped Miscellany - No9
1961 Joybike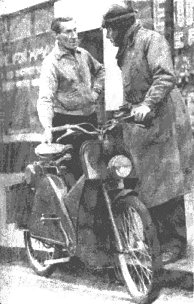 The Joybike was an unusual machine in several respects: it had a larger engine than most mopeds, a peculiar transmission system and three indepedent braking sytems.
It was built by the Birmingham company H V Powell (Cycles) Ltd.  The first Joybike was announced in January 1958 and this early version differed somewhat fron the later model.  The original Joybike was powered by a 49.9cc Trojan two-stroke engine.  This was mounted with the cylinder pointing downwards and it was fan-cooled.  Transmission followed the usual moped practice of using a variable pulley primary drive and a chain final drive.  The rear brake acted on the countershaft pulley rather than directly onto the rear wheel and a three-speed hub was fitted.  This gave three gears for pedalling, the drive from the engine did not go through these gears.
So, all in all, it was a faily unconventional machine.  However, when the 1961 model was announced in December 1960, this unconventionality scaled new heights.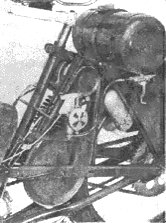 The three-speed had gone from the newer model; it was replaced by a coaster hub.  Despite having this back-pedal brake in the rear wheel, the transmission brake was retained.  This, in addition to a normal drum brake at the front, meant that the Joybike now had three independent braking systems.  Also gone was the variable pulley drive.  The countershaft on the earlier Joybike had to be moveable to maintain the belt tension as the effective diameter of the engine pulley varied.  The newer model still had a moveable countershaft even though it was a single-speed machine.  The movement of this shaft was controlled by a handlebar lever and it varied the tension in the drive belt to act as a rudimentary 'clutch'.
The engine was now a 79cc J A P two-stroke giving a power output of 1bhp at 2,500rpm.  Although no longer fan-cooled, the engine was still mounted in the same 'upside-down' position.
---
First published - August 1997
---

Go to the Archive index
---