Go to the Archive index
Moped Miscellany - No10
1959 Benelli '49 Export'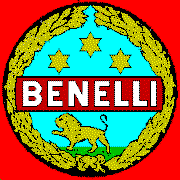 Benelli, an Italian motor cycle company founded by six brothers, became firmly established between the two World Wars.  The Italian economic revival of the mid-1950s was the inspriration for Benelli to produce its first moped.  This appeared at the end of 1956 and was a simple utility machine.  The single-cylinder two-stroke engine was almost 'square' with a 40mm bore and 39mm stroke.  It had a cast-iron cylinder and aluminium alloy head and crank-case.  Primary drive was by chain to a three-speed gearbox—controlled from a twistgrip.  Power output was 1.8bhp at 6,200rpm.  The open pressed-steel frame had suspension at both the front and rear.  The machine was carried on 20" wheels.
This machine was to be the first of many and the range expanded over the coming years
1957 saw a Sports model added to the range and in 1958 the Grand Touring and Scooter models were introduced.  The Scooter was merely an enclosed moped; its wheels were only slighty smaller at 19" and it still had pedals.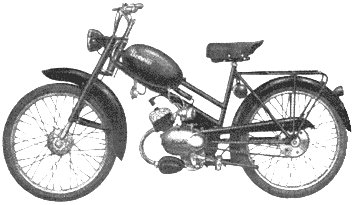 The 1959 49 Export model was the first 'downward' extension of the Benelli range.  The Export had a tubular frame—using two parallel main tubes like a lady's pedal cycle frame.  It had a telescopic front fork but was unsprung at the back.  The engine was substantially unchanged but its power was reduced to 1.5bhp.  This brought it in to line with new moped regulations being introduced in several European countries.  The wheels of this new version were of 18" diameter.  The original Benelli moped disappeared from the range with the introduction of the 49 Export.  Its place was taken by the 49 Export Lusso, which was substantially the same as the 49 Export but had the extra comfort of rear suspension.  The range was completed by the 49 Scooter and the 49 Sport.
The 49 Export remained in production until 1963 when the Benelli moped range was again revised.  Just after WW2, one of the Benelli brothers—Guiseppi—broke away to set up his own company: Motobi.  By 1963 Motobi was firmly back in the Benelli fold and the Export models from then on were based around the single-tube Motobi Monomarcia frame.
---
First published - September 1997
---

Go to the Archive index
---