Go to the Archive index
Solex - a strange encounter
by John Ewart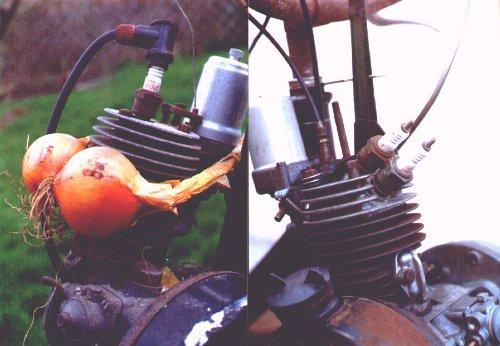 Dear Buzzers,
I shouldn't really be telling you this but a few weeks at my Sunday Boot Market I picked up a photo album with pictures of Solex engines in various stages of tune.  "Just what I need", I thought, "when the London Section organises the Thames Bridges Run, I'll really burn rubber that day".  There was a name in the album and, after some difficulty, I contacted the person and arranged a meeting.  He opened the door in his dressing gown (and I thought that's a strange place for a door).  He asked me in and cleared the kitchen table with a single sweep of his arm; I sat down thinking "What's next, and is the lady of the house at home?"
I showed him the photo albums and he pointed out that grouping onions around the cylinder when hot did produce water vapour that increased the oxygen in the air.  Although able to go faster, the fumes given off made his eyes water and he had to keep slowing down.
It was a sad story—he had a passion for Solexes and had tuned them and had tried to enter them at Prestcot Hill Climb, Santana Podd drag strip and at the North Wheald sprint day, but had been flatly rejected.  I said I would contact these people to find out why.  He was so pleased, "Will you", "Will you", "Will you", he kept saying.
Solexes were his love and he said he'd been conceived on the back of one.  I muttered something about the centre stand not being very strong; he laughed and said "Strong enough!"  Then he asked if I had seen the Whipping post on the Odiham Run...
I began to feel uneasy and started to leave.  "You will contact those people?"  "First thing tomorrow", I replied.
I was about to get into my car when a brick hit me on the back of my head; I turned round and there he was smiling, "You won't forget will you?—April fool".
---
First published - April 2000
---

Go to the Archive index
---