Go to the Archive index
---
by Mike (the trike) Crumpton
I enclose this photo of a 1931 rocket-powered cyclemotor in the hope that it may inspire the Richard Nobles in Mark Daniels's Suffolk racing fraternity to progress beyond the restrictions of traditional internal combustion machines to what must surely be the cyclemotor for the new millennium. With such a steed, the Coast to Coast could be negotiated in minutes; while with suitable modification and moderate LPA, intergalactic cyclemotoring could easily be achieved. It may, however, be necessary to shop around for an MoT station prepared to issue a certificate of spaceworthiness!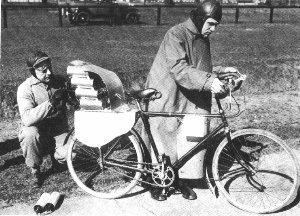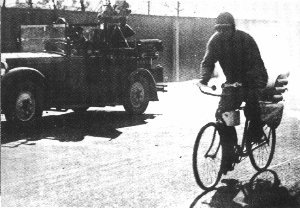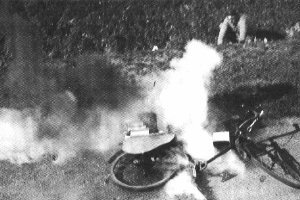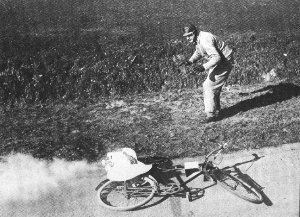 The intrepid cyclemotorist in the photo was only slightly injured when, at a speed of 90km/h, he was thrown from the track & his cycle exploded. Better order those asbestos trousers Mark!
---
[The "intrepid cyclemotorist" depicted was a German engineer named Richter and the test of his cycle, powered by 12 rockets, took place at the Avus race circuit. Although the predicted speed was 90km/h, I believe that the cycle only reached 30km/h when it became apparent to Richter that things were getting uncomfortably hot and he 'abandoned ship'. The entire episode was filmed and I would be interested to hear from anyone member who has a copy of the film. - ]
---
First published in Buzzing - April 2000
---
Twenty years after Richter's rocket-propelled bicycle, in 1951, this French-made 'Véloréacteur' received a fair bit of attention in the press.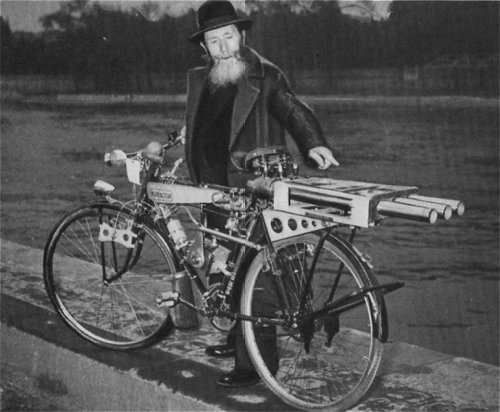 It is pictured here along with its designer, Pierre Noubel [*]. There are no photographs of it in motion. However, the machine stll survives and is currently (June 2008) on display at the Musée de la moto et du vélo, Château du Bosc, RN100, 30390 Domazan, France.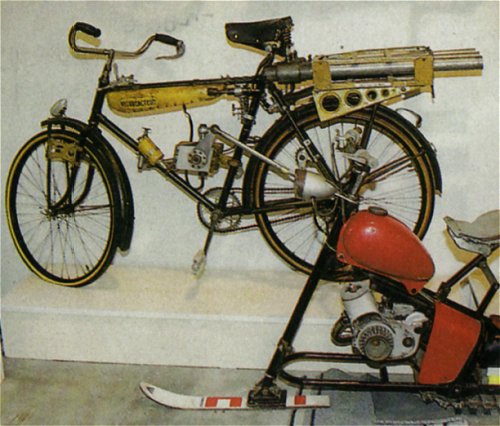 Some sources wrongly give the desigher's name as Louvel.
---
By Dominique Charron
Looking for informations about jet propelled mopeds and motor cycles, I found the Moped Archive (quite interesting and humouristic, bravo) and read the text entitled Rocket II featuring the French-made Véloréacteur. There was a question about the Véloréacteur builder's name: I can confirm that Pierre Noubel (not Louvel) is the name mentioned by period motor cycle press.
I send you two odd pictures found in Moto Revue (in 1949 and 1951 issues): in the first one (found in an item about jet engines and their possible application to motor cycles) we can see what Moto Revue called "Simplex - Servi Cycle, built by the Aeromarine Company". In fact the Simplex Servi Cycle was a pre-war US 125, used during WWII as a paratroops' lightweight motor cyle and still in production on the 1950s and early 60s. Here, the original two-stroke engine has been taken off and two jet engines fitted.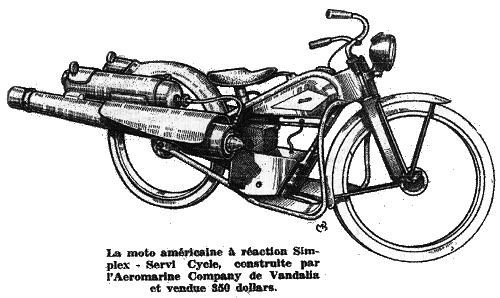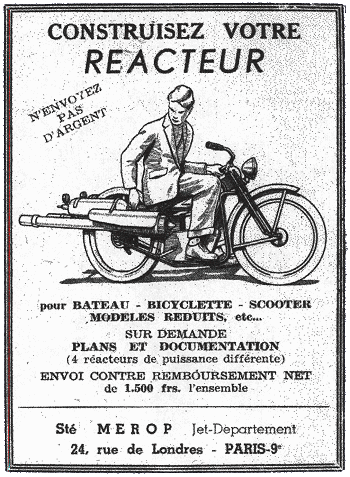 BUILD YOUR OWN JET ENGINE
Don't send any money
for BOATS - BICYCLES - SCOOTERS - SCALE MODELS etc...
PLANS AND DOCUMENTATION ON REQUEST
(4 different capacities jet engines)
WE SEND FOR FF1,500
MEROP Co Jet department
24 rue de Londres
Paris 9.
I just know a few details about this oddity: the Aeromarine Company in Vandalia, Ohio, USA built little jet enginess for scale models but I doubt that they ever built and sold any jet popelled Servi Cycles. In fact these two pictures have been drawn by the same draughtsman (Moto Revue employed a full-time draughtsman and these two pictures are in exactly the same style as all the other ones in this period's Moto Revue issues). I guess this machine never existed but except the pages of Moto Revue.
---

Go to the Archive index
---