Go to the Archive index
Yer Tiz! - well, will be Dreckly
by Laurence O'Brien
The Bristol Millennium Classic Bike Show
Members may recall that at last year's show Mike Rendall had been invited to a Louis Vitton bash. Well, Mike came along this year and entertained us with tales of rubbing shoulders with the toffs that inhabit "Who's Who" and "Burke's Peerage", so settle down and I'll tell the tale: Mike, having arrived at the Louis Vitton mansion, (and he means mansion) and having completed the formalities was given a carrier-bag full of goodies, such as eau de toilette and chic gear for his wife and a wagon load of incomprehensible vouchers and stylish key fobs and tasty little designer thingies like that. In to breakfast and found that the book of vouchers was for champers and hampers to tide them between meals through the day. Now Mike's bike was an Excelsior Autobyk, a lady's model you understand; it just wouldn't be the done thing to have Mike himself riding this, no, they had whipped in a charming lady by the name of Gwen White, who had been something in the '60's Scottish Trials scene. And she wasn't dressed just any old how, oh no, she was in leather helmet, matching goggles, 3/4-length immaculate leather jacket and leather jodhpurs. It was hard to see which was the star, she or the 'byk. Of course, this progressed through the day, lunch and afternoon tea all provided as were the copious quantities of fizz. Mike engaged a nice young man in conversation and turned to the topic of sailing: Mike had expressed an earlier interest in dingy sailing in his Geordie homeland, whereupon fellow sailor related that he had become a little anxious since his keel had fallen off at one time. Quite so, agreed Mike, one could get rather wet. "Jasmine, dear", called the sailor "do come and meet Mike". Yes indeed, it was Simon le Bon. Mike pressed for a photo alongside one of his heroes—no problem. Well, there was—Mike's wife, Sandra, who unaccustomed to the camera, photographed the three of them but chopped off Simon and Jasmine! Did it matter? Not a lot because she captured Barry Sheene instead! Whilst walking to his motor home Mike was assailed by a French woman promising unbounded affection for "le winner". Winner? Winner? Mike had not yet heard the results of the concours d'elegance where he had collected the trophy for his section of ladies' motor cycles. More celebrations, the evening was black tie, and Mike was applauded by his new chums and interviewed by the Japanese and American motoring press and generally fêted. As a parting gift he was presented with a Connolly Hides sponsored artist line drawing of all machines on display, and a magnum of champagne. Well-chuffed. Sadly, his win was not reported in the established motor cycling press so I've gone on at some length here to correct this omission.
Now to the show. Bob Wayte had a visit from a club member with a like sounding but differently spelt surname, and wondered if there was any genealogical connection. To those present there surely must have been: the broad shoulders, majestic height, thick crop of hair, a waist; surely they are of the same DNA. Alas no, no relation whatsoever, but they did look alike although not quite as I just described!
Ian Edwards this year absolutely defied anybody to identify his machine. Now I have to be careful here, 'cos Ian has a piece of a Berini that I require, and he's hinted in the strongest possible tones that the consideration for this lump of rusting chrome might be proportional to the amount of bad press he receives. I could say that all I had to do was find the loose bits on the floor, but I shan't, particularly since he exhibited a particularly rare Mobymatic Sports Special - one of only a handful left. He also brought along his dog, Blue, which wreaked occasional havoc by chasing other canine visitors - very much like a Beano adventure.
Dave Smith rushed to the stand looking quite angry and bordering on the murderous demanding to know if anyone had seen a Cyclemaster wheel wandering around loose, since he had left one at the side of his truck and it had disappeared as if by magic. (Well it was known as the magic wheel, ho! ho!) His redness of features was rapidly copied by Ian's who had 'found' this abandoned wheel and parked it somewhere safe, ie: the back of his car. Phew!
Brian Potter had been the original restorer of Bob Pike's 1921 Alcyon, had followed its progress through various auctions and hands, and was well pleased to see it on display. Mike Jones was present with his exceptionally rare Teagle, Mercury Cyclemaster with pillion, and Trojan Mini-Motor. Alan Hibbard and Dave Smith corralled a couple of minis in the form of a Corgi and a Scamp.
As we were moving the bikes around for photo sessions Bob got himself in a heck of a tangle, and it crossed my mind that perhaps, just perhaps, he couldn't actually ride a bike. Some, more cruelly, suggested that he couldn't get on one long enough to fall off, let alone ride it!
Chris Bowden's 1945 Norman won the stand prize, with the Alcyon gaining the Avon Engraving Trophy.
Standards were very high this year, as restorations are coming on-stream - no more rusty rims and 'barn fresh' paint work, which rules out any of my efforts.
Without a doubt the stand has a huge popularity with visitors who appear to divert to visit rather than walk on by. Very nice to see some really early models on display. John Denning has a very acceptable 1914 Wall Auto Wheel which was displayed in a prominent elevated position at the rear of the stand.
A lot of new names this year with new models...
Mike rode in on his Peripoli and Tom Best his Raleigh Wisp. Keith Woods livened up the occasion with his New Hudson. Tony Smith of Yeovil and Andy Currie of Exeter formed a Cyclemaster clique competing with Geoff Warren and Dave Wells who put in with mopeds. Buzz Nowell contributed to the confusion with a 1955 Hercumotor Greywolf and Andy Hart a James Autolux... and some more endearing ones - Steve Wayte on a Cairns Mocyc.
Exeter organiser Roy Best exhibited his still gleaming Power-Pak, although the mint green metallic paint was looking a trifle outclassed by a brand new Brookes leather saddle. A comfortable ride proffered Roy, and we all nodded knowingly...
---
First published - April 2000
---
Some pictures from the show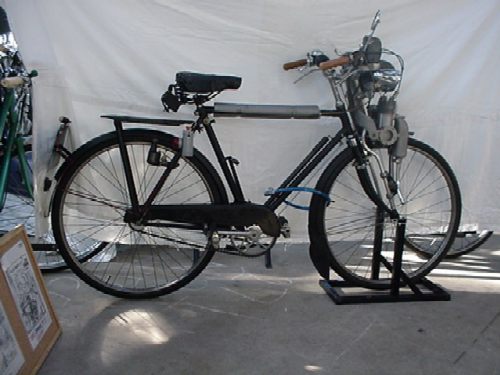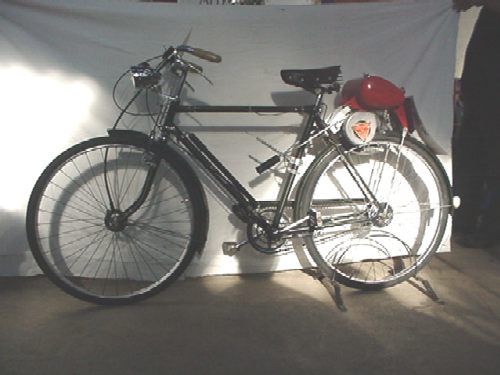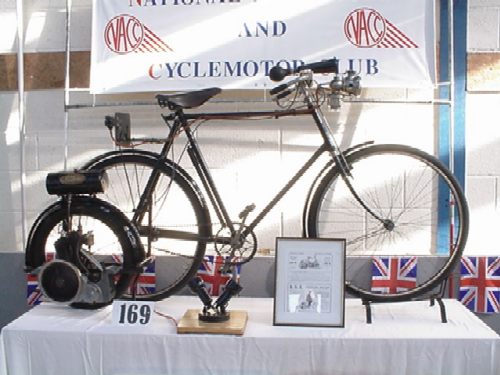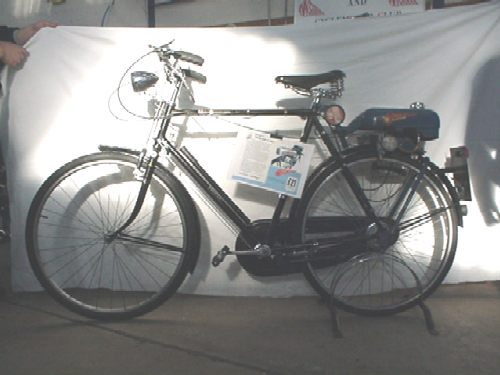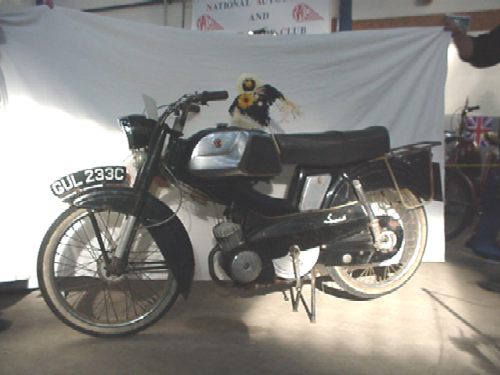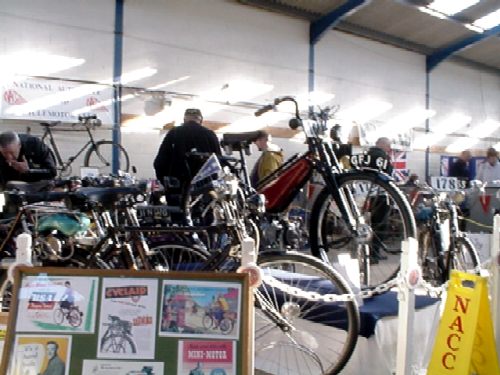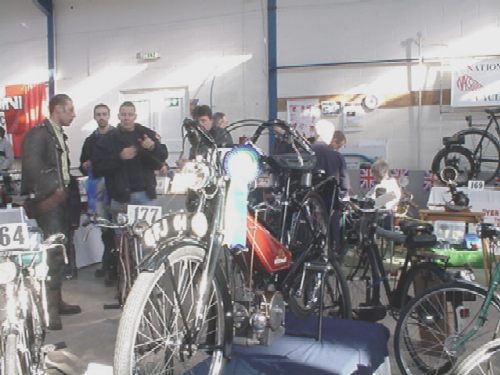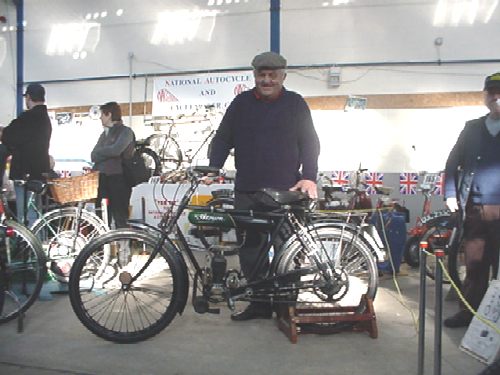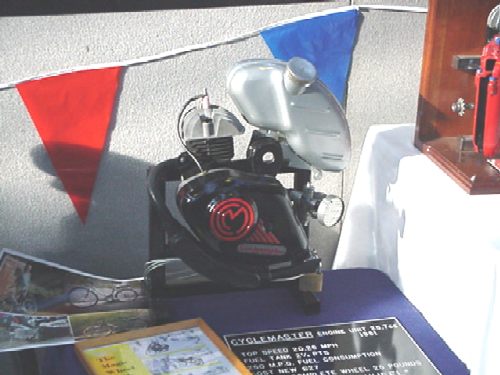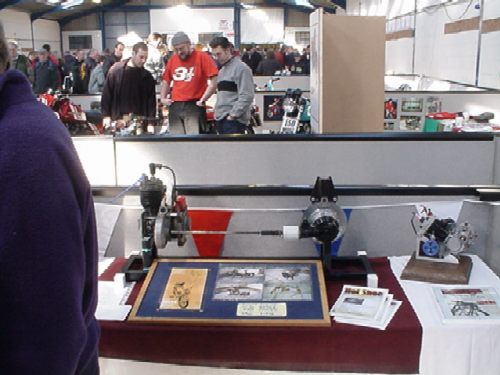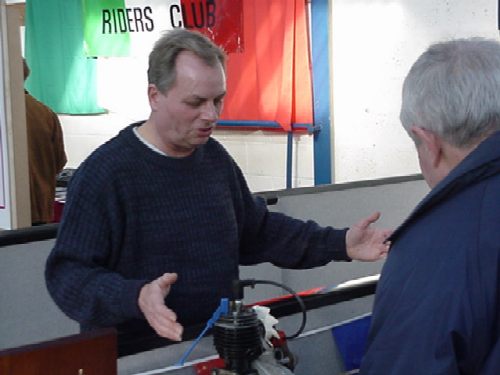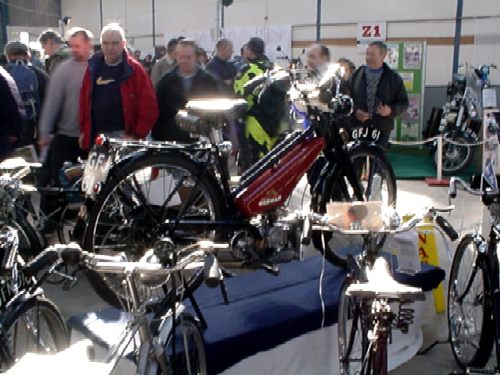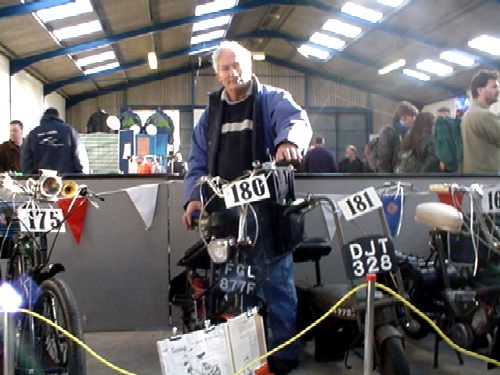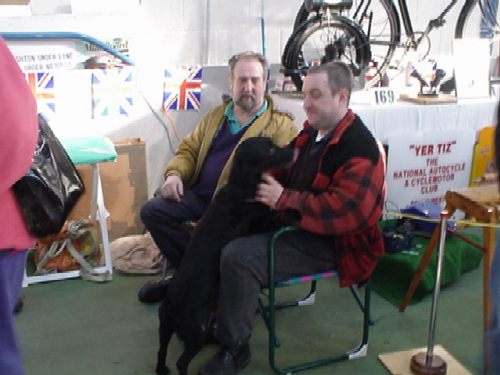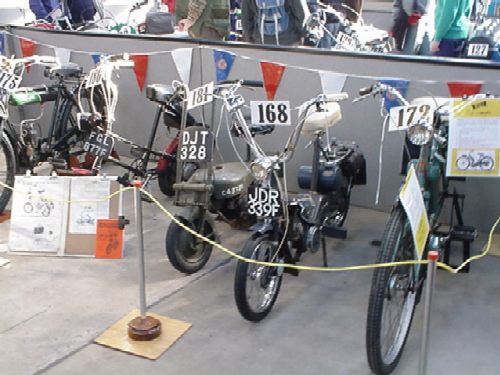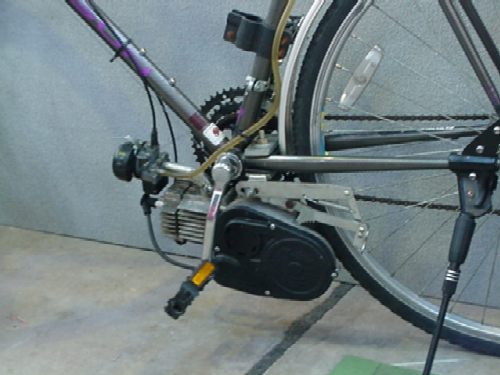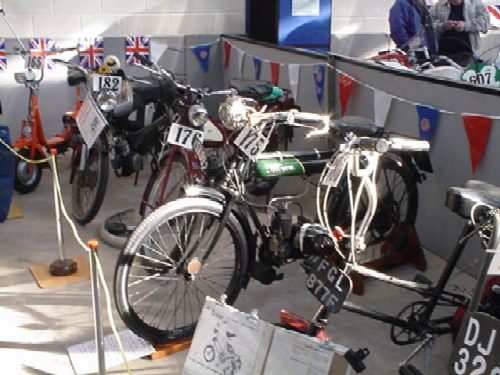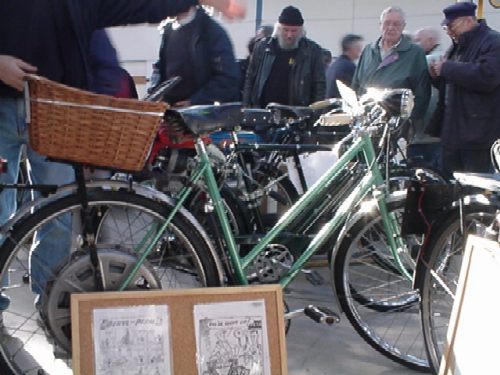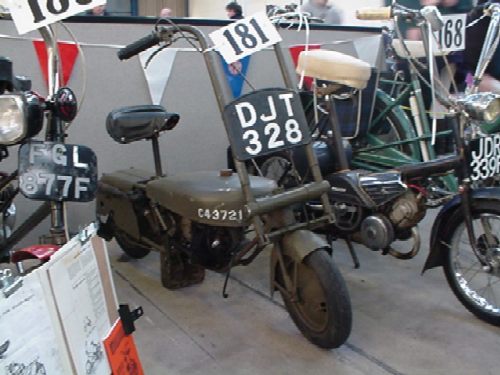 ---

Go to the Archive index
---