Go to the Archive index
by Dave Gates
Mr Devonport's 'Smell the cabbages' run kicked off the year in fine style with a remarkably diverse selection of two-wheeled and three-wheeled machinery assembling on the wind-swept promenade above Ramsgate harbour.  On this occasion I admit to letting the 50cc side down by attending on my Vespa 200 scooter - but as I was accompanied by a pillion passenger, as well as having a thirty mile trip each way, I feel I can be excused!
Glorious weather blessed this event (Again!  How does Nick arrange this?)  An enjoyable run out to a pub followed a mass visit to the Ramsgate Motor Museum.  Now, this dusty musty archive of vehicles housed some amazing two-treasures (a Moto Rumi scooter in racing trim was one), but my attention was drawn to a machine of considerable rarity on these shores: a Moto-Guzzi Galletto 160cc four-stroke scooter from 1950/1.  Back at home, whilst looking up details of these machines in a Guzzi history book, I came upon references to a cyclemotor developed by the company in the latter years of WWII.  Since the text is in Italian, I can only guess at a translation, so here goes:
Designed by Ing. Antonio Micucci, a prototype was constructed in 1944, and given the name Colibri (as an aside, this name was given to the last Italian-designed Tomos from Yugoslavia to reach these shores).  From the photographs, the unit looks quite large, overhanging the rear wheel considerably on both sides.  The cylinder faces forward with the round silencer beneath, the crankshaft appearing to continue across the rear wheel via an external flywheel and drive roller to the right side where I surmise the ignition flywheel was situated.
A Dell'Orto carburatore fed fuel directly in the crankcase behind the cylinder (the carb faced rearwards).  This suggests that a rotary valve (valvola rotante) was utilised, and this does appear in the text.  The fuel tank held 2 litres, covered the full width if the motor unit and was mounted above the frame that supported the whole assembly above the back wheel.
Moto Guzzi did not put the Colibri into production but Ing. Micucci went on to design the Motoleggera 65: a 2bhp, 64cc two-stroke, rotary valve, light motor cycle that became a huge success for 'Guzzi in the immediate post-war years.
So successful was this machine that the factory hosted a rally for the owners of their product at Mandello del Lavio—site of the 'Guzzi works—on the east shore of Lake Como.  The response was overwhelming.  Over 14,000 people with 12,660 65s turned up on the day!  This event has historically been the largest meet of a single motor cycle model in Italy—or anywhere else for that matter.
The 65 became a cult machine in a similar way to the successful Cucciolo from Siata-Ducati.  People even attached lightweight sidecars, while Italy's inventive bolt-on goodies market provided a conversion for a four-stroke!
One other aspect of this little bit of research that fascinated and amused me was a list of micromotore manufacturers referred to by the author: Mario Columbo.  Only a handful are mentioned, but does anyone out there know anything about them?  First there is Alpino, then Mini-Motor, followed by Aspi, Grazzeila, Imex, Leone, and Siria.  My personal favourite I have left until last.  This I would dearly like to obtain just for the endless pleasure to be gained from answering the simple question "What make is it?"  How satisfying to be able to reply "It's a GRIM!"
But to return to Moto Guzzi: in this country they are, of course, well known for their muscular V-twins.  However, Ing. Micucci went on to develop the successful 65 into a succession of ultra lightweights.  The 65 ran from 1946 to 1954, then evolved into the Cardellino, produced from 1954 to 1965.  In 1963, the 50cc Dingo became the marque's lightweight representative, the range including handsome pressed-steel step-through frame models to little gems with flat racing bars and off-road style 'Cross' motor cycles.
Guzzi's first true moped was the Trotter (!) produced from 1966 to 1973, the styling not dissimilar to other contemporary Italian products such as Garrelli.
The Trotter evolved into the Chiu in 1974, with an appearance not unlike the Tomos A3 mopeds that at present inhabit one of my sheds!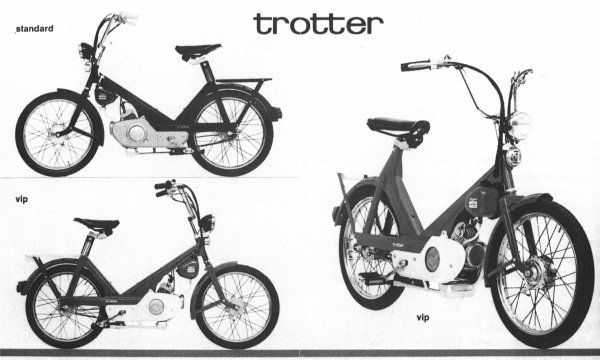 All of these modest machines came from the drawing board of Ing. Micucci, representing a line of development from the still-born Colibri of 1944, through the renaissance of the company in the '50s and on for another twenty-five years.  Not a bad success story for any family of products, yet, because these were 'only' lightweight machines, they are so easily overlooked when enthusiasts discuss the history of this, one of Italy's most revered marques.
Now, can any club member out there assist me in researching Tomos?
---
by Dave Gates
Firstly, thanks to those who responded to my request for Tomos moped parts.  John Sears sent me a complete exhaust system, whilst John Hook really came up with the goods, donating a set of forks, lights and transmission parts!  Thanks to both of you.
The search for information on the Tomos marque has been less fruitful, however.  Apart from a few terse statements in Tragatsch's "Encyclopaedia of Motor Cycles", I have very little to go on.  At least that source confirmed that Tomos was founded in 1956, manufactured exclusively a variety of 49cc machines for many years and was involved in racing.
Enquiries with local dealers were bleak.  The firm has ceased to exist because of the civil war in Yugoslavia, etc, etc.
Then, a friend of mine became interested in my quest, and offered to look up Tomos on the Internet.  What he found was a revelation.  Firstly, Tomos is still very much in production in its native Slovenia, east of Triest.  The mopeds are still in the same style as the A3 series imported to these shores through the 1980s and into the early '90s.
The motors are now the A5 series and feature electronic ignition.  Oil injection is offered as and alternative to pre-mix.
Eight models are shown on the lists, including the "Classic", which has white wall tyres, single seat, chrome head lamp with inset speedometer, and pedals.  One for the traditionalists amongst us!
A factory set up at Epe in the Netherlands back in 1964 still assembles Tomos machines sent in a 'knocked-down' state from Slovenia.  According to the Tomos Web site, 22,000 machines are produced annually by the parent company, almost half being assembled and sold by the Dutch facility.  Apparently, Dutch domestic sales amount to 1,000 mopeds a month!  So the future is certainly bright as far as this product in concerned.
The next stage will be to e-mail Tomos in the Netherlands about the availability of spares so that my own machines can be restored to roadworthy condition.  Hopefully, they will also be able to help with collecting information on the earlier products and their subsequent development.  Once - or if - that link is made, your 'umble scribe will offer his services as Tomos marque specialist.
Just round of this ragbag of information, the Internet revealed an American company called "Scooter Therapy" that actively sells and promotes Tomos "over there".  It offers sports exhausts made by Bitubo, and a 70cc conversion kit!  Heady stuff...
To wind up this brief article, I will return to the "What's in a name" spot.  Last issue I made reference to the Italian-made Grim cyclemotor from the early 1950s.  This latest reference is more up to date, coming from an Italian motor cycle magazine from 1987.  Impressive lists of (then) new machines are featured in the back of the publication, including the Agrati-Garelli "Bicimosquito" and "Velomosquito" of 35.15cc capacity, and priced at 689,000L and 675,000L respectively.
But, back to names:
Mopeds are not blessed with ringing, testosterone-charged names at the best of times, but in 1987 Malaguti-who still make a damned fine product-came up with the ultimate moped moniker.  There were three models: the "Dribling Ped", the "Dribling Kik" and the "Dribling Var".  No wonder nobody takes us seriously...
Happy mopeding, folks.
---

Go to the Archive index
---