Go to the Archive index
Back to Back
by Mark Daniels
3rd Roydon Rebels & 19th East Anglian runs
This year the usual 'Rogues Gallery' was thinned out in what was attributed to a Petticoat Rebellion by the Autocycle Widows, leaving eleven budding Marlon Brandos with unmounted new member Les Parrott turning up to support the off and left wishing his Norman autocycle restoration was finished. The steady group start lasted about as far as the first left turn off the main road when the gauntlet went down between the autocycles and the faster mopeds. To be fair Richard Wightman and Michael Flood were probably encouraged into this by the usual miscreants, but they all disappeared quite quickly leaving David Evans and myself on Panda and Gadabout playing 'The Phillips Brothers', with J Self on Raleigh Runabout and the stately David Whatling on Berini/Hercules bringing up the rear. Having got that out of their system after a 3 mile sprint, we came upon the pack waiting at the bottom of Freezen hill from where we rode on together again to Redgrave for the planned photo-shoot by the ancient pumps at Dudley Orve's old garage. The petrol station closed in 1979, followed by the bike shop in 1982, since when it has remained trapped in its own time bubble and been left to slowly crumble back into nature. J Self's Runabout barely spluttered this far as the huge toolbox on its carrier proved to be a bad omen and, despite the most frantic pedalling efforts by Steve Cobb (who got more exercise than he bargained for by foolishly volunteering), it refused to keep going and was consigned to the back-up trailer. From here the autocycle v moped contest entered its second phase as again the pack took off, leaving 'The Phillips Brothers' and Steve Cobb on a Puch MS50 to a steady ride together. Despite being equipped with handlebar mounted directions, David Evans still managed to be the only one taking the wrong turn to Rickinghall so now we reckon the only answer is to paint 'L' & 'R' on his handlebars! Between the high buildings of Botesdale's empty main street the induction drone of the full bore 'Phillips Brothers' reached a resonant crescendo and clearly puzzled several pedestrians that such an eerie sound could emanate from such small machines. We rejoined the main group at the Gislingham Six Bells lunch stop where the landlord judged Michael Flood's New Hudson autocycle as best bike to add yet another deserved trophy to his already staggering mantelpiece. The slower 'Phillips Brothers' took advantage of a jump start from the halfway stop to avoid getting left too far behind, but were soon passed by solenoid throttle racers Carl Squirrel on P50 and Neal Green's Puch City. Everyone else however joined in orderly convoy back to Roydon village hall where Peter Green's Wisp tyre was found to have gone completely flat within minutes of parking!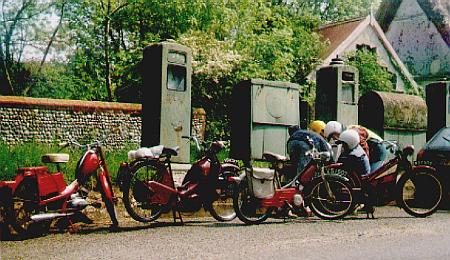 On the 3rd Roydon Rebels Rally at Orve's old petrol station, Redgrave. J.Self's Runabout decides it doesn't want to go any further and everyone knows how to fix it (they didn't!).
While taking tea we watched a WW2 Spitfire performing stunts overhead and though Steve Cobb claimed to have laid it on to commemorate the 3rd Rebels Run, most suspected it was associated with the neighbouring Dad's Army day rather than the NACC. The absence of David Whatling & Berini was noticed and that Steve's 'if he isn't back by the time we're finished I'm locking up and chucking his stuff in the car park' attitude didn't really fit in with the NACC's caring millennium policy. The back-up was despatched and returned shortly with dejected rider and punctured steed.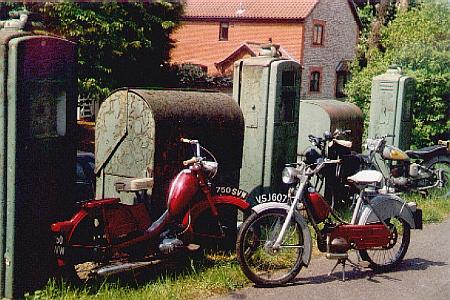 On The 3rd Roydon Rebels Rally.
Gadabout & Panda MkI "The Phillips Brothers" wait thirstily in the Norfolk sunshine by Orve's petrol station at Redgrave, but the old pumps are long dry!
Typically Norfolk and ideal for motor cycling, it was a baking still day, but in the later afternoon proved a little too warm for some machines which suffered intermittent performance from the heat, particularly DE's Panda, which showed a constant stream of bubbles rising through the clear fuel filter from the frazzled carburettor. Taking place through ideal countryside, Roydon Rebels is establishing itself as one of the great 'new generation' rallies.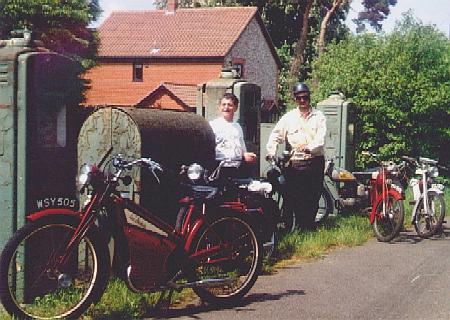 David Whatling: A pint of your premium 20:1 mix for my fine Berini sonny, and make it snappy!
David Evans: That'll be fourpence, thank you sir, and would you like your nipples greased?
David Whatling: That's enough of your lip or I'll be speaking to your father.
By contrast, the following week the 19th East Anglian Run was held under grim overcast skies with riding conditions that were generally steady rain occasionally improving to a constant drizzle. I was somewhat apprehensive of taking my largely unproven Hercules Corvette on its maiden rally under such adverse weather conditions, but sometimes you just have to do these things. Andrew Pattle's James autocycle stood like a guard sentry on duty at the gate of the collecting point luring hapless victims to their soggy doom, while its rider craftily whipped it over to the museum at the off and cadged a cosy seat in Andrew Roddham's back-up jeep—shame! Carl Squirrel (Puch Grand Prix), Billy Doy (Norman Nippy) with Steve Cobb (NSU) hared off at the start and no-one saw them again till later. Unlike 'Luminous Lawrence' Coates who didn't seem to need his lights on to be seen since he was tastefully (?) colour co-ordinated in dayglo to match his orange Honda PC50.
NSU Quicklys made up the dominant marque with David Evans's N26, Steve Cobb's S26, two N23s of Brian Barley and Ray Duffy up from Rickmansworth, then Colin & Shiela Roberts going round 2-up on an 'F' type. Peter Green's Fiesta blue Wisp was complemented by another 'E' plate Spanish gold machine brought down from Norwich by Mike Seeley, though he elected to take a Runabout round the course. Darrell Lanchester and Steve 'Wally' Wright came to rain test their 'Non-eligible' Suzuki and Yamaha 100s, presumably in preparation for next week's traditional annual dousing at Sars Poteries. This much water was obviously going to cause difficulties and it wasn't long before it started arcing out the HT lead on Neal Green's Puch City. Several stops to wipe dry seemed to solve the problem each time, until one wipe too hard pulled the plug lead out of the flywheel magneto and that was the end of that!
After Ringshall Stocks the road progressively narrows for miles, reducing to a small muddy lane like a green toboggan run with high trees on both sides getting denser to finally close at the top and you find yourself travelling down a strange 'eco-tunnel', something more like moped caving! In the very depths of this sump and running down the left hand side of the road the 'ford' at Offton was more akin to the Zambezi in monsoon! It was with some trepidation the group was gingerly led into the white water by Michael Dyes on Puch VZ50, along the raging torrent, up the flooded east bank and through to Nedging Tye. Shortly after this the 'good luck fairy' deserted me as the rain started getting into the Hercules belt drive, inducing considerable slip and necessitating much unwanted exercise on the long sharp climb to The Limeburners. After this, pedal assistance became required on even light inclines until the halfway stop at Bildeston where the soggy stragglers steadily trickled in. Emptying saturated pockets revealed Andrew Pattle's fine colour copy direction maps reduced to garish stains of modern art and John Holmes's hands had turned bright red to match the colour of his GPO Puch as the dye leached from his sodden gloves. The shattered Peter Green was probably the last straggler arriving during half-time after his Raleigh Wisp with no belt shield had become similarly affected by transmission slip and he had obviously suffered some hard pedalling, not a prudent time to ask how he'd managed to get soaked inside his waterproofs!
Various riders eventually gathered their resolve to again brave the blackened skies and incessant rain to return in scattered groups, and I weren't looking forward to the trip home neither! Accompanied by David Evans (NSU), Richard Everitt (Mobylette), Michael Dyes (Puch VZ50), Peter Green and I set off to discover the break had recovered our belt drives. This resulted in a celebratory thrash back as the Hercules finally found its legs. Even to challenge the speedy Wisp at a couple of points until the ring rattle from the Lavalette's four stroking at full throttle became more than mechanical sympathy could bear, and discretion forced some backing off .
Back at the Museum of East Anglian Life in Stowmarket, the bikes were miserably lining up on the sodden lawn for judging in the pouring rain, until someone smartly suggested doing it in the big display barn. This move instantly initiated an atmosphere of chatty camaraderie around the bikes in character surroundings. After riding his near 100 mile round trip from Diss, Steve Cobb's Quickly was rewarded with best bike (again!), which just goes to show how the punters are still fooled by a drop of cheap spray paint and tacky chrome! In the absence of any autocycles or cyclemotors, a 2nd moped place was voted to Peter Green's Wisp as some recognition for his springtime rebuild efforts and suffering on the run.
Though Barry Yallop's BMW Isetta took the microcar prize, Tony Pettingill's dogged efforts to bring his Isetta round the course as last man home deserved some commendation. His transporter comprehensively broke down in the pouring rain on the way in from Norwich, and he still completed despite setting off in the bubble after everyone had already left! The 19th East Anglian was an epic achievement for all who took part in what was officially declared as 'the worst conditions in records of the run'. Though quite an adventure now in retrospect, we all hope the big 'two-O' is going to provide better weather next year.
---
First published - August 2000

Go to the Archive index
---