Go to the Archive index
---
Dear Andrew,
Further to Paul Hornby's letter in the October issue of Buzzing regarding coil ignition conversions, I thought other members may be interested in my own experiment with an 'ignition impaired' Standard Power Pak. The specimen in question was bought from an ad in Buzzing and described as a "good runner". I went to view the machine, but despite the best efforts of the seller all that was produced was a few pops, bang and a cloud of blue smoke. "That'll be alright" says the seller, "just clean the plug and points and you'll be away." "If you say so" says I, after all, you are a member of the NACC; here's your dosh, I'll be off."
Once home, I removed the flywheel to find an utterly useless set of ignition components held together with masking tape and dollops of solder. Well, the seller said it was a good runner but forgot to mention that the last time it ran was probably the day the old king died.
I digress, on to the remedy. I found by using the HT coil from a Morris Marina, a sealed Yuasa 12V battery, a new condenser from Halfords (Lucas part no DCJ303, which has the mounting bracket in the same position as the Bantamag original) I managed to resurrect the patient from its terminal condition. The circuit diagram shows the layout. Twelve or six volt batteries can be used which will sustain most cyclemotors for the duration of a club run between charges.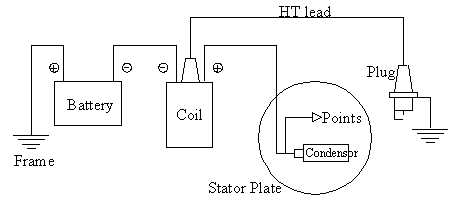 Remove your dud Bantamag coil and HT lead, wire replacement coil to condenser through the HT lead hole in the Stator plate, connect battery & plug and away you go. Don't forget to disconnect the battery when not in use.
Good luck.
Yours sincerely,
Graham Pike.
---
First published, December 2000

Go to the Archive index
---