Go to the Archive index
---
Mince Pie Millennium
Mark Daniels
Interest for the run always suggested the probability of a strong turnout, weather permitting, and true to form, David Evans's mariner's instinct magically picked a superb sunny day. Consequently attendance even exceeded all expectations with nearly forty registering on the event form, though some were going round the course in back-up vehicles. A number of motor cycles also accompanied the run like David Freeman - 1965 Honda S90, Steve 'Wally' Wright - 1976 Yamaha DT100, Pete Stanners - Kawa KH100, Ian Ranson - BSA B31, Dave Berry - ExWD BSA M20, Martin Walker - BMW R75 combination and John Holmes finally resigning his ill-fated BSA C11 for a Bantam Trials that actually permitted him to complete the circuit (quite a novelty!).
The Orwell Yacht Clubhouse was a bit like a who's-who for leading lights in the NACC and scotched the myth that committee members can only be seen after sundown in licensed premises. It was broad daylight, and while they were still in the bar, David was only serving coffee and hot mince pies, though without Lorna's culinary guidance the first charred batch came out more like King Alfred's offerings! As the run started to get under way by 11.15, the natural phenomenon was once again observed, like how a number of these ethereal committee spirits mysteriously evaporate before the prospect of riding a bike threatens to catch up with them. As well as the other vehicles, some 30 NACC eligible machines streamed away up Bourne Hill in whirling plumes of smoke, led away by the ghastly sight of chairman Andrew Roddham on a grotty M40 Mobylette - how the mighty have fallen! Helping DE out in the early stages with a bit of midfield marshalling at junctions gradually worked me down the field back to the bigger BSAs & combo acting as sweepers, by which time we came upon a string of mopeds stopped up the climb from Lower Holbrook. Ray Gibb's NSU Quickly was the culprit with a bluebottle size whisker on the plug. As the tail-enders were waved on by, DE's suggestion that it may go better without the oily carbon deposit proved to be a lucky guess and the group took away with a bit of catching up to do. Towards Ewarton we closed to another group of assorted mopeds while Steve Cobb - Puch MS50V entertained ahead with puddle charging Harry Worth impressions. I was surprised not to find Pete Ranson on my Raleigh RM2 among this group, but our arrival lit the touchpaper, after which things degenerated into a blistering moped sprint to Shotley Gate. With lots of jockeying for positional stuff it got quite hard to be sure who exactly was in there at times. Certainly, Ray Gibb & Brian Barley on NSU2s were cracking along, as also Honda PC50 dogfighters Roly Scarce & Mark Gibb. My Phillips Gadabout Rex 3 may just have held an edge over the former group with Steve's storming Puch 2 coming a pretty even match and DE's NSU 3-gear 'F' seeming to have the measure of us all. Great sport, but we still hadn't caught up to Pete on the RM2 who'd latched in behind the combo and was sucked along to the tail of the leading group by the halfway stop. When I inquired how he seemed to wring even more out of the Raleigh than I managed myself, the answer was "Just the normal Matchless 650 CSR Classic Racing technique. Don't close the throttle on corners, never touch the brakes, then ignore all the vibrations and bits dropping off". Wish I'd never asked!
There was a solid line-up of NACC machinery outside the Shipwreck Bar on Shotley Point, against a backdrop of yachts in the marina and the huge cranes of Felixstowe Dock across the Orwell estuary. Sea air, blue skies and January sun-excellent! It seems in someone's keenness to get to the bar first (presumably to get drinks in for everyone?) a certain enthusiastic Raynal Marque pilot was seemingly unfamiliar with the intricacies of landing a Norman autocycle and belly-flopped it down the runway with the landing gear still up! Believed a lost art, this was a fine example of the extinct Ashford manufacturers 'horizontal dismount' technique - it's so wonderful to rediscover these ancient traditions still being practised in remote corners of your own county! When DE asked how the name was spelt for purpose of the accident report, the reply was S-M-I-T-H; it's funny but you know, but I can't find anyone of that name on the registration list?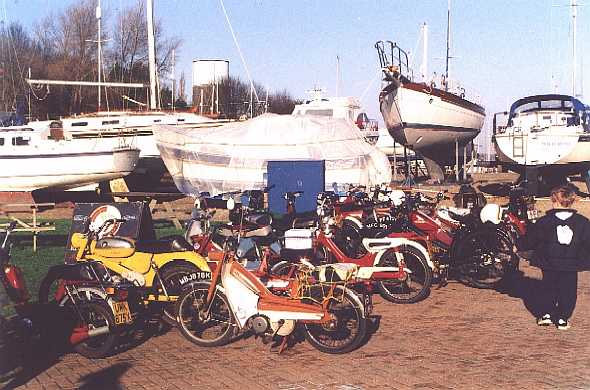 The lunchtime stop on the Mince Pie Run [Photo: Dave Evans]
For the return leg I swapped to the Raleigh while Pete switched to the Gadabout, and as he steamed by on the uphill climb from Shotley Gate I thought "that's the last I'll see of that" - and it was! While most of the pack had a 'jolly whiz' back to base, I accompanied Paul Efreme from Billericay riding his maiden rally on an elderly Moby AV7 at a pleasant burbling pace. Leaving Shotley we were briefly disturbed as the screaming yellow flash of Michael Dyes on Puch VZ50 absolutely hurtled by in serious pursuit of the main group, which by this time had some significant lead. We settled down to cruising steadily along on the two 'old-timers' until towards Woolverstone where we were caught up by Peter Green on Wisp, who passed and gradually eased away. By Freston he'd opened up a fair gap and on reaching the long downhill from the Boot, the little devil on my shoulder said "bet ya can't catch him now". The Raleigh was willing so I set myself up for a scolding from Paul E for "sandbagging about the RM2s performance" after previously having suggested all these period mopeds go much the same, well they sort of do-give or take 10mph! Entering the realm of shattering vibrations and everything rattling indicated the maximum had been reached and the gap rapidly closed. Despite his best efforts PG wasn't surprised the RM2 caught him up (having been there before), but as we pulled into the Orwell Yacht Club car park his Wisp motor seemed to lock-up. It freed off again leaving a running rattle attributed to the floating clutch from a circlip having come adrift. (Subsequent analysis reports the failure being much deeper, with stray pieces of metal wrecking much of the working internals, a main bearing cage seemingly having broken up.) Pete was waiting with the sizzling Gadabout after his hare-&-hounds chase back among a large pack of machines including Neil Bowen - 1965 Honda Cub, David Holmes - Ex GPO Puch 3 and the rejoined Michael Dyes on the 'Flying Banana'. DE on the NSU 'F' and Steve Cobb were also in thick of the action, along with Neil Green - Puch City, who was much happier for having got back with all parts still attached on this occasion. Lawrence Coates on push-rod Honda PC50 and the fine restoration of Carl Squirrel's earlier & rarer OHC version didn't hold any reserve to flying the four-stroke flag in combat either! Due to the large field on this event there were a number of people who all circulated the course successfully, though I hardly came into contact with along the road, like Richard Everitt - Motobécane, Mick Cousins-Honda Camino, Billy & Debbie Doy-Norman Nippy & Puch Grand Prix and A Hammond - Raynal Auto. The Norfolk group of Mike Seeley - Ariel 3, Tony Pettingill - Cyclemaster and their colleague Recovery Roy - Raleigh Wisp, seemed to be having no more luck than the dire Norwich City Football Club of this season. The first two were taken out of the game suffering lack of spark before half-time, leaving Roy on the surviving Wisp with the dubious honour of dragging the casualties back to the changing rooms, pity 'cause an Ariel 3 is always such entertainment - preparation lads!
As Keith Rutledge - Berini chugged implacably in as last man home, DE re-opened the clubhouse for coffees until the crowd drifted away in their own time. Meanwhile out in the car park, Ray Gibb blagged me into adopting his static display Whippet 60. Obviously designed by Frankenstein, this hideous contraption from the late 50s was made by the Dunkley Pram Company at Hounslow, and installed with their own 61cc four-stroke, 2-gear hand shift motor. An interesting and pleasant little engine, but the horribly mismatched components in the cycle assembly added up to a total styling disaster.
To receive support from so many members is some reward in itself for the work to organise and manage an event on this scale, though I surely voice appreciation from all in thanking David Evans for his sterling efforts. As the 'Mince Pie' pedals off a new rally season we look forward to seeing you all out at other NACC events across the country during the year.
---
First published, February 2001

Go to the Archive index
---