Go to the Archive index
---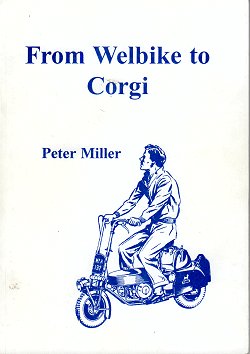 Book Review
Paul Hornby
FROM WELBIKE TO CORGI by Peter Miller
A well known and popular part of the immediate post war scene, the Corgi scooter was a development of the wartime Welbike, which had originally been designed for the Special Operations Executive, at the SOE development centre at The Frythe, near Welwyn, Hertfordshire. The prototype Welbikes, designed by Harry Lester under the directorship of Lieut Col John Dolphin, were not accepted by the SOE, but nevertheless the Welbike went into production for use by paratroops, being manufactured by Excelsior, using the Villiers JDL autocycle engine. They were first used in the disastrous Arnhem campaign in 1943, and are known to have been used in the Normandy landings and North Africa, but the majority of the 3,853 production Welbikes ended up being used as base runabouts by the three Services. After the War, the bulk of the survivors were exported to the USA, where they were sold by a New York department store.
After the War, Brockhouse Engineering (Southport) Ltd., in conjunction with John Dolphin, went on to develop the Welbike into the Corgi scooter, powered by an Excelsior Spryt Autocycle engine, built under licence by Brockhouse. The Corgi went into production in 1947, initially for export, being sold in North America as the Indian Papoose - Indian at that-time being part of the Brockhouse empire - and not reaching the Home market until early 1948, with some 27,050 being manufactured until the end of production in October 1954.
Peter Miller's book provides a full history of both machines, with detailed information and fully illustrated technical specifications on the two marks of Welbike and the four marks of Corgi. Welbikes are now so rare in this country that replicas are being made, using Corgi parts with JDL engines off old autocycles, and being passed off as genuine articles. Peter's book will enable you to identify genuine Welbikes (a 'Welbike' I photographed at a vintage rally earlier in the year proved to be a fake). Details of the sidecars produced for the Corgi include Brockhouse's own with others by KVP, Feridax and Vodac. Details are given of a number of after market accessories that were marketed, such as sprung forks, a 2-speed gearbox etc. Mention is made of the International Corgi Club, and the 'Corgi Review' owners' magazine, together with a selection of Corgi and Welbike cartoons, and the story of a 1951 trans-America trip by Corgi.
This book is strongly recommended to all Corgi and Welbike owners, as well as anyone interested in them, and the book sets a new standard in specialised monographs on NACC eligible machines. I paid £8.99 retail for my copy at a Classic bike show, and this 95 page book is published by FW to C Publishing, 3 Parklands, Blandford Forum, Dorset, DT11 7BA, and the ISBN is 0 9530683 07.
---
First published, February 2001

Go to the Archive index
---