Go to the Archive index
---
Rando Cyclos
Sars Poteries 10th June 2001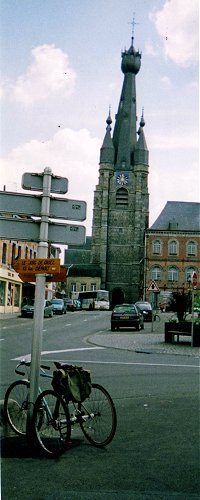 The Rando Cyclos at Sars Poteries (in the Nord département of France) is a Sunday event that attracts many visitors from other countries. Many of them make a long weekend of it and the municipal camping site at Felleries, a short distance from Sars Poteries, has become an unofficial HQ for the weekend. With a day or two available, some participants bring more than one machine along - some say this is to sample the delights of riding different machines though this beautiful part of rural France ... or it it just in case one machine breaks down? Andrew Pattle brought his Lohmann for the Rando proper - his second mount wasn't even motorised (making it, he assured everyone, both faster and more reliable than the Lohmann). What it lacked in engines, it made up for with wheels and this Royal Enfield tricycle is pictured (left) at Solre-le-Chateau. For most people, the twisted spire of the church at Solre-le-Chateau is its most famous landmark. For many of the visiting moped riders, however, the military surplus warehouse is a greater attraction.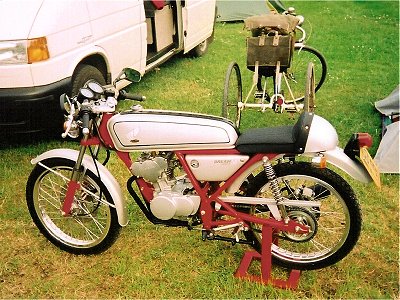 In addition to military surplus, the warehouse has a stock of secondhand mopeds. This explains how Nick Devonport, who arrived with two machinse - a Motoconfort X7 and a Di Blasi folding moped - went home with three, adding a Motobécane AV42S to his collection.
As participants gather at Felleries, there's a chance for a preview of what will be taking part in Sunday's run. Among the NACC contingent was David Casper with a Honda Dream 50 (pictured right & below). This is a special limited edition bike suppled to Honda dealers and, for many of us, this was the first one we'd seen 'outside captivity'.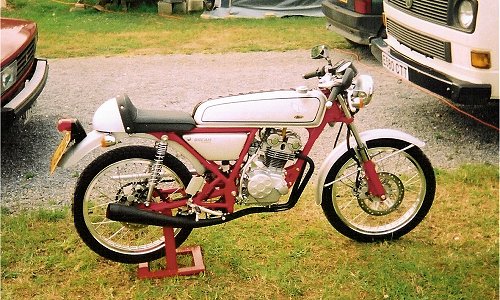 David Casper's Honda at Felleries campsite
The main event takes place on Sunday. In the morning, riders and machines gather around the bandstand in Sars Poteries, admire the display of machines in the town square and rifle through the autojumble. John Lipscomb couldn't resist the temptation of a brand-new VéloSoleX, while Nick added a Motobécane advertising panel to the weekend's haul.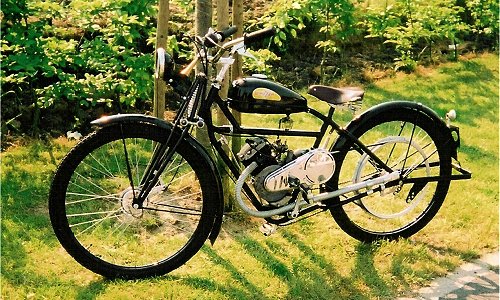 A European version of the USA's Whizzer leans
against a tree beside the town square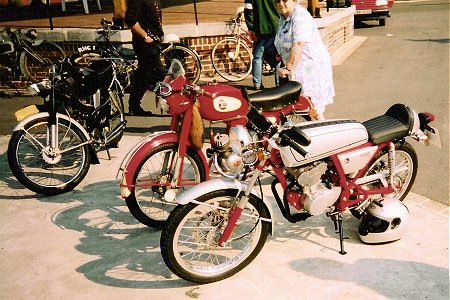 The Dream 50 again, behind it is a Royal Nord
and the black bike is a Sports Mobylette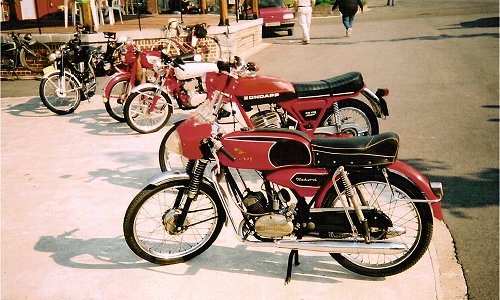 Further down the line of bikes:
a Flandria Rekord and a Zündapp KS125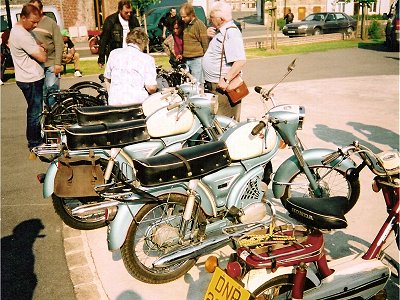 Behind the Flandria Rally is a Flandria Rally
and behind that ... another Flandria Rally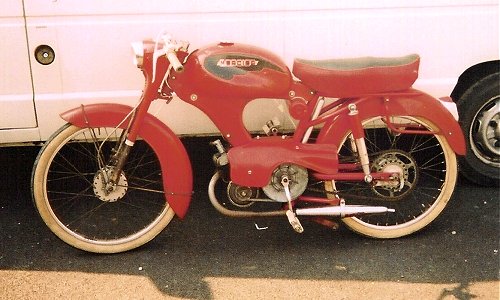 Mercier sports moped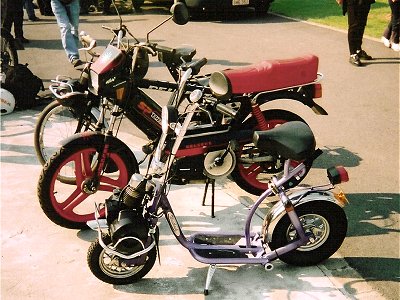 A Peugeot SP103 hides behind a Solex-powered scooter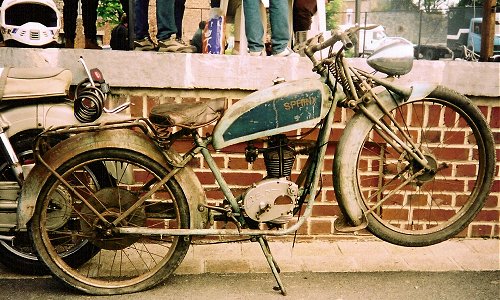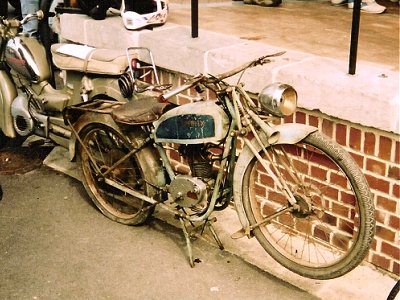 Yves Le Galles' 1933 Sphinx vélomoteur in 'as found' condition
was parked beside the bandstand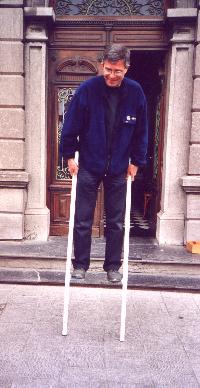 A stilted view of Nick Devonport
Photo: Peter Bartlett
At lunchtime, everyone wanders down to the Salle des Fêtes for a buffet lunch - then it's time for the run.
The full course is a bit over thirty miles with a drinks stop about halfway round. This stop also allowed Nick D to demonstrate his stilt-walking skills.
On return to Sars Poteries Salle des Fêtes there's more refreshment and prizes are awarded. There doesn't seem to be any regular pattern to the prizes - just whatever the organisers think is a good idea at the time. So, among the British contingent, David Casper picked up a cup for his Dream 50. Philippa Wheeler was a prize winner too - Philippa had ridden the course on a Lohmann-powered Cresswell Micro folding bike. Not only that, but she'd ridden to the event on an Ariel Red Hunter with the Lohmann strapped on the back.
Finally, there's the draw. The prize is always a moped "in need of some attention" and this year it was a Motoconfort AU32S. Andrew Pattle's name was drawn from the hat, leaving him with the perennial problem of how to get the wretched thing home.
---
Unless stated otherwise, all the photos are by Andrew Pattle.
---