Go to the Archive index
---
Adur Vintage Transport Fair, 1998
Paul R Smith
On the spring bank holiday, 25th May, about half a dozen local NACC members attended the 21st Adur Vintage Transport Fair at Shorham-by-Sea, West Sussex. We had about nine bikes on display, including two NSUs, two Excelsior Autobyks (have it running for next year Tony!), a VéloSoleX, a Zündapp and several cyclemotors. The Zündapp was newly restored and delivered to the show on a home-built sidecar, specifically for the Zündapp, and powered by a Honda Cub 50: a good joint display item, Bob.
The weather was again kind to us and we had the opportunity to 'Buzz' the arena during the afternoon along with the other motor cycles. I think we doubled our numbers of bikes from last year, so good progress. I hope those that attended enjoyed the day.
I left the show quite early as I had the rest of the week to enjoy in Cornwall and needed to get going. While on holiday I visited the British Cycling Museum, The Old Station, one mile north of Camelford on the B3266 Boscastle Road. This really is an excellent display and would be of great interest to any NACC member; I would recommend it if you find yourself in Cornwall.
PS: There was a very good tip in a recent edition of Classic Bike, which recommended using kids' bike brake cables for Autobikes and Cyclemotors, as they can come in long lengths and be grey or white in colour.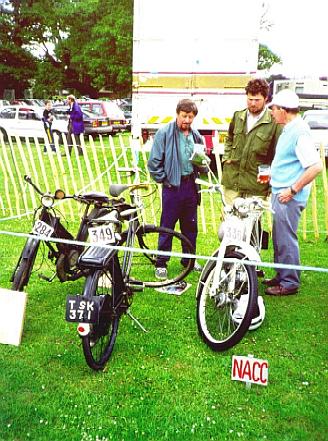 A deep discussion takes place at the Adur rally
---
First published, August 1998

Go to the Archive index
---