Go to the Archive index
---
The Africa Rally
David Stevenson
Dukeries Section - 19th April 1998
Those of you who read Buzzing's rally reports with the proper attention will be aware that the Dukeries Section's events have not been blessed with the best of weather during the last couple of years. So, when John McDermott told Phil that he "knew of a pub in Rhodesia which would be pleased to have us", Phil, whose geography is none too hot, jumped at the opportunity to cyclemotor among the wildebeests of the broad savannah under endlessly blue African skies. I tried to tell him that, if it was only half an hour from Killamarsh, it couldn't be the Rhodesia and that that Rhodesia doesn't exist anymore anyway, but you know what he's like once he gets an idea in his head. He got out his boyhood atlas, the one with Queen Victoria on the front, and proudly pointed out all the pink bits "over which her Majesty's Sovereignty extends". She was a big woman was Queen Victoria and, as I said to Phil, when you get to our age your sovereignty does extend and all the bits you always wanted to be bigger suddenly start shrinking and shrivelling up. Nevertheless, even Victoria herself couldn't get from Osbourne House to Nyasaland in half an hour...

The explorers line up for their safari
A total of 19 machines reported for Phil's African Safari. Two non-eligible BSAs, the Puchs of Frank Livesey and Frank Kilmore which were displayed for sale (did you know that the collective noun for a a group of these Austrian machines is a "frank" of Puchs?) and 15 machines which were to be ridden. Three autocycles arrived, the Francis Barnetts of Frank Livesey and Dave Hutton, and Phil's own New Hudson. There were three cyclemotors, Nigel Pearson's newly finished Cyclemaster powered butcher's bike, Derek Langdon's Masochists' Delight, a similarly powered tandem whose only real source of motive power is his daughter Mary's legs, and Les Wright's green Mini Motor. The other nine machines were all mopeds: the Raleighs of Dave Jackson (RM5) and Mick Gott (RM6), a brace of Quicklies ridden by Harold Hayes and Gordon Hindley, Frank Kilmore's GPO Puch, Chris Hart's cheerful yellow Batavus GoGo, David Scott's ever reliable Honda PC50, Sheila and Katy Brown's Bronze Wing Mobylette Luxamatic and last but not least (certainly if she's adding up the scores) Barbara Smith, the Maths Adviser's, Bown 50.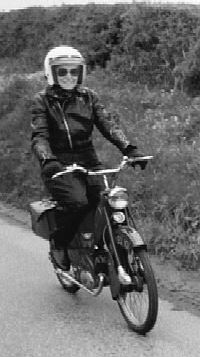 The Maths Adviser unsuccessfully
scheming to award herself
'Best Moped'
Phil's route circled the Welbeck estate, one of whose reclusive owners had many miles of large tunnels dug within his grounds so that he could be driven about by coach and horses without being seen. This did not appear to be a psychological difficulty shared by our NACC friends who burbled around his demesne in a long line. The fields were green, the lakes were full, the trees were putting on their summer frocks, despite the fact that it had been a miserably cold Easter holiday. Everywhere you looked there was a sense of burgeoning AND it wasn't raining. Frank Livesey's Fanny B developed a misfire on a long stretch of main road and a small crowd stopped to help him replace the culprit plug. As he got going again, around the corner and up a short hill Nigel Pearson's Cyclemaster developed a problem whose solution wasn't immediately apparent. Sensibly, he chose to pedal his newly rebuilt engine to the Carburton Schoolhouse Tea-room rather than risk any damage. The gluttons amongst us were already tucking into something sticky covered with lashings of whatever that was by the time the tail-enders arrived. The ascetics meanwhile stood outside with a superior look in their diamond hard eyes and talked of seizures, fuel starvation and multiple punctures.
After an incident free second half the buffet was eaten. Phil had offered a guided tour after lunch for anyone who wanted one. He skulked in the pub for about 90 minutes showing female riders whatever it is he keeps in that leather doctor's bag he has strapped on his carrier. Answers in a plain brown envelope, please. He hoped everyone would go home but came out to the piston ring rattle of waiting two strokes. A shorter procession headed off in the direction off the Sheffield Aero Club's landing field and an interesting eighteenth century hamlet built around a canal turning pond with a name too much like Thunderbox to be printed in a decent family magazine. It still WASN'T raining. Sadly Les Wright's nicely turned out Mini Motor suffered a major problem on the run when its roller unwound itself, spinning its lock-nut into the ether. Immediate repair looked a bit unlikely but happily, the breakdown had occurred next to a bridge parapet and the nut was lying in the dust at the side of the road. Unfortunately during the repair the bike toppled over. At first, this appeared like a minor catastrophe causing scratching and a small dent in the magneto cover. However later it turned out that this fall had been sufficiently strong to crack the exhaust manifold. Mini Motor owners beware!
"Aha!" you are all saying "but what about the Dukeries' prize-giving, that major social event in the North Midland's spring social calendar?" Damn, I thought if I waffled on long enough you'd forget to ask. A busy schedule had meant the bottles of wine substituted for the usual sought after plastic thingummies. Mick Gott took Best Moped for his very well restored RM6. Nigel Pearson got Best Cyclemotor (and Hard Luck Award) and - I just can't go on. I am speechless... Phil Nuttall took Best Autocycle. Asked about how this had come about Phil said whenever anyone had said to him "Which ones are autocycles?" he had jerked his thumb towards his bike and said, "Number Five". My investigations have yet to discover whether the promise of a look in his brown leather bag had any influence on the Maths Adviser...
Thanks to everyone who came and to Phil who organised the event. It rained on the way home.
---
First published, June 1998

Go to the Archive index
---