Go to the Archive index
---
22cc Friction Drive, End To End
Frank Brzeski
Using the SoCtC as a shake down cruise (well it was wet enough) I changed handlebars, cut another inch off me wellies, and reduced the engine size to a more manageable 22cc.
The Adventure Begins
26th July
With two Asda carrier bags, a bungy and my army camouflage training, I managed to disguise the B-Z PowerPush to look like a bicycle with a 22cc engine on the back wraped up in carrier bags, thus smuggling it past the eagle-eyed train guard for the trip to Penzance.
Lands End was closed when I set off on, but I managed to get a German, who was laying his towels out on the cliff top, to take some photos of my start, then lost an hour explaining the End to End. I'm not sure he could grasp the concept.
I wasn't being frightened of Bodmin Moor by some over grown moggy; if I'd known about the hills I would have picked a prettier route. Diverted to Weston-Super-Mare that night, finding a B&B just before the heavens opened.
27th July
Ten thousand calories on my plate for breakfast, a tail wind and dry roads, the Severn Bridge, Wye Valley and Shropshire were just a blur, and so to Knutsford for the night.
28th July
Still had tail winds and the roads dried out by the time I had passed through Wigan. The Shap was so hard I had to stop in the village to replace lost body fluids; it took 4 pints of Guinness. Staggered to my sister's in Penrith for the night.
29th July
Rain and head winds today, through Gretna, Galashields and up to the Forth road bridge (Q: Who built the Forth bridge? - A: I don't even know who built the first three.) crossed the bridge and back. Dried out at my cousins in Falkirk.
30th July
Over night the weather got worse: flash floods in Dundee, traffic stopped on the Tay bridge as I was part way across, but an Arbroath Smokey for lunch (it's a bit like an anaemic kipper). A four and a half hour breakdown in Montrose (it's a long story); but at least my feet are dry: "It's hard finding a B&B in Montrose when only your feet are dry".
31st July
The head winds increased in strength overnight and dried out the roads. The road from Aberdeen to Inverness has a countdown marker every mile for the whole 108 miles, and a garage - it was closed! But I did see a Golden Eagle. Made it to Tain that night, tomorrow - The Summit.
1st August
Dry roads and only 86 miles to go: "nothing can stop me now". The Bannock Braes: basically get four Shaps, put them in tandem, replace the sheep with woolly cows, a glimpse of the distant sea below through the odd break in the clouds, and sweat lots and lots of sweat. "Puff-pant-Nothing Can Stop Me Now." Riding through the cones of a road works letting others pass, I hit some thing that slashed open the rear tyre. "Oh dear", I said, or words to that effect. A new tube and a front for rear tyre swap got me on the road again. "NOTHING CAN STOP ME NOW." I crossed the finish line at 3:20pm.
I would like to claim this as a record for the smallest capacity machine to travel from Land's End to John O'Groats, the previous being a 25cc Cyclemaster, one being ridden by Andrew Roddham.
This trip was done with no backup, so the many offers of help I received from club members was a great encouragement, though thankfully not needed; may I give you all a big THANK YOU.
22cc: Gentlemen, I throw down the gauntlet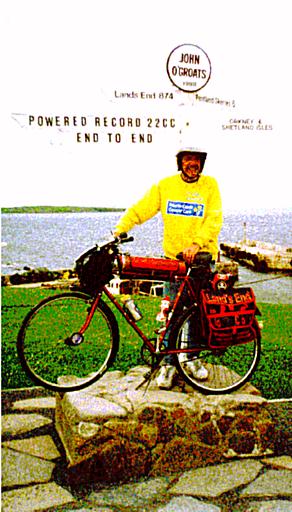 ---
First published, October 1998

Go to the Archive index
---