Go to the Archive index
---
Electroglide in Black
Toby Savage
My thoughts drifted away from petrol power towards electric when my mother bought a new Powerbike last year. Clean, efficient and fast, it seemed to offer a very practical means of transport with the additional advantage being classed as a bicycle. Some months later I acquired a broken Electrobike for nothing. With a new set of brushes and some second-hand batteries from fellow Leicestershire Enthusiast Pete Stratford, I got it going. With flimsy plastic wheels and the battery weight over the rear wheel I found it ungainly to ride with little in the way of directional stability. The solution appeared in the form of a disused Phillips gent's bicycle in the back of my lock up. If I could combine both, I stood a chance of having an electric bicycle of 50s appearance that would form a good stable mate to my existing Cyclemaster. A weekend's work with the hacksaw and MIG welder created a workable prototype powered by the 24 volt Electrobike motor through the freewheel crank (the key to the whole set up) and final drive through a Sturmey-Archer 3 speed. The two 12 volt batteries were mounted within the frame keeping the centre of gravity central. A coat of black gloss Hammerite finished the whole job off ready for a trial run 7 miles to Hungarton and a meeting of the Leicestershire Enthusiasts.
It went very well out there, with me using all three gears to good effect. Speed was akin to my Cyclemaster, but the one brake of dubious vintage on the front was clearly not up to the job, resulting in my having to dig my heels into the tarmac to retard progress on the steep descents - something I thought I had given up in childhood 40 years ago. But, hell, anyone can make a bike stop; it takes a genius to make a bike go fast. After a rejuvenating pint of Pedigree and a chat discussing such varied topics as a valve lapping device and the sale of an Old Folks' Home, it was time to head for home, in the dark, with just a rear light and a small torch which I gripped between my teeth. Predictably the two 12 volt batteries expired within a mile and I had to pedal the rest of the way. With such a well balanced bike this was no hardship until one of the pedals fell off forcing me to angle my foot to pedal on the crank only. Another childhood skill recalled. Home for 11:00 and a few repairs see the electric in regular use now and a joy to run.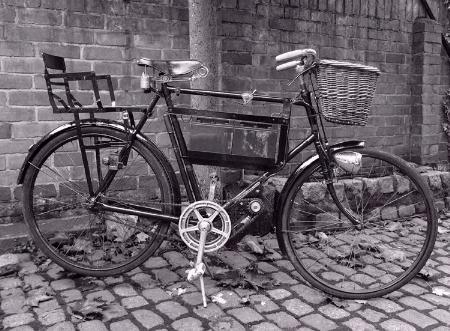 The finished result of a weekend's labours: a Retro-look electric bike that turns heads in Leicester.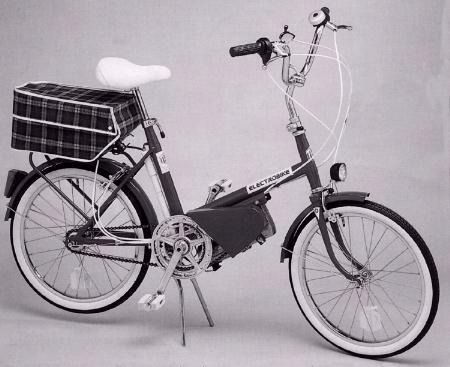 The donor bike: an Electrobike manufactured by TGA, Halstead, Essex.
---
First published, December 2001

Go to the Archive index
---