Go to the Archive index
---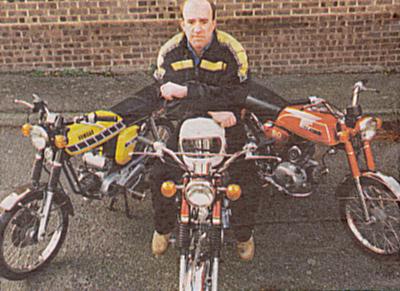 Moped mad: Eamon Maloney (above)
with his collection of sports bikes and
(below) a Yamaha poster
showing the FS1 DX
Twist 'n' go
Power wasn't their best feature but sports mopeds had Seventies style in abundance, says Simon de Burton
THEY struggled up hills produced more noise than horsepower but back in the Seventies, owning a sports moped meant more to your hip biking 16-year old than Starsky and Hutch, Suzi Quatro and flared jeans rolled into one.
Two-wheeled heaven was a Yamaha FS1-E - known as the "Fizzie" - the less racy-looking Suzuki AP5O, or Honda's solid and reliable SS. Others, me included, spent their spare time in the garage repairing highly-strung, "exotic" machines, made by Italian firms such as Fantic and Garelli.
Outlandish top speeds were claimed, but 50mph was about it.
If you came anywhere near 70mph, you were probably on a Fantic where the speedo needle was probably measuring vibrations per second rather than forward motion.
In 1973, the government decreed, in order to reduce accidents, that 16-year-olds should ride nothing bigger than a moped. As far as the Ministry of Transport was concerned, a moped was something with a 50cc engine and pedals - something slow and unattractive to youngsters like a Raleigh Runabout or a Puch Maxi.
So the clever bike makers fitted pedals to tiny 50cc "performance" motorcycles. Inevitably there was an outcry and, in 1978, it became illegal to sell a new moped that would do more than 30mph. Soon most of the surviving sports mopeds had been thrashed to death, and were largely forgotten.
Except by members of the Sports Moped Owners Club (SMOC), who are dedicated to preserving these two-wheeled period pieces.
Devotees include Eamon Maloney a 40-year-old south London civil servant and owner of what is probably the finest Fizzie in Britain - it cost £4,500 to restore. Finished in classic Yamaha yellow, Maloney also has a mint condition example in purple and an equally superb Suzuki AP50.
"These bikes represent an era which means a great deal to so many people of my generation," says Maloney. "After 1985, no one wanted sports mopeds, but about five years ago, people of my age who were established in their careers and bad a bit of spare cash, started buying them again: it's what you might call 'Men Behaving Sadly' I suppose."
"My Fizzies remind me of the time I worked in an off-licence. I was 16 and saving up for one. It cost £235 new in 1976 but I bought a secondhand one for £145, and then had to find another £30 for the insurance."
"Just hearing a Fizzie now immediately takes me back 20 years and lots of other people feel the same: whenever I take one out, every 35 to 45-year-old male wants to stop and talk to me about it."
What to pay
Expect to pay a minimum of £250 for a running Japanese or Italian sports moped such as a Suzuki AP50, Yamaha FS1-E or Fantic GT4, with prices rising to £2,000-plus for the best restored examples.
It is still legal for a 16-year-old with a provisional motorcycle licence with a CBT to ride a pre-September 1978 unrestricted sports moped.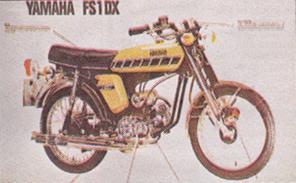 Sports mopeds have become increasingly hard to find and values have risen dramatically. Fizzies are probably the most readily available and there are plenty of spares, although new parts are expensive.
Much rarer are some of the European models, such as the Garelli Tiger Cross trail bike, the French Gitane race replicas or, perhaps the most outlandish of all, the Fantic 50 Chopper.
Contact Chris Alty, secretary of the Sports Moped Owners Club, on 01695 720806.
---
First published on Friday 25th January 2002 in eswheels,
the motoring supplement of the London Evening Standard.
---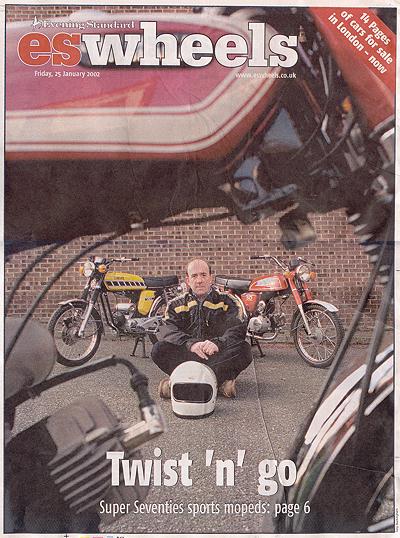 ---

Go to the Archive index
---