Go to the Archive index
---
Letters to the Editor - April 2002
---
I have been an active club member for a few years now, and in common with many others, have an interest in many types of bikes. I've got the Cyclemaster, Autocycle, Puch, Raleigh, etc., etc., the list gets longer with each passing autojumble. Anyway, the latest projects to adorn the garage floor are a 65cc Moto Guzzi Motoleggera of 1948 vintage and an early gold tank FS1E, Yamaha "Fizzy". Now, neither of these bikes have a marque specialist, so does that mean that they are not eligible as club bikes? The Moto Guzzi was very popular in its native Italy but is quite rare over here. It's very similar in appearance to the original NSU Quickly but without the pedals. At 65cc it's not a moped but obviously smaller than the 98cc autocycles. The FS1E has a kick start, but also has pedals. It may be "Jap Crap" but on that basis so are Hondas.
So, when is a club bike not a club bike? Or, is it, as I believe, the individual who is the member and as long as they have a keen interest in little bikes it doesn't matter what machine is being ridden on a given day? The alternative is to belong to half a dozen different clubs, which seems daft to me. Personally, I'd like to use any of my bikes on club runs, or on club displays with my friends. Fast, slow, British, Foreign, pedals or no pedals, does it matter? If the criteria for being a club bike is to have a marque specialist then please put my name down!
Yours sincerely,
Alistair Currie
---
Would you please find listed below an article that you may wish to include with the next edition of the Buzzing magazine? The article is copied from Motor Cycling dated 16 October 1958.
It shows a proud Gladstone Bovell aged 32 years with his NSU Quickly before the start of his 22,000-mile adventure to Australia. The picture begs the question, "Did he complete the journey?" and he must have an interesting story to tell. The picture shows Gladstone at Trafalgar Square on 3 October 1958 with an NSU Quickly loaded with bags and complete with pennant. I wonder if his RAC breakdown membership was used on his travels. He is surrounded with feathered friends obviously admiring his Quickly. Today, it would be difficult to re-enact this scene without upsetting Westminster Council.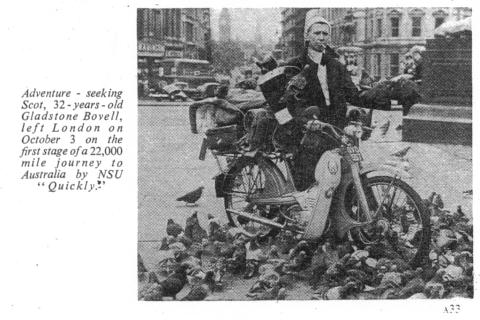 Thanking you in advance,
Peter Chinnery
---
The splendid Hudspith 'SteamSoleX' is not a 'premier' model, but the third type. The first had tubular seat stays rather than the channel of the type 2 - both of these had the toolbox at the front end of the carrier. The third type had the box at the rear of the carrier like Geoff Hudspith's. Anoraks of the World Unite!
All the best,
Bob Cordon Champ [VéloSoleX ME]
---
With reference to the Mist Pie Run by Mark Daniels and the icing of David 'Lurch' Stevenson's Velo carb in the Feb 2002 issue.
I used to run a JAP Morgan three-wheeler and the local section of the club used to meet for a Boxing Day run. Frequently, in cold conditions, the JAP suffered a frozen carb slide. I cured it by cadging an old fashioned lady's sanitary towel and wrapping it around the offending Amal. Occasionally folk asked what it was for. Part of the explanation was insulation, and that, in keeping with the age of the vehicle, it could be described as a "period piece".
Barrie Gobey
---
I have a 98cc 1953 Norman autocycle which I have nearly finished restoring and I wondered if any other members could help me with some problems I have. The problem I have is that the chain and rear sprocket are very worn.
The chain 1/2" to fit a 3/16" sprocket, (as told by my dad). Where can I get this chain? I have tried various motorcycle shops and scanned the classic ads.
the sprocket is part of the spoke assembly, which means removing the spokes to change the sprocket, (if I can get one). I don't fancy doing this myself, is it possible to get a complete rear wheel for this model?
Any information would be gratefully received on 01992 524641 or e-mail me on Thank you
Howard Osborne
---

Go to the Archive index
---