Go to the Archive index
---
Letters to the Editor - June 2002
---
I hope you will be able to help me. I would be grateful for any info on a Rex moped (although the tank badges state RAP) saved from a scrap yard. I reckon it to be late fifties /early sixties. The engine no is 845336 from Munchen. There is no frame number stamped. There are three gears and the engine seems to be a 50 cc.
I can't find any RAP/REX mopeds on the net and would like to know if they are common or unusual in Germany and whether spares etc can be got. This wants a rebuild but is all there. Any info gratefully received. I've got other projects on already, so the bike could go to a good home if there are any Rex enthusiasts out there. Any info welcome.
Best wishes
Alan Jarvis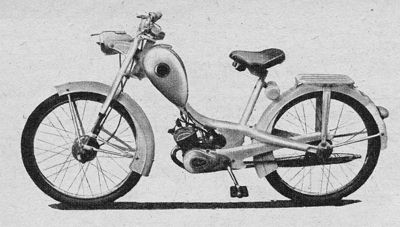 [What you have is a Dutch made RAP moped, which were imported in small numbers in the late fifties by Glanfield Lawrence of London, retailing in 1957 for £74-17s-4d. The 1956 Show Number of Power & Pedal described the RAP as "powerful and well silenced... shewn with variations of specification and finish". An article [in Dutch] on the history of RAP mopeds appeared in the May/June 2000 edition of the Dutch magazine Bromfiets - Alan can be contacted by e-mail on - Paul]
---
I have in my possession a list of articles in Classic Bike and Classic Motor Cycle. It stops at 1993, but I will, this year finish it off (Hopefully). It is not a copy of the original EMAP 'sold' item, so it won't infringe any copyright there! It was created a long while ago and passed into public domain on the net. I have straightened it up, converted it to early Excel, so it will work on any Excel package. I have also converted it to Word 6. Unfortunately it ends up as 400k in Excel but 700k in Word. I have Motorcycle Legends indexed as well. If you would like a copy of these on disc, please drop me a line, or email me. It's free and I'll even supply the disc, how's that? I cannot email it, nor can I supply a printed version, it ends up at 138 pages, you will just have to find a friendly student if you don't have your own Computer! My address is 41 Derry Downs, Orpington, Kent, BR5 4DU or e-mail
George Smith
---
It would be an asset to the Club to have on the website in the alphabetical section under 'B' and repeated in 'S', all the bearing and seal details of the popular cyclemotors so that they may be ordered in confidence from bearing suppliers. Also two or three sizes of bearing pullers [two 'C' clamp type with rear lip] that would enable all the cycle motor bearings to be extracted where the rear of the race is not accessible to the conventional three legged puller. These could easily be made by a small engineering works and even designed by them if they were given the max and min bearing diameters.
Yours sincerely,
David J Drinkwater.
[If other members think this is a good idea, could they send details of manufacturers' current serial numbers for bearings and seals to me, relating not just to cyclemotors, but to other common machines such as the Raleigh and Norman mopeds, the Villiers autocycle engines, etc. In fact, any engine that you are renovating where there you have found there is a modern equivalent to the original bearings and seals. That way we can build up a data base to benefit all our members. Regarding the bearing pullers, we have a volunteer for the post of Spares Secretary, and, when he is appointed, this may be a matter he will choose to pursue. - Paul]
---

Go to the Archive index
---