Go to the Archive index
---

Tanaka Tales: A History Of The USA's Favorite Modern Bike Engines.
Under the names Bike Bug, Aqua Bug, Tas Spitz, Sears Free Spirit, and Little Devil, Tanaka's bolt-on power packages were wildly popular from the '60s through the '70s. Now, a whole new generation of bikers is discovering the joy of moto-biking with re-discovered kits.
By Rif Addams, BR&K Contributing Editor, Photographs By M. Kathyrn Frazier, Tanaka Motors and Literature from the Mike Schneider Collection


Mike Schneider of Houston TX, with family, friends, and his Bike Bug Collection.
I was first introduced to the Tanaka manufactured "Bike Bug" bike motor in the summer of 2000. I was out in my yard tinkering with something or other when a van pulled up the driveway. A young guy stepped out of the vehicle and introduced himself, then asked about the 1959 Desoto sitting there with the 'For Sale' sign on it. He suddenly noticed the old Messerschmitt peacefully rusting away as the centerpiece of my front garden. (A Messerschmitt, by the way, is a three-wheeled single cylinder commuter car that was manufactured in Germany after WWII.)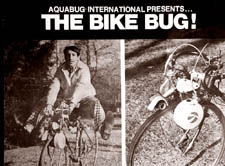 One thing led to another and our conversation turned to old bikes, scooters, mini-bikes, and Whizzers. He mentioned that he had a bicycle motor kit, practically new, and still in its original box - would I be interested in purchasing it? Well, he left his phone number with me and I thought it over for a few weeks.
I called this gentleman in late August and asked if he still had that motor kit. He told me that yes he did, in fact, still have it. He also commented on how timely my call was, as he was heading down to Portland for a Whizzer meet early the next morning and was planning to take it with him to try to sell. I scribbled the directions to his house on a scrap of paper and immediately drove there. When I pulled into the driveway, prominently displayed in the center of the drive, gleaming in the sun, and screaming to be noticed was a Kustomized Whizzer! He allowed me to crawl around this machine while he went in the garage to fetch the Bike-Bug.
I opened the shipping carton and inside was the motor - along with the original warranty cards and the original tool kit! Only the owner's manual was missing. After giving a brief and semi-thorough inspection I knew that if this motor had been run at all, it had been used only for a couple of easy hours.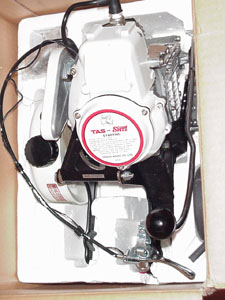 A few months later I was hanging out at one of the local bike shops I frequented for parts and advice. The owner pulled out from behind the counter a Tanaka-made motor kit minus the shifting assembly and gas tank. With a big grin he told me he just had to pick it up because he knew I'd get excited about it. With nothing more than a short trip to the bank then back again and a few frogskins, I had in my possession a motor to use for parts.
Now, a few years later with a little more knowledge and experience I feel I can give an honest assessment of the Tanaka-produced motors sold under the names: "TAS Spitz", "Sears Free-Spirit", "Bike-Bug", and "Little Devil Brand".
It is at this point I would like to say thanks to Mike Schneider, Randy Haslam and Tanaka, Casper Sacco, and Phil. Without their time, inspiration, and generous help this article would not have been possible.
I had the distinct pleasure of being able to visit Tanaka North America, which is the distribution outlet of motors and power equipment. I spoke with Randy Haslam, who has been with the company since 1983. Tanaka has a long history of manufacturing engines and motor parts. Their specialty is the forming and casting of high quality, industrial rated engine components. Randy gave me a brief historical view of the company.
First started in 1917, Tanaka produced recreational equipment long before they manufactured power equipment. In the 1940s Tanaka introduced the "BK-3 Featherweight" bicycle motor in Japan. This was the earliest predecessor to the Bike-Bug as we have come to know it.
Tanaka really came into their own in North America in the 1960s at which time they manufactured engines, power equipment, and some mini-bike components. In the mid-1960s Tanaka produced and supplied small motorcycle and moped engines to a number of companies. In the late Sixties there was an ambitious young sales representative by the name of Bob Thomson, who convinced Simpson Sears (Sears of Canada) to carry the small outboard motor manufactured by Tanaka. In 1975, Sears began to carry a variety of Tanaka's motor products including the "Free-Spirit" bicycle engine. Shortly thereafter these products were expanded to Sears Roebuck and the Free-Spirit motorizing kit was introduced to the US market. As a side note: Sears displayed their Free Spirit Bike Engine in the Sears Tower in Chicago as one of their more interesting products.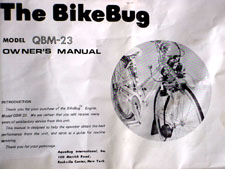 In the late Seventies Tanaka supplied boat motors, small generators, pumps, and (of course) bicycle motors to Aquabug International, a small distributor out of New York State. The bicycle motors from Aquabug were sold under the "Bike-Bug" name.
Tanaka's distribution warehouse has an archive of these products and they all are based on the same 23cc motor. I was fortunate that Randy allowed me to have a look, and sure enough it's exactly the same cylinder and block, just with a different housing for whatever the intended purpose. I was very impressed with the little Aquabug generator; it packs quite a punch for such a small package!
In the early eighties, right around 1983, Aquabug International was experiencing financial woes. Tanaka acquired the company, dropped the monikers "Aquabug" and "Bike-Bug", and continued production of the bike motors under their brand name "TAS Spitz". "TAS" is the name Tanaka had been using on their recreational vehicle motors since the sixties - the minibike, motorcycle, and moped engines.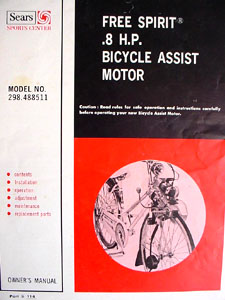 Randy went on to tell me that the mid-eighties saw the final nail driven into the coffin for the bicycle motor kit. "The market completely fell out. Nobody was buying them. Our motor kits sold for around $250.00 at that time. Honda was selling a complete 50cc bike package for around $400.00-$450.00. For less than twice the amount of a TAS Spitz, a complete vehicle with more power and higher top speed could be had. We just couldn't compete."
He goes on to say, "We had a large number of the things [bike motors] just sitting around taking up space in the warehouse, and we couldn't give them away. We were offering them to our employees for fifty dollars each and they still just sat there. Finally, we liquidated the remaining stock to a few of those companies that buy out leftover and discontinued stock then sell it to the public at a highly discounted rate."
"It wouldn't surprise me a bit," Randy continues, "if there's a bunch of the things sitting in some dark, dusty, forgotten corner of a warehouse somewhere. I've noticed the irony in that. I've been watching e-bay and seen the prices for these little motor kits continually going up. I've been looking for one to display in my office. I want to mount it on this old Schwinn I have.* It just kills me because like I said 12 to 15 years ago we couldn't give 'em away!"
Randy and I discussed the increasing demand for replacement parts to repair these used (and abused) motor kits - "We are getting more and more calls from people all over the country trying to get parts for their bike motors. Unfortunately, we have a very limited stock left that can be ordered from the factory in Japan." I asked specifically about replacement of the rubber surfaced drive roller, and, by punching a few keys on the computer, I am informed that a few of these can still be had for around $35.00 each.
When asked about the availability of a drive roller for use in wet conditions, for those of us who live in areas that have rain nine months of the year this is what he had to say: "We sold out of those years ago! That was part # RR-100. 'RR' was an abbreviation for 'Rain Roller'. The RR-100 was a resin impregnated sand of some sort; it was cast in the same molds as the standard rubber drive roller onto exactly the same hubs. The RR was indestructible. It just wouldn't wear out! The only drawback was that it would wear through tires quicker than the standard. At one point, during the early eighties, the RR-100 was out-selling the standard drive roller. I asked one of our customers about this; he said, 'the rubber rollers last about the same amount of time as a tire being used with the RR-100. A new roller cost me twelve bucks a pop. New tires cost three. I'd rather use the RR-100 which lasts forever, and buy new tires.'"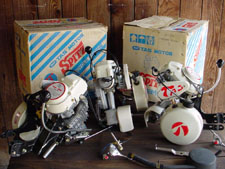 "One day around 1985 or '86, we received in the mail a set of photographs of a foot scooter. If you'll remember, back then the foot scooter craze was beginning to resurface as a result of the BMX Freestyle movement. These scooters were set up with a skateboard-like kicktail and 12" wheels with pneumatic tires. Well this guy had set up one of our (Tanaka) two-cycle motors with a centrifugal clutch assembly driving the rear wheel!"
Randy recalls this with a chuckle, "We passed those pictures around the whole shop and we all had a good laugh. We had played around with the idea, but not seriously. If we had only known back then...!"
"There was also a company around that time that was using one of our two-cycle motors to power skateboards. You know, those things are kinda scary. They go about 30 miles per hour and there's no brakes. The only thing you are holding on to is the throttle and kill switch apparatus! Fun, but kinda scary."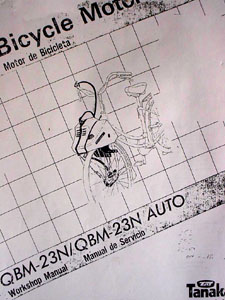 While we were on the subject of motorized foot scooters and skateboards, Randy showed me a few examples of the scooters Tanaka supplies engines for. The Viza brand scooters use Tanaka's motor and gear assemblies; also in his office Randy has a Go-Ped with a Tanaka motor on it.
I had to ask, considering the recent rise in the popularity of not only the Bike-Bug, but motorized bikes and alternative motorized vehicles in general, if the company had any plans to resurrect the Bike-Bug or perhaps introduce a completely new design for a bike motor kit?
"At this time we have no plans for that. It's a good question, and we have discussed it to some degree, but there are two main factors that we feel are working against us. One being market volatility. We just don't know how far this [motorized bikes, scooters, etc] popularity is going or not going to go. Has the market just begun? Is it reaching its peak? Has it peaked and is now on the down side? We just don't know. After the drop in the mid-eighties and not being able to move the motor kits, Tanaka is a little leery of going through it again."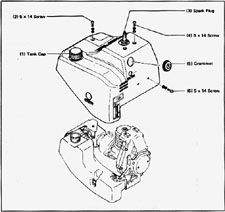 "The other factor - and this is probably the biggest in the consideration of a project such as that - product liability. We don't feel it's worth the liability risks. These days we just want to be involved in a big mess like that. We do however have about a dozen or so companies we supply motors to for their motorized fun products. Such as the Viza scooters."
I do have to say though, even if the company isn't going to produce motorizing kits on a large scale again, it would be nice if they ran a few in a limited edition just for us collectors. For nostalgia's sake. But that's just this author's sole opinion.
Once again I'd like to thank Randy Haslam for taking time from his schedule to speak with me and show around the Tanaka North America facilities. It has been a pleasure!
---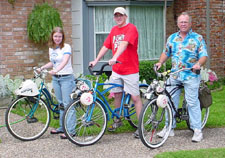 There are so many things about this hobby of Kustomizing and motorizing bicycles that make it enjoyable, but for me the key component that makes it so darn interesting and fun is the people you meet along the way. Old friends whom you've just met. Mike Schneider is one of those folks. Mike has been collecting and refurbishing these motors since around 1999. Not only has he been kind enough to open his archives of literature and photographs, but has given me a great amount of insight into fabricating replacement parts, and little tidbits of helpful advice when restoring a Bike-Bug or even just for doing regular maintenance.
Without Mike's help this article would not have come to fruition. Here's his story:
"I purchased my first motor (still in its box) at a garage sale, for $5.00, in June of 1999. I remember seeing them advertised in the back of "Popular Science" magazine I think when I was about 10 or 12 years old. I always wanted one but never had the money. The man who sold it to me said that he and his brother 'Ran the dickens out of it' when they were kids until the drive hub was worn out. His uncle was going to build them another rubber hub, but never did. They stored the motor in the attic of the house. It was found when they decided to move, and it was sold to me. I strapped it to the back of my Honda Shadow and drove off."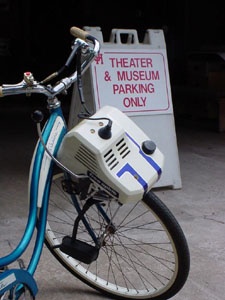 "I contacted Tanaka through a web search," Mike continues, "I was able to get a parts list, but no manual. In dealing with the parts man, Larry Bragg, I was given Casper Sacco's name and address in Clinton, New Jersey. Larry thought Casper had a manual because he would order parts and talk of 'souping up' the engines including adding nitro fuel model airplane fuel to the gas mixture. I contacted Casper, and we became friends. He sent me a copy of the manual. Casper does not have e-mail, so we corresponded by US mail and telephone."
"In the meantime, the man I had bought the engine from contacted his uncle who still had the drive hub housing on his workbench. I built a drive hub using J B Weld and concrete nails following Casper's instructions. It worked, but it sure ate up tires. Since then I have developed a method of building drive hubs using old skate wheels that is, in my opinion, better than the factory original."
Mike's first ride on a TAS Spitz moto-bike is summarized in an email he sent his brother as follows:
---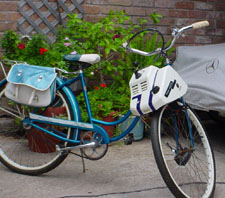 "Yes!!!!!"
"The TAS Spitz has life. It is functioning again back from 1978. Friday night at 7 PM. The engine started and we roared off at about 17 MPH. It buzzes like a combo between and chain saw and weed eater - down the highway. Looking for adventure in whatever comes our way."
"At the turn out of the townhouse subdivision the drive hub came off and went rolling down the pavement. I walked and searched the various donuts made prior to our exit. Saint Anthony came through and the securing nut was found and drive hub fastened into position. Later we made it to church at St.Thomas. After service, buzzing the parking lot with church goers landed us a round of applause."
"One man on his Valkerie (1500 CC Honda) clocked me at a wind in your face 13 MPH. His girl friend on the back was doing her hair - lots of running her fingers through and staring at my HORSE."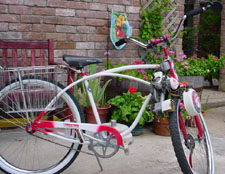 "Kids along the road - put their hands on their heads and said - "That's his bike". Mothers pulled the children closer. People smiled - a lot of thumbs up and waves."
"2 months work - research, parts building and advice on small engines and letter writing. Thank you Casper Sacco in New Jersey."
"It may not be launch of a rocket ship, but it was thrilling to ride. I wanted one of these since I was a kid - 10/ 12 years old from the back of Popular Science. Thank you Lord for letting me experienced a little boy thrill again."
"It is mounted on a mountain bike. Extended out the engine frame with spacers and longer metric bolts. Bike forks were 3 1/2" wide years ago - now they are 6". The bike has been fitted with head light, strobe taillight and rear rack/ buddy seat. Gonna have to find a girl friend with a smaller rear end."
"The bike looks real shiny, Vato."
---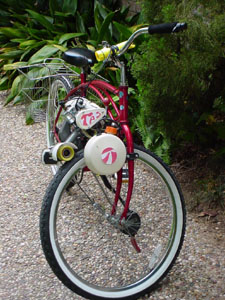 "My second engine came from Florida. I found it through the Old Roads menotomy web site. Unfortunately it was a QBM-23 Automatic with clutch arms that were totally 'eaten up' and carburetor problems. I have gotten it running but it is not the engine that the Standard is. My thoughts are that this model was developed and introduced as a safety feature since the clutch would allow the engine to be stopped while engaged without lugging it down. On this model the gas tanks were made of plastic rather than metal and there was a shroud that covered the entire engine assembly. Again I thought this might possibly be another safety feature, but this shroud allows the engine to heat up much faster."
Mike tells me he mounted the Automatic model on a 20" wheel bike.
"My idea was to have a unit that I could take with me on canoe trips. I could go out, find a landing point, then moto-bike back to my truck to get my canoe."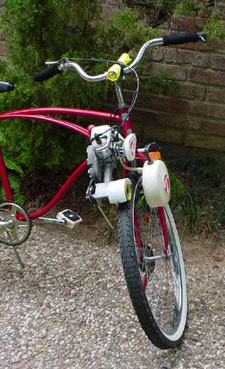 Mike goes into more detail of his acquisitions of the Bike-Bug motors:
"After an unsuccessful bid for a motor on e-bay, I was contacted by a bicycle shop owner (Moses's Bicycles) in Massachusetts. I bought two used ones from him. One, however, had a broken cylinder head and has been used for parts so far. Later I was contacted by a 17 year old in Florida who wanted information on the engines. He apparently had found one, or parts of one, while cleaning out a shed. I sent him the literature I had on the engine. Later he and his Dad decided the parts would too costly for the benefit, so I bought the engine from them. As it turns out this engine was out of time, so I tried using an Adam ignition kit, with moderate success (Casper had mentioned that he never could get the timing to work properly). Later that year I took the engine to a cousin who is a mechanic. We worked on the timing for several hours, then finally came to a spot in the repair manual that clued us in on how to fix it. That is now my fastest-running unit!"
"I have had many people ride the bicycles with the Bug motors. A parade of six at one time is my highest record so far!" (I am picturing something that sounds like a swarm of mutant hornets screaming up the street! - Riff)
"There is always a lot of head turning when we ride by and people want to buy them, especially young boys. It seems that a motorized bike is still a universal dream!"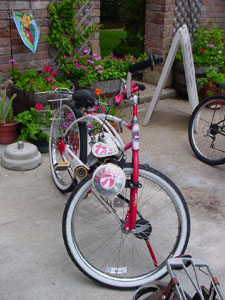 With the lack of available parts Mike has had to become somewhat of an inventor. In fact, between creating his own replacement parts, and his vast library of source materials, Mike has put together a package of information, which includes specifications, literature, and do-it-yourself instructions for fabricating replacement parts. His packet has just about everything you'll need if you are working with one of these wonderful little Tanaka-built motorizing kits. Mike does this for the minimal cost of copying, shipping, and handling. Mike was kind enough to send me one of these packets for this article and I honestly feel that this is a heck of a deal. The information in this packet is invaluable to anyone who owns and maintains these motors.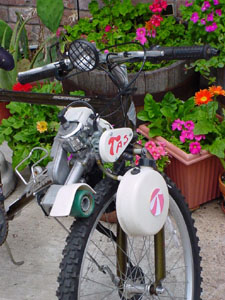 Here are but a few of the tips Mike shared with me:
"Repairing the units has led me to using an improved lithium grease that was not available when these units were originally built. This grease is used in outboard engines that have a similar 90-degree take off on the transmission from the power unit. This grease is 100% water and moisture resistant, is cleaner, and does a better job of lubricating the gears. I also use a synthetic two-cycle oil mix that is used in racing motorcycle applications. The synthetic oil burns cleaner and lubricates better, avoiding the carbon build up that chokes the muffler and engine."
Mike also recommends the use of the highest grade gasoline available, as it seems to give a little more push per stroke while, again, burning cleaner.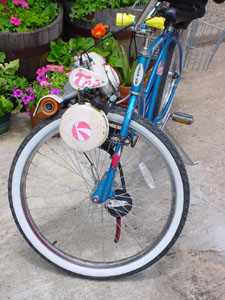 Mike has also developed a way of fabricating a new drive roller using the original hub. He uses an old urethane skate wheel pressed on to the old hub. The engine does not have to work as hard with this modification as compared to the standard original, which enhances the life of the motor. Not to mention the drive roller lasts forever and due to its larger diameter propels the vehicle at a slightly higher speed.
I don't want to give away all of Mike's 'Hip-Tips' so I'll just wrap up by saying once again that the packet Mike has put together is well worth having if you own one of these motor units.
---
Mike also told me the story of Phil. I was inspired by his story and felt compelled to include his brief story.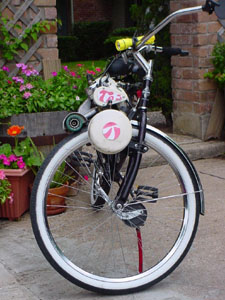 "Watching e-bay over the years I have bought two "New-In-Box" motors," Mike says, "plus one that was slightly used by someone who had previously outbid me. One of the motors that was new in its original box came from a woman who was liquidating the estate of a bachelor who was an engineer. The man had been wheelchair bound for a good many years. The engineer - Phil Sanford of Howell, Michigan - would order interesting items from catalogs; when the products arrived he would thoroughly study them. When finished with the pieces, he would then box the objects back up, catalog them, and store them. Phil used his mind to enjoy the things, which he was physically unable to. Now when I ride that particular moto-bike I like to imagine Phil is right there with me in spirit enjoying the ride he was previously unable to take."
Ride on Phil, Ride on...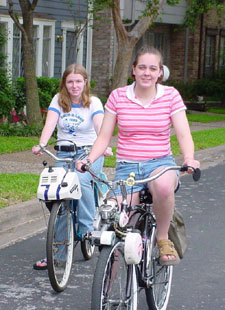 I would like to extend another thank you to Mike Schneider of Houston, Texas. Not only was his help crucial in the development and execution of this article, but also he's just a darn nice guy! It has been a pleasure to get to know him and I hope one day we'll be able to get together for a cruise around town on our Bike-Bug powered bikes.
---
Gary Berger of Toronto, Canada who is rather new to the moto-bike experience sent me the tale of his Tanaka motor...
"The Spitz that I bought had almost no compression, so I decided that a rebuild was in order before I hauled it down to Freeport, Grand Bahamas in the Caribbean Ocean. Here started one of the most pleasant adventures of the past few years. Although it took some time, effort, and searching I'm glad the unit I bought didn't run well because, through the parts search, I met some of the nicest people I've run across in years."
"The motor had a broken piston ring and the piston itself was badly scuffed. So the repair was very straightforward and through my parts search I found you guys. My special thanks goes to Mike Schneider of Houston; without him I would still be walking. Mike responded to my e-mail and remembered Casper Sacco had a new piston. I called and 48 hours later it was here. Mike also faxed (42 pages!) a shop manual and parts book. This was a real help. I also now have a second parts engine on the way from Casper."
"When I took my bike off the boat and started installing the Spitz on the dock, it was a huge magnet for guys (why never a girl magnet?) and soon I had a dozen advisors. Everything went well until I noticed that the end casting on the gear case was cracked and almost broken off. That stopped my day and I called Mike in Houston - he left work two hours early and got a replacement to me by FedEx the next morning (he pulled it off his engine, what a guy!)"
"By 11:00am, I had the first 500 yards behind me, when the engine stopped. I reviewed the troubleshooting guide and noted two potential problems. The clearance on the magneto was incorrect and fuel was dumping out from between the two halves of the carb casting. How Mike knew that the carb O-ring may be a problem I'll never know, but among the parts he sent me was a new O-ring. After setting the magneto and installing the O-ring, all worked like greased lightning."
"The Spitz is mounted on a 20 inch folding bike and is using a modified drive roller that Mike dreamed up. It is a 62mm roller skate wheel, drilled out and pounded on the old drive roller. This works surprisingly well and gives me about 25mph. I put over 70 miles on the unit and believe that it will run almost forever with minor maintenance and the right oil mix. I had a Honda 50 as my boat bike but it was a problem for storage on the boat and it weighed about 85 pounds. The Spitz with bike has a weight of around 31 pounds and I can split the bike in two pieces reducing its bulk and weight. It fits into a locker on the boat and works so well that I gave the Honda 50 away. I had at least 10 people ask if they could buy a Spitz but I sent them the Island Hopper web site for new motorized folding bikes. I couldn't tell them what a Spitz is worth because the majority of the cost has been in FedEx-ing stuff around. My Spitz stands me at about $600.00 to $700.00; but I've had a million dollars worth of fun!"
"I would like to thank Mike Schneider, without his help I would have thrown this thing in the corner and written it off as a couple hundred dollars worth of junk. He is so excited about the Spitz, that it infected me - it's the first infection I've ever thanked anyone for. My girlfriend and kids think I'm nuts and have regressed back to the 7th grade (not a bad place to be). In my driveway are a 500SL, a black 230SLK, a blue 230SLK, and a TAS Spitz - The Spitz is the most fun."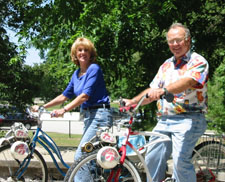 Gary added that he would like to get an E-mail list going with people that have an interest in these units so that a parts network might be kept alive.
The Model QBM-23 Bike-Bug is a single cylinder 23cc, two cycle engine achieving 0.8hp @ 6000rpm (tuned down from the earlier models which could reach 1.6hp @ 7000rpm).
The bore and stroke of this unit is 30mm × 30mm. The compression ratio sits at 7.2:1. It uses a serrated rubber surfaced drive roller against the front tire to propel the bike.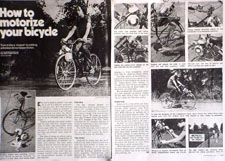 Simple mounting brackets make installation of the motor on your bike a breeze. From the start of installation to finish, I was on the road in under 30 minutes. After unpacking the unit from the box, thoroughly reading the owners manual, and opening the tool kit one needs only follow these simple instructions: (Taken directly from the owners manual)
Remove clamp stay from bracket.
Hold the clamp brackets with both hands and place the engine unit on the front tire and clamp the fork loosely by the clamp stay. Be certain that the clamp rubber is not folded, and that nothing is missing.
Push the raising lever down fully.
Unscrew the front axle nut (left side when facing the front of the bicycle), put the front sub-muffler stay on the axle and replace the axle nut loosely.
Keep the clearance between the drive roller and the tire approximately 5mm (1/4 inch) with adjusting rod and nuts.
Make sure no part of the engine touches the fender or tire, then, tighten screws on the clamp brackets.
Tighten axle nut. Connect sub-muffler with rubber joint and attach spring clips.
Install throttle lever in a convenient position on handlebar.
This may be slightly difficult to imagine but the owners manual has pictures and diagrams that make this procedure a snap, even for those who may be not as mechanically inclined.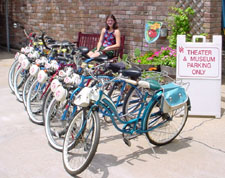 Once mounted on the bike of your choice, getting started is even easier. Disengage the drive wheel from the front tire by "shifting" the engagement lever down fully. Pump the primer bulb not more than three times. Begin pedaling, and when a speed of around 7mph is achieved "shift" the lever fully up.
This will engage the drive roller to the tire and the motor will fire up. Set the throttle lever to desired speed and cruise. To stop simply set the throttle back to the lowest setting, disengage the engine from the tire, and press the red "kill" switch. In an emergency situation, the motor will automatically die with hard braking.
It takes but a few moments to get used to the feel of the motor and front wheel "pulling" the bike and rider along rather than the rear wheel "pushing", but this is a minor adjustment. Once the vehicle gets up to speed it putts right along without any trouble. This motor does need pedal assistance going up hills, and one does need to disengage the motor when going down steep hills. Using the motor to govern downhill speed WILL destroy the engine.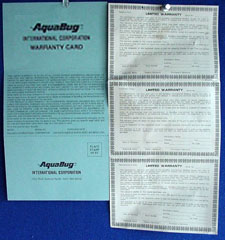 I will say, though, that it does take some coordination and practice to get used to re-setting the throttle and down shifting (almost simultaneously!) at intersections and stoplights, then reversing the process to take off again. There were times when this became a little hairy.
The specifications in the owner's manual state the maximum speed to be 16mph with the governor installed and 24mph with the governor removed.
I mounted the Bike-Bug motor on my 1966 Schwinn Typhoon Deluxe (middleweight) bicycle. The motor kit weighs in at 11lbs (dry weight). I was testing this motor with a full 1/4 gallon of fuel mix, carrying a rider weighing in at 125lbs, and the motor was not modified in any way. With no headwind and on a flat road surface a consistent top speed of 20mph was achieved. Not too shabby!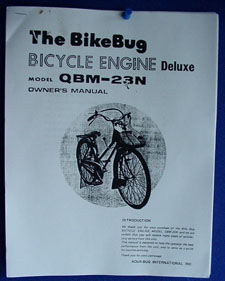 After a few hours and miles this motor just doesn't give up! It keeps right on going without a hitch.
I ran this motor from late summer of 2000 until just a few months ago with very little maintenance. In fact only the usual factory recommended maintenance was required. You just really have to work hard to break the Bike-Bug motor, from what I've experienced. I ran this motor hard, meaning I would run it full throttle all day long, stopping only long enough to refuel. The only time the motor had to really cool off was when I stopped to refuel myself. Granted this was only on Saturdays and Sundays, with the occasionally after work jaunt. Still, I lost count of how many hundreds of miles I put on the Bike-Bug; it wasn't until around a month before I took it out of use did I have any trouble. The problems I did have appeared to be relatively minor.
There is only one major problem I found - the flexible exhaust hose wears out and eventually severs. These are no longer available from Tanaka, and I was unable to locate a replacement. This is not the fault of the motor or manufacturer. We are dealing with a motor that has been out of production for around 15 years. Parts wear out, and it's hard to find replacement stock.
I must admit that I personally prefer a motor capable of higher speeds, that's just my nature. Yet, I find that I am unable to deny or fault this engine in any way. In fact, I believe it is due to the lower top speed, this engine is able to combine freewheelin' moto-bike thrills with the scenery of a slow, mellow bicycle ride. It's the perfect combination for a sunny Sunday afternoon cruise!
Visually this engine is a work of art. The shifter reminds one of something you might find on an old Kustom hot rod, straight out of the fifties and sixties. One's eye is first drawn to the sweeping chrome shifter, down along those graceful curves. Then in an ever widening circle around the mechanism to the front wheel and continues back along the length of the bike to the rear fender. If this motor kit, with the right custom shifter knob, were mounted upon a Kustomized bicycle, a person could potentially have a real show stopper!
The technical college I attend has a car and motorcycle show every spring, which is hosted by the automotive trades department. Last spring I entered my moto-bike. Feeling a bit impish and full of Spring time, I just couldn't resist hamming it up a little. I pulled up to the Harleys all lined up, pulled forward, then walked it backwards into its designated space, just like the Harley guys do. Of course they all begin to snicker and chuckle but I don't mind, I'm not only used to it but I think one needs to have a sense of humor about one's self. Especially when it comes to riding moto-bikes.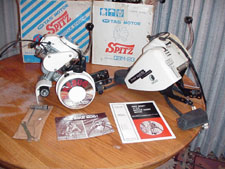 Even stock out of the box and mounted on a stock Schwinn middleweight, this bike caught many an admiring eye and stirred up quite a bit of conversation. Pulling through the crowd was like parting the sea. The people step aside and stop, do a double take, then just stare as I glide on by.
Over the past few years more and more of these units have been cropping up on e-bay. The prices collectors have been paying have also been increasing. I would have to say the best bang for your low buck could be had at the moment with one of these Tanaka produced motors kits. The fun factor alone will more than make up for the initial cost. Once you ride one you'll never go back to lone pedaling again!
[As of this writing Randy has acquired a Bike-Bug to display in his office]
TAS Spitzers, Bike Buggers and Free Spiriters looking for contacts out in the world can e-mail the following people for more information

---

First published by Bike Rod & Kustom in June 2002
With thanks to Mike Schneider for supplying the article and suggesting its inclusion in the archive.

Go to the Archive index
---