Go to the Archive index
---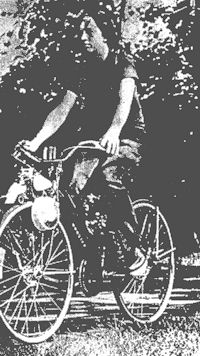 How to motorize your bicycle
Turn it into a 'moped' by adding a friction-drive helper motor.
Bill Hartford
Ever try to pedal a moped? You can do it, but it's difficult and surely it isn't any fun. The chain-driven, 50-cc moped is - make no mistake - a mini motorcycle meant to go with gas, and if that's all you want, fine. But if you enjoy bicycling pleasure too, the way to go is 10-speed with a helper motor.
There's nothing new about motorized bicycles. The first "moped" goes hack to 1904 (see Detachable Cycle Motor, page 1136, Nov. 1904, or check the photo of this machine shown in our 75th anniversary issue, page 73, Jan. '77).
The idea of using an add-on motor seems to capture the imagination of each new generation of pedalers. Indeed, this century has seen many types of bicycle motors come and go, and has seen the bicycle itself - the most ellicient form of transportation known - refined to the point that any normal, healthy rider can gobble up an unprecedented number of miles per calories.
The bike
For our "Project Moped" we started with a Schwinn Suburban 10-speed. For upright riding position, comfort and versatility, we selected the women's model with tourist handlebars. It's a '76 model so doesn't have the Shimano Front Freewheeling (FF) system of the '77s. Don't motorice an FF machine because it would he annoying to have the chain-wheel revolving constantly.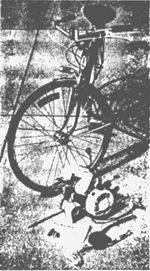 BikeBug engine from Aquabug International mounts on Schwlnn Suburban 10-speed in a few steps.
The $150 Suburban with front and rear caliper brakes was our choice, but any bike will accept the front-wheel-drive motor we installed.
The motor
Designed to clamp onto the front fork of your bike without interfering with the front fender or brake calipers, the BikeBug is an impressive 22-cc engine and drive unit. We ordered the BikeBug QBM23 engine from AquaBug International, 100 Merrick Rd., Rockville Centre, N.Y. 11570 ($170).
The high quality of the BikeBug is apparent as soon as you unpack it. An example of well-thought-out design is the rubber-faced fork clamps (I thought for sure I'd have to fashion my own from an old inner tube). Instructions are thorough.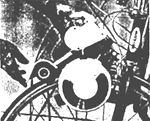 Slip motor into position with clamp brackets over the front fork of the bike.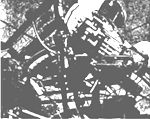 Tighten the rubber-faced clamps on the front fork with the tool provided.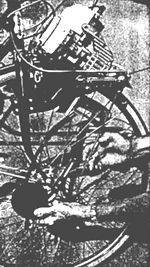 Support rod adjusts the roller ¼ inch over tire and also positions muffler.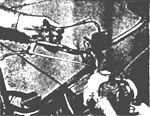 Clamp throttle lever/kill switch to the handlebars in a convenient position.
We mounted the air-cooled motor in a few minutes, as shown, topped off the tank with a liter of gas/oil (25:1) - good for 50 miles, easily.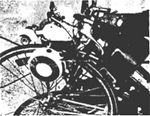 Fill fuel tank with liter of gas/oil mix (25:1) end then get ready to ride!
Underway
Pedal up to a few miles per hour, pull the engagement lever to drop the driving roller against your front wheel and - voila! - you're on your way. With 1.39 cu. in. putting out .8 hp, you can cruise about 15 mph. (We didn't plan to do it. but if you remove the governor, engine power is boosted to 1.2 hp and top speed to 24 mph.)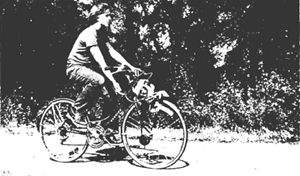 To start the BikeBug, lift the engagement lever which lowers the rubber drive roller against your front tire. with throttle at idle; choke is automatic.
At first we were alarmed at how rapidly the grooved rubber drive roller was wearing, but it is designed to shape itself to your tire quickly and then wear itself instead of the tire. It never slipped or spun durring our tests which included pulling a Cannondale Bugger bicycle trailer with two kids on board. The BikeBug puts an extra 15 pounds on your front fork, but is easily manageable.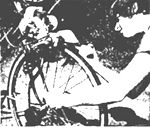 Wingnut on support rod adjusts roller on wheel. Replacement rollers are $12.50.
With 150 miles under power on our Project Moped we're convinced that there's no better way to go motoring and pedaling too.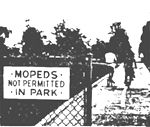 The sign doesn't say anything about bicycles not being permitted, does it?
---
First published in Popular Mechanics, December 1977
[The article was reproduced by AquaBug and issued as a sales promotion. This article has been reproduced from one of AquaBug's promotional copies - hence the poor quality of the illustrations. Thanks to Mike Schneider for supplying the leaflet.]

Go to the Archive index
---