Go to the Archive index
---
Top Cat
Mark Daniels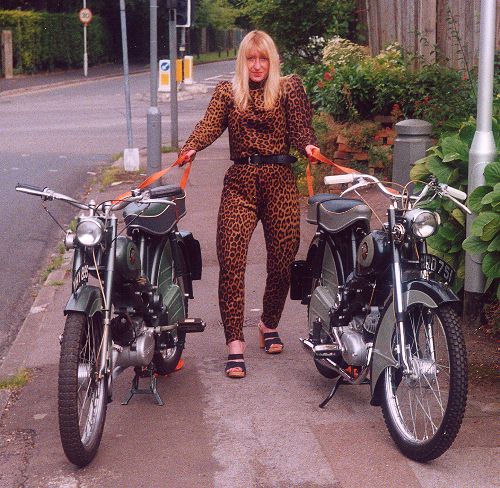 The ultimate fashion Accessory? Straining at the leash: Leopards in the suburbs!
In the late 1950s, a prospective British motor vehicle purchaser could pop out and buy a 'big pussy' in practically every commercial category. Loads-a-money bought you a classy Jaguar to grace your garage, while for a lot less, a mighty Panther motorcycle could be yours. Nor were powered pedal riders to be left out, since even moped buyers could have their own 'little-big cat'. Nearly half a century later, and one of these exquisite felines gracing your stable makes a prized trophy indeed! Now, high on the NACC list of rare and endangered species, these days it's getting hard to spot - a Leopard!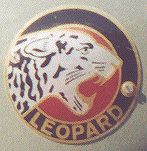 Three Leopard Bobby models were introduced in July 1956, in the form of very different Mk3, Mk5 & Mk6 versions. The name was new, but Gothic styling features hinted their origin. The machines were imported through Christie & Sadler in London, and manufactured at the German Pantherwerke A.G. at Braunschweig. The mopeds were supported by announcement of further Leopard scooters and a KS 175 S motorcycle, but there is little firm evidence to support any of these being sold. On the continent, similar models were being variously marketed under their "Panther" badge (Mk4 in Holland), but for Britain, a change of name became required since Phelon & Moore of Cleckheaton had registered the Panther brand in this country. The Leopard nom de plume matched the wildcat head logo, and had the same number of letters, so the black anodising screen was simply changed for the aluminium tank badges. The basic Mk3 had a rigid, light tubular frame with leading link forks, while the Mk5 was based on pressed chassis components with swing-arm rear suspension and trailing link forks. The Mk6 was the flagship of the range; an enormously expensive moped at £89-15s-6d, its extraordinary engineering and specification was quite beyond anything in its class of the day.
Fully sprung, with upside-down telescopic forks at the front, the swingarm rear suspension was mounted in two impressive, aluminium gravity cast clam-shell forms, which were clamped to the spine frame. Magmeg alloy rims became laced onto full width Sachs hubs, then shrouded by heavily valanced mudguards. The Hella headlamp housed a fitted 45mph VDO speedometer, then the frame finished with a one-piece Denfeld dual seat and rear footrests, which made it the first British market moped so presented. Fashionably dressed with whitewall tyres, white handlegrips and trim edging, the Cadillac look was just coming in vogue on a moped, and the Leopard was right up with the vanguard.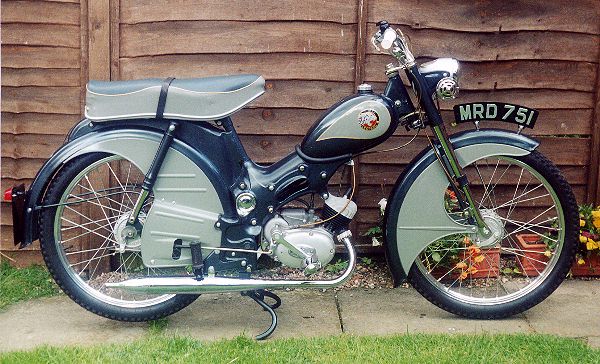 Frank Barnett's Mark 6
At the time, there was obviously a great deal of doubt that a moped could even pull two people with a basic Sachs 1.6bhp 2-gear motor, but the early road tests reported the machine as proving capable, so perhaps it was! Probably a few of us still remain slightly sceptical about the claims of these period reports - so let's find out for ourselves! One such item published in Cycling on October 31st 1957, recorded "load carried during test - 320lb" (22st 11 lbs), so we'll try to emulate this.
All three surviving machines date from December 1956 to September 1957, are still fitted with their original motors, and absolutely standard in engine specification. Any one of the examples can be considered representative for the trial, but duties fall to YHY 895.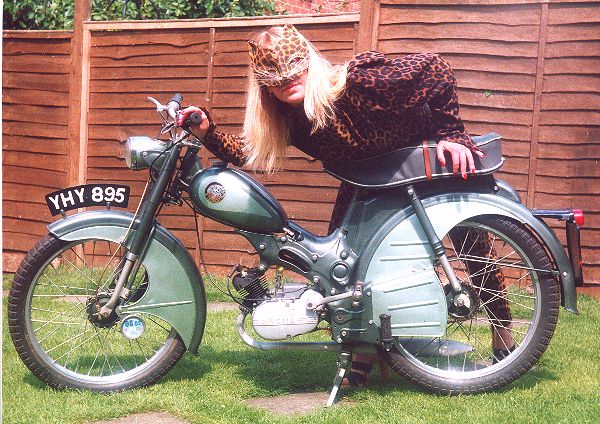 Bobby's Girl with Mark 6, YHY 895
Flood the carb, and starting is nice and easy with the low 6:1 compression ratio, just pat a pedal and the Sachs motor is easily away with a crisp, popping note on tick-over, and a loud eager response to blipping the throttle. First a solo ride of the test route to get the feel of the machine and warm up the engine for the main two-seater event. Typically of most 2-speed machines, there's going to be a bit more throttle and clutch work expected to compensate for the gearing limitations. The hand twistshift is wonderfully smooth, light and positive in both the clutch and change, which may be some compensation in today's town traffic when you're the slowest thing pulling off from the lights! As the revs build up in gear, the exhaust starts to growl as if it's about to come on-song, but taking things further up the scale reveals there's no bite at all, and the upper range deteriorates into progressively increasing vibrations - which the original road tests observed too. It's a nice little machine up to 30mph, but the harshness of revs and vibration start to creep in above this, and getting up toward 35 you sense the bike is starting to become uncomfortable. The period road test gave 35 - 36 top, but it wouldn't seem very kind to hold it there for long since the Leopard's obviously not happy in that territory. There's little doubt the cycle frame really was designed to accommodate two, since the suspension is way oversprung for solo riding, the units hardly move at all, and there's no facility to soften its setting, so you just have to live with it. Fine on smooth surfaces, but lively on bumpy corners. The low ground clearance of the exhaust looks as though it's inviting contact on turns, but mounting tight into the slender machine's centre-line proves grounding to actually be much harder than it looks. The low 6:1 compression ratio takes its toll as the Leopard steadily fades in top gear on long shallow inclines, but cogged down into first, proves capable of all solo demands on the steep hill test without any need for pedalling - but how will it fare with a passenger?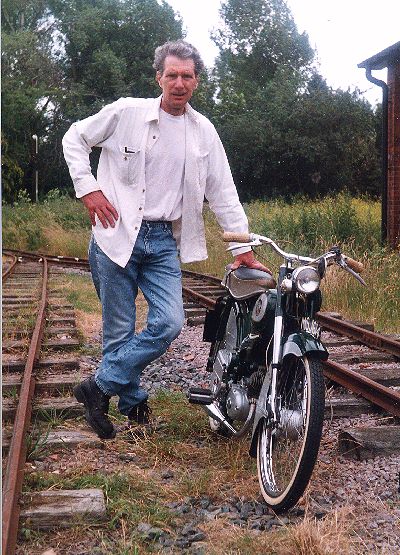 It's a pretty lonely track being the Leopard
marque enthusiast; Bob Southgate doesn't have
many subjects in his kingdom.
Pulling off requires more throttle and sliding in the clutch, but once under way the pillion passenger seems to make little difference to performance on the flat. The bike still manages to build up to much the same top speed as solo, while the additional weight behind makes a much improved ride on the suspension. Approaching the long shallow incline causes speed to fall away much quicker and dropping back to first now becomes required halfway up, in which gear it continues satisfactorily. The steep hill demands a very early switch down to first, but winding open the throttle, the Leopard surprises us both by powering up without any need for pedalling! Two-up load carried during the trial was 21st 13lbs, 12lb lighter than the original test. One comment worthy observation was that the rear footrests are set too far forward, and can only be used as toe rests otherwise the passenger's feet become fouled by the rider during back pedal braking. So now the question is firmly laid to rest, the Bobby 6 really was a capable 2-seater!
With its cracking exhaust note, interesting styling and obvious build quality, the Leopard sounds good and looks just great! Though the 1.6ps Sachs tries its best, and buzzes away like an eager bumblebee, it could do with a little more power, and can't really overcome the limited ratio ranges, so only manages to feel adequate in general performance terms. While its firm suspension construction is probably more suited to the larger solo rider, the dim lights and dreadful brakes on the test machine made me grateful I wasn't performing the same country lane test route on a dark night! Neither of these complaints should be considered typical of every example to such an extent, though period tests had sometimes found cause to comment on poor brakes. In retrospective experience of succeeding machinery over the last 45 years, the Bobby 6 could now be perceived as somewhat unrefined but, in its short day, set a new standard and briefly stood at the very pinnacle of moped technology. To appreciate a fairer view, just compare it to everything else that was available at the time! Hailing from the mysterious early days of moped history, the few remaining Leopards somehow carry an aloof air of Rarity Charisma. Their unusual engineering features and striking quality are well worth further study if you find yourself with the privileged chance to glimpse one of these extraordinary machines out on the rally circuit.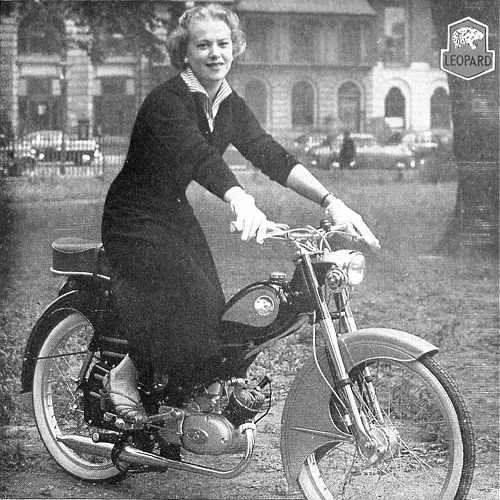 Never ride a moped without wearing gloves
- a publicity shot from 1956.
All models initially came fitted with the same Sachs 1.6ps 2-gear motor, but by May 1957, the Mk5 was becoming installed with a 3-gear version. A type 2 variant also succeeded the original Mk6 in May 1957, featuring conventional forks, headlamp nacelle, and handlebars shrouded by a trim that also housed the speedo. After a run of only 18 months, Bobby imports were discontinued by the end of 1957, but commenced again in December 1958 under new concessionaires, Cabin Scooter (Assemblies) Ltd of London. Leopard B5 & B6 mopeds in 2- & 3-speed versions were listed up to November 1959 when the brand disappeared again - forever! Pantherwerke A.G. abandoned motor cycles and scooters in 1959, but continued with mopeds into the 1970s.
Probably due to their relative cost, none of the Leopards seems to have made significant sales, so tragically, remaining examples today are extremely rare. The marque registry has only succeeded in recording three surviving Bobby Mk6s and a single B6, identified four Bobby Mk5s and possibly three Mk3s. It is known there are still some wild ones out there, so catch them if you can, but you'll have to be quick, this is another uniquely branded moped on the brink of extinction.
The next item features a manufacturer who sold several thousand machines, but without a wheel on one of them! Their logo was a winged radial engine with a propeller, so could the road test be taking to the air? Come fly with Buzzing again in the next issue!
---
First published, August 2002

Go to the Archive index
---