Go to the Archive index
---
HEDGETRIMMER SPECIAL
Charlie Wallis
Part One
Imagine my delight when a friend let slip that he'd been given a hedgetrimmer with the cutter mechanism broken. Within seconds this was appropriated with the promise he could have a go on the future contraption. It turned out to have a Kawasaki TE22 engine. This was quickly stripped of its blades and handles, filled with two stoke mix, cracked up and left to roll around the lawn like a demented child's toy. Brilliant.
In the spirit of the times a budget of zero was allocated for a modern cyclemotor or recycledmotor!
Stripping the drive mechanism revealed a small chamber containing a centrifugal clutch, but any idea of retaining this was dismissed as unnecessary and probably unable to cope with the anticipated increased burden. Discarding the clutch would give a perfect space for a drive roller, with the benefit of an outrigger bearing, with the outer casing extended on bobbins to give room for the tyre to touch the roller.
Are you with me so far? Joyfully, the clutch was driven from the crank by a simple tee-piece with two 6mm bolts at 31mm centres, making the design and mounting of the roller simplicity itself. Grabbing a piece of paper, it was quickly calculated that a roller size of 83mm diameter would achieve the design speed of 60mph cruising at 6,000rpm (the size of the driven tyre is irrelevant). However this was reluctantly reduced to 40mm because of a casing size of 30mm radius, and, more practically, I had borrowed a lump of aircraft alloy from another friend that would only turn down to that size (A prime example of swords into ploughshares, thank you BAe shareholders).
I leave you for the moment as I head off to use another friend's lathe - remember the zero budget - to turn up the drive roller. As they say on Mars, watch this space.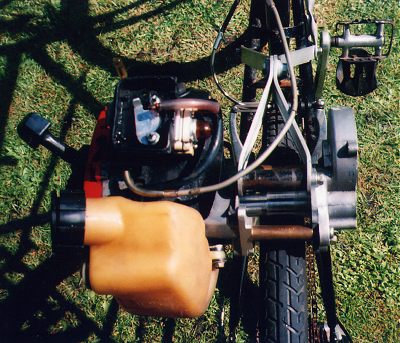 Close-up of the works
Part Two
A happy couple of hours was spent producing two buckets of aluminium swarf and a roller. The end of the roller was tapped to take an M10 bolt which neatly fitted into the bearing in the outer case. Back in my own shed, three pillar bobbins were fabricated to space the casings apart. This turned out to be the hardest part of the job; I mean can you saw, file, grind or drill exactly square? Neither can I. Fitting all this together produced a nice little pod. An old bike was dug out of the bottom shed and the engine rested on the back wheel. It seemed natural to have a pivot point halfway down the rear stays and have some means of ramming the engine backwards to force the roller on to the rear wheel. Short engine plates were made to achieve this and with a bit of fine tuning with a mallet the engine was hovering in the right place. At this point fevered excitement took over and two short tubes were cut with a spring slid over to effect rearward pressure of the engine onto the rear tyre, the throttle lever tie wrapped to the seat post and a launch effected down the street. Popping, shaking and graunching were mistaken for some form of assisted motion but this was quickly brought to a halt as bolts, etc, didn't seem to know their rightful place. Thankfully other duties took me away at this point, allowing a more considered redesign of a scissor action mechanism to push the engine backwards, including a yard long lever ending up somewhere near the handle bars. This was made up the following day, the throttle repositioned on the bars and all seemed more secure this time. Anticipating a more successful run we pedalled off to a private nearby lane. To be continued...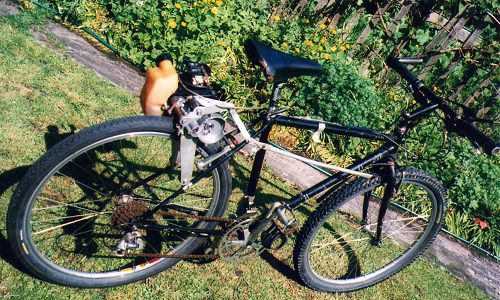 The Hedgetrimmer Special
Part Three
Now at the test site, the engine was warmed up with the drive disengaged, the dolly brollies asked to stand clear and off we set. Unfortunately it was difficult at first to determine if there was the slightest benefit from the noise behind but pedalling frantically seemed to produce a better response and at around 10mph a marginal balance could be perceived. In essence the machine was over-geared on only a 40mm roller. Another bucket of swarf later and with a roller size of 25mm, further runs gave a more rev happy balance of 12mph but still with little or no reserve of power. And that's about it. With only a 22cc engine it's unlikely that more could be achieved, a bigger, more torquey engine is necessary, so it's not going to be worthwhile putting this one on the road. (Thought: hide the engine from the authorities in a beer crate and sneak about, it's hardly a major crime is it? But how to disguise the blue smoke?) So has all this been worthwhile? You bet. It cost nowt and I'm happier than Larry in my shed.
---
First published, October 2002

Go to the Archive index
---