Go to the Archive index
---
A Phillips Panda Restored
R Ditchburn
A few years ago I noticed an advertisement for some mopeds in my local free ads. Always looking for a bargain, I decided to take a look. I came away a number of hours later with five autocycles. At the time I didn't really know what I had and quickly sold them on to various members of the Club. However, in doing so I had caught the bug. Last September, having been a member of the Club myself for two years I decided to attempt to buy a bike. I advertised for one in Buzzing and managed, as is my way, to buy three from the same man. However, when I got them home the Phillips Panda appeared to be the best prospect. There were a number of considerations in making this decision. The first was the original log book and number plate; although it is non transferable, it added to the overall package. The second was the look of the bike. Although it was registered on the 28th July 1959, it looks much older (I liked that), it was complete and I'd never heard of it. The final thing that made me decide was to come in the form of a phone call the following day. The man who called had another Phillips. When I saw it, I was amazed to find that it was the same make and model as the one I had purchased the week before. It had many bits missing but would make a fantastic spares bike. I was sold and immediately put the bike away for the next six months. Thinking time, I think it's called. The truth is I didn't know where to start, so I just didn't. However, fate was to play its part.
Just before Easter I was called into hospital for a routine operation and I had to take 4 weeks off work. This was my opportunity. I decide to make a start. The first job was to photograph the bike from as many different angles as I could. I did this believing that I would have a good record from which to re-build my bike. However I didn't do it nearly enough and I would advise that you take many more than the twenty or so that I did. Then came the stripping. This was remarkably easy to do, with most of the bolts coming off once they had been soaked in penetrating oil overnight. As I took the bits off the bike I put them in labelled boxes. One for chrome to be re-chromed, one for engine bits, one for all the other bits. I did also attempt to label items up, but in my enthusiasm to get it to bits I forgot after about five bits. Within a couple of days I had a pile of bits and no bike.
I prepared the frame, trailing arm, stand, mudguards, rear carrier and front forks for powder coating. I felt that this was the best way to go as I was a complete novice, but be warned, this is not cheap, despite the ads in the Old Bike Mart declaring a price of £35.00. I ended up paying £160.00. This was quite painful but the results were great. I also had the tank and side panels done at the same time. I am also very happy with them.
I decided to leave the engine alone, except for a cosmetic clean up as it was running perfectly when the bike was obtained. I did invest in a new clutch for the bike though, as I thought that it would need one as it had not been on the road for many years.
Over the next weeks I spent time sanding, grinding and polishing other miscellaneous bits and pieces on the bike. I located a complete set of bolts for the bike for the price of a pint, but not before I had been quoted £75.00 by a dealer. I rebuilt both of the wheels right down to the bearings and grease inside.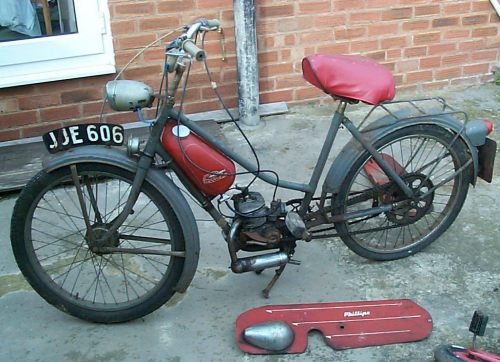 Before...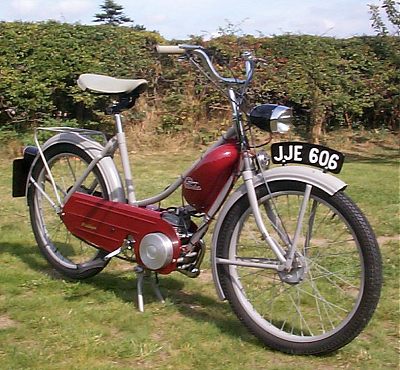 ...and After
I sent the chrome off for rechroming at a cost of £75.00, and I am very pleased with the result, and upon return, there I was with a box of bits all ready to put back together. I must say that I was daunted by the task, so instead I spent many months cleaning up this little bit and that little bit. I greased up and cleaned both the chains, but still did not feel confident enough to start the rebuild of all my polished and cleaned bits.
Then I spotted an advert for a Panda locally in Buzzing magazine. I decided to have a look as there were one or two bits (such as a saddle) that I really needed for the bike. I was in luck because all the parts that I needed were on the bike. I managed to do a deal and secure Panda number three. I quickly stripped the bits I needed, cleaning and repainting both the horn and the saddle along with a number of interesting clips that I had ground off the original bike not realising that they would be impossible to obtain in the future. That was the spur that I needed and using the new bike as a template, I began to reassemble the bike. I had also taken many photographs of the bike during the strip down, which proved very valuable. I had two new number plates made up by my friend Bob, and loosely began to rebolt the whole lot together. Once completed, I was ready for cables, which had to be made up specially and nobody locally could do this. Finally came the rewire, all five of them!
Now time for a fettle as they call it in the trade. We still have to adjust the clutch and fiddle about quite a bit, but I'm sure that you will agree that it doesn't look too bad for a first effort. There are mistakes that have been made along the way, but it is a learning curve. I am very pleased to have taken on the project and have learnt a lot along the way. I would like this opportunity to thank my good friend Bob Beach who has helped me every step of the way, with help, advice and useful techniques in restoration, also I would like to thank Mark Daniels, who has also given much advice and supplied various bits I have required.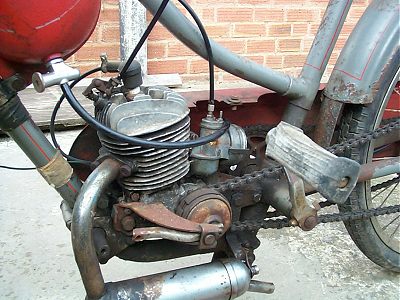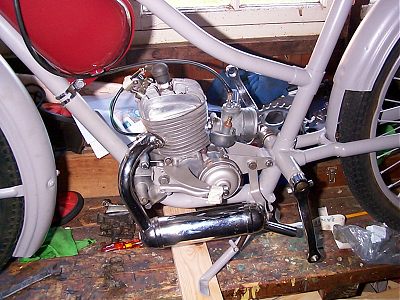 Before and after views of the Panda's engine
---
First published, October 2002

Go to the Archive index
---