Go to the Archive index
---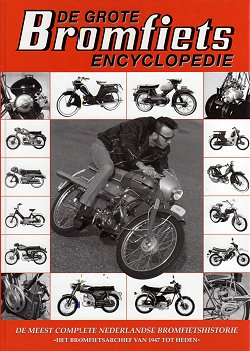 Book Review: De Grote Bromfiets Encyclopedie
Paul Hornby
Produced by the publishers of Bromfiets magazine, "The Great Moped Encyclopedia", to give it its translated name, describes itself as "the most complete Dutch moped history", and who are we to argue, containing as it does 2165 photographs of 252 different moped makes built or sold in the Netherlands between 1947 and 2000. With one or two exceptions, the book only covers machines of 50cc or less, and does not cover scooters. Each make is given an introduction [in Dutch], followed by briefly captioned black & white pictures [approx 3½" × 2"], often from the period, of the machines.
Mention Dutch mopeds, and the British enthusiast will probably think of the Batavus Go-Go, the Ankermatic [an example of which this reviewer was a satisfied user for many years and which was produced for the British market, but is, surprisingly, not illustrated here], and the various Berini mopeds and the M13 'Egg' cyclemotor. But there was far, far more than that, and this book illustrates the sheer variety and number of models of mopeds and cyclemotors that have been available on the Dutch market over the years, perhaps reflecting in part the more enlightened transport policies and licencing regulations in that country, when compared to Britain. We can only marvel at the wonderfully stylish sports mopeds, such as the Avaros Super 8, or the Locomotief HiFi 16, that were offered to Dutch buyers. Here, mopeds go fifties Detroit, complete with two-tone paint jobs, fins and fancy chrome trim. The other side of the style coin, like the utilitarian and grey Majoor moped also abound. But the book doesn't just deal with Dutch machines. Imports, such as Ducati, Garelli, Honda, Kriedler and Puch and many more, all feature.
And what of the Brits? Well, it seems our luckless industry marketed quite a few machines in Holland, including Bantamoto [so that's where they all went!], Cyclaid, Cyclemaster, Cymota, Hercules Corvette, Mini-Motor, Raleigh and Winged Wheel. How many were actually sold is another matter.
Among the illustrations, there are quite a few Girls Selling Mopeds in the groovy fashions of our mis-spent youths. You may find some good fashion tips here for the missus, if she's really wants to live that retro-moped lifestyle to the full.
For the serious enthusiast and the student of moped design, the Encyclopedie is a must, while for that next trip to Holland, it is just the thing to put in the knapsack as a spotter's guide to the moped exotica on the Winkelsplein. Recommended. Only the price [approx £60+] and lack of an English translation detract.
A4 format, hardbacked. 368pp. Published by Target Press, Ambachtweg 2, 2841 LZ Moordrecht, Netherlands. ISBN 90-9015216-4 Dutch price €85.75. UK price not known, but available over here from Brian Ashley, The Magazine Man, 50 Dairylands Road, Church Lawton, Stoke on Trent. [Tel: 01270 878080]
---
First published: December 2002

Go to the Archive index
---