Go to the Archive index
---
Buzzing To Bickleigh 2002
Chris & Linda Bowden
This year saw a change to the usual run from Exeter to Bickleigh. We decided to stage the day at the Bickleigh Devon Railway Centre. We put on a static display of 3 cyclemotors, 3 autocycles and 5 mopeds together with a small display of memorabilia supplied by Alistair and Andrew, along with a very impressive display of over 20 vintage bicycles that were ranged around the pretty station. Special thanks go to Tony and Val Smith who made the journey down from Yeovil to join us for the day.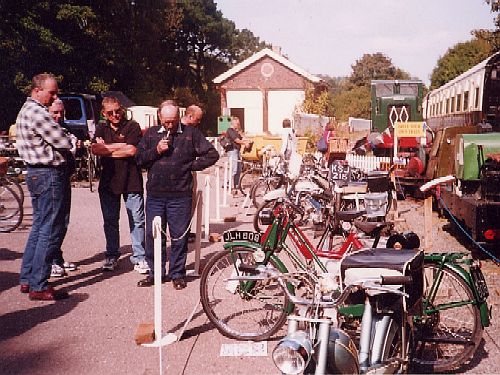 The Club display at the Devon Railway Centre
After enjoying bacon butties and a chat with Club members at the former ticket office of the station, now the tea room, we set out on a 20 mile run on our machines to Stoke Canon via Thorverton and back through the villages of Huxham and Silverton. This was a very enjoyable run as it was mostly off the main roads, but unfortunately Tony's Cyclemaster developed a serious fuel leak and he was forced to abandon his run. As he was only a mile or so from the start he decided to pedal back rather than go on the back up vehicle. Thanks again to David and Linda Swallow who acted as backup. After the run we put the bikes back on display and sat back to enjoy the day. We had a lot of interest from visitors to the centre, enjoying many interesting chats with fellow enthusiasts, so much so that we recruited two new members for the Devon Section! It was also a good day for Alistair as he was able to sell his Scott Cyc-Auto and in doing so recruited a new member. Not bad going for such a remote location. Other attractions near the centre included the now famous Golden Jubilee Maze which several members set off to visit on their veteran bikes. Tony and Val chose one of the three tandems on display and saw rather more of the maze than they were expecting, when attempting a sharp turn, they drove directly into the maze and promptly disappeared from sight! We spent some time finding our way around the maze and eventually found our way out, although we weren't sure if we were going to ever see Mike again at one point.
The day ended on what has now become a tradition - we all selected a vintage bicycle from our display and set off for a leisurely ride to Bickleigh castle returning to the centre just in time to all take the last train ride of the day. Viewed by everyone as a great success, helped by the weather, all agreed it had been a memorable day for lots of different reasons and we would definitely be back next year.
Riders & Machines:
Alistair Currie - Sports Mobylette
Andrew Densham - Puch Maxi
Tony Smith - Cyclemaster
Mike Rendal - NSU Quickly
David Bowden - Puch Maxi
Chris Bowden - Norman Autocycle
Linda Bowden - Puch Maxi S
Static Display
In addition to those bikes used on the run we also displayed the following:
Scott Cyc-Auto and Cyclaid - Alistair Currie
1940 James Autocycle - C Bowden
Norman Cyclemate - D Swallow
---
First published: December 2002

Go to the Archive index
---