Go to the Archive index
---
The Hangover Run 2002
Cruising the Cheshire Ring by Cyclemotor
by Mike Gott
Considering that the weather was the forecasted heavy rain, the turn out at the Windmill pub near Knutsford on December 29th was a very credible twelve riders plus sundry other non-riding members. At 11:00 we all wobble off into the rain to follow the circular route that Frank and Derek have marked out two days previously. Unfortunately, the rain has made some of the markers sag and disappear - hence various participants hurtle off into wettest Cheshire on a run all of their own. Knutsford is a particularly good place for the run grenading, with at least one rider making a non-directed left turn which would have resulted in a trip over the Cat & Fiddle pass into the Peak District had he not realised his error.
Shortly after Knutsford, the massed slipping-drive-roller and vee belt pilots of the NACC (or at least those who haven't got lost by this point) execute what must be the worst ever attempt at a right turn off a main road when we try to turn from the A50 into a lane. This is so chaotic that the other traffic on the road - the usual agricultural Cheshire mixture of large prestige cars and 4x4s that have so far been ill-temperdly snapping at our tails - actually hold back and let us get on with it.
Safely away from the general road using public and much more at home, we ride down a selection of scenic but very wet lanes past farms and old water mills until we reach Jodrell Bank. Amazingly, Frank hadn't tried to arrange for the run to go round the telescope dish à la Brooklands, so we carry on all the way back to the Windmill for a reunion with the more wayward riders, a pint and a bite to eat. From the conversation, it sounds like everyone had had a good day or at the very least an adventure. Next time we'll have to have a run in good weather...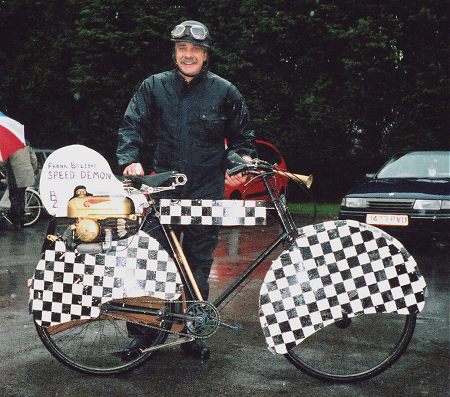 "Snap!" - Frank Brzeski, wet but willing
---
First published, February 2003

Go to the Archive index
---