Go to the Archive index
---
Rain on the Parade
Mark Daniels
There've been many ways of serving up the traditional Mince Pie Run, but on this occasion the menu was simply washed down with lashings of water! The last run of the 2002 season happened under conditions of constant rain occasionally brightening up to a persistent drizzle, then finish the picture of this cold, sodden countryside with inevitable, gloomy grey skies hanging like the whole North Sea above your head. Hardly the kind of weather to invite our type of rider - but still they came, and the annual miracle still worked despite nature's conspiring elements! To be fair, David Evans always deserves a turnout for the effort put in to the event's organisation, not least to mailshot some 100 Christmas card invites, signposting the entire route the night before, and lending out some of his fleet vehicles to be ridden by N.Daines/NSU 3 & M.Anderson/Puch Maxi Turbo. Superb circuit, if you're ever lucky enough to run it under nice conditions like a couple of years ago; this year several of us must have found ourselves idly wishing it were a summer event! 37 registrations on 36 lines of two signing forms puzzled me for a while; until I noticed adjacent Dutch riders Dirk Roest/MV Agusta 50 (12) followed by Ben Teuben/Zundapp (14), who obviously decided he wasn't going to be unlucky 13 on the day! Also noted ... now Mr. Ashby, exactly what sort of moped is an Austin A35? Still, I suppose it's of more period spirit than a big, new, plastic Japanese scooter that seems to turn up and sign on every year - the news I have regarding this is ... it doesn't count!
At assembly in the car park, one could have been forgiven for thinking the television advertising for 'PC World' could be getting through in ways other than the computer retailer may imagine, as no fewer than 7 Honda PC50s lined up with pilots Carl Squirrell, Bob, John & Tim Stafford, Roly Scarce, Laurance Coates & Lee Pettingill. The old 'Team Norfolk' curse returned with a vengeance as Ian Monroe's James autocycle became the first casualty of a broken exhaust pipe even before the first bend. I must confess the Lynx fared little better itself, fading on Bourne Hill with considerable belt slip, then coughing out halfway up with more water in the ignition cap. Assisted by Steve Cobb [Garelli Katia], as the field streamed by, it did get going again, though became limited by continued belt slip (tester's note, Elswick neglected to fit a splash shield to the Lynx drive). Despite this, we passed by David Whatling [Cyclemate] who looked to be set to follow us, but faded behind to eventually succumb to water ingress in the forward facing carburettor, and complete the day in Andrew Pattle's back-up transport. Neil Morley on Moby M40 'Space-Hopper' (so nicknamed since it's orange and 1970s) was joined toward the reservoir, and we soldiered slowly along together for the rest of the leg as SC sped off to catch the leading pack. Meanwhile, up with this front group, stories of stunt rider Carl Harper's efforts to keep his antique Moby AU32 in touch with the leaders led to some wildly optimistic cornering at Tattingstone, followed by a spot of verge side horticulture and breaching of the hedgerow! Passing 'Team Stafford' fettling one of their PCs in a lay-by, they waved us by as the Lynx continued to struggle with water in the belt drive and plug cap. Then on to pass Peter Green [Wisp] & son Neal [Puch City] attending David Holmes [Ariel 3] at Harkstead (they did get it going), till the Lynx finally died at Erwarton - bit embarrassing really, out of petrol! (Further tester's note: The Lynx only has a small capacity 2 litre tank and one should check its content regularly). A commando style raid on a roadside bin-bag provided a tin can, then leaning over NM's Moby to tip out enough fuel to complete the first leg and still arrive about midfield despite the problems. The halfway stop was joined by Andrew Roddham, John Holmes and R Rose, all having individually travelled their significant distances to support, though they weren't riding on this occasion. David Evans [Phillips Panda] had waited to accompany late arrivals Martin & Sharon Wikner up from Surrey on a pair of Puch Maxis, and reported some ailing machines straggling into the Marina car park, which soon became a yard for sick moped fettling. As star Carl Harper was encouraged in his wielding of a 2lb lump hammer to brutalise a huge dent in the Moby front wheel rim from his earlier Motocross excursion, it had to be asked - 'Did he do his CBT with Dave Bickers?' As the group prepared to set away on the return leg, and Carl Harper's Mobylette rotovator still festively adorned by several roadside flora species, one had to wonder - would he be doing some more gardening on the way home? DH's now infamously spectacular Ariel 3 broadsiding techniques proved just too much for one of the rear tyres, which let-go along the Marina access road, and he wallowed back for the rescue service.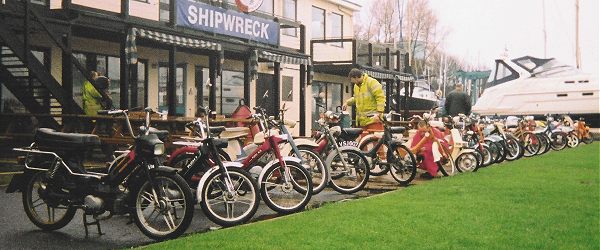 The line-up at Shotley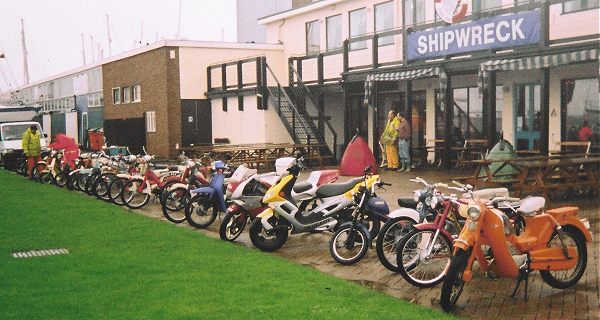 With more fuel and the belt drive dried out, the Lynx proved far better on the second half, and well among a leading group of machines that joined on the return leg, including Paul Efreme [Puch VS50D], Chris Tyler [Yamaha MS50], NM, DR, BT, & PG. LC dropped back to join the following pack of fellow PC50s with Steve Gleed [Zundapp Falconette], Billy Doy [Norman Nippy], Mick Cousins [Honda Towny] & the rest of the survivors. Running 'restricted' modern mopeds, youngsters James Clifford [Aprilia] & Austin Jones [Speedfight] graphically illustrated the performance advantage these machines can enjoy over most of their older counterparts - technically not eligible under the 20 year rule, but that's what they ride, and they were out there getting soaked with the rest of us! One of the 'Team Stafford' Honda PCs proved irrepairable so John & Tim completed the return to the Yacht Club, both on one bike! Then there's the epilogue on the 'Team Norfolk' outfit, I think LP just about managed to complete on his Honda PC despite parts of the engine falling off and losing the complete decompressor mechanism! Tony Pettingill [New Hudson], machine failed about half distance, then did Roy Carter [Ariel 3] go back to collect the recovery or break down himself as well? I don't know, but assuredly they'll return and conquer next year.
Images from the run - riding with Neil Morley and rounding the corner into Shotley Gate, to see before us the vast cranes of Felixstowe's Trinity Terminal across the river Orwell, their tops lost in the low cloud! Riding the Lynx with Dirk Roest's superb MV Agusta 50 on the return leg - together in the rain, two of the rarest machines anyone's ever likely to see on an NACC run!
As well as being the opening rally of 2002, way back on the 6th of January, The Mince Pie Run also became its closing event on December 29th of the same year. Since the Anglian Section appears to have nothing on the local calendar until May, I guess our dedicated rallyists could be campaigning away from home for a while; perhaps we'll be dropping in on your event!
---
First published, February 2003

Go to the Archive index
---