Go to the Archive index
---
Raleigh Around
Steve Simpson
To begin this not very unusual or even interesting story I start back in 1980. I was 14 and 'into' anything with an engine. A friend and I obtained an old (even then) Raleigh Runabout. Stripping the engine and frame down we attempted to make it go faster and faster. Lacking the ability to legally ride it on the road we sought out any length of track we could find and usually used the road near my friend's garage in Welwyn Garden City, Hertfordshire. I'm sure we eventually tuned the engine until it was slower than standard but a good time was had by all. My friend and I parted our teenage ways and few thoughts went the way of the humble Runabout until recently.
With the advent of eBay and a little more disposable income and probably a lot more to do with the onslaught of a mid life crisis I, suddenly, in a weak moment found myself the new owner of a 1964 Runabout. My wife sighed and put the kettle on with that glazed look on her face as I tried to explain my rocky and misspent youth and why I'd suddenly spent £36 of our hard saved cash on a rusty, overgrown push bike.
My 11-year-old son however was over the moon and dying to get involved (and so the circle of life starts again) - not that I gave him much of a chance. Over last year's summer holidays we part stripped the frame and brush painted it British racing green. The engine was un-seized and the head and barrel cleaned up. The inside of the petrol tank looked clean but the carb needed a good clean out as did the exhaust. After much fiddling and twiddling the engine finally started and actually ran quite well. The tyres were shot and two new were acquired.
So then it occurred to me that I could actually ride this thing on the road and turn it into a cheap form of transport. My work is about ten miles away and the journey is costing a lot in petrol using my car. Perhaps, if the 'ped was up to it, I could use it to save money. I might even enjoy it. So then the problem of registering the machine was born. A quick sea rch on the Internet revealed how this was done and I promptly joined the NACC at the same time as getting my date slip for the bike. An uneventful MOT and the bike was insured and examined. Two weeks later my tax and log book arrived. Perhaps I should explain a few things before I go on. The bike is hardly standard, as a matter of fact the bike is hardly anything. I wanted a cheap usable form of transport that was nothing else. The lights were missing so I fixed pushbike lights on; the bike had front suspension but an un-drummed front brake so I arc-welded the piece of a BMX bike into the front and fitted a calliper brake. The front suspension was also welded up. The seat was pilfered from an old pushbike and the same bike supplied the bell and various other parts. My father-in-law described it as a Heinz 57 amongst other things.
Well what about the ride? Hardly exhilarating, a Halfords £7.99 bike computer reports 35mph downhill with the wind behind me. It seems to hover between 22 and 26 with 15 up the hills. After that it's pedal assisting time and one particular hill on my route to work requires a full strength pedal as the engine threatens to stall. The lack of suspension can only be described as 'bum murdering' but I'm sure a sprung seat would help in that respect. It's slow, uncomfortable, the brakes are atrocious and it looks a mess but it really is great fun. It's also saving me a packet in decreased travel costs. I might even be helping to environment too.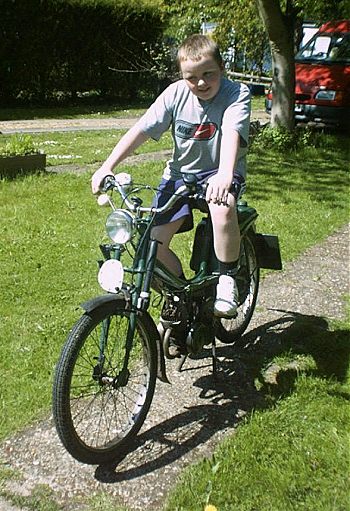 My son James on the Raleigh
The children at the secondary school where I work think I'm mad, but I'm sure they thought that anyway. I like to think of myself as mildly eccentric and a bit of a pioneer.
Next up is a late '60s Mobylette, at £16 from eBay I can't really go wrong. Put the kettle on dear!
---
First published, Jun 2003

Go to the Archive index
---