Go to the Archive index
---
Pilgrimage to Mecca - Sunday 11th May
Mark Daniels
Fine weather, and once again we came round to the longest standing run on the NACC calendar, the 22nd East Anglian. This really is one of the great classic courses, and every true pilgrim should ride it at least once in their time. While 23 riders registered to pilot the course, it seemed a number more turned up as spectators (locals Steven Gleed & Rob Cracknell), to trade parts (Mark Astill - Leicester), or as static display (Luke Booth/Motamite - Hastings & Mr X /Raleigh RM5 Supermatic).
The massed start from the collecting point always gets broken up through the junctions and traffic lights of Stowmarket, then strung out into a column up Poplar Hill, led by David Evans/Puch 3, Laurance Coates/Honda PC50, Paul Nelmes/Bown Autocycle, Mick Cousins/Honda Cub and Neil Morley/Mobylette M40 sparring with Essex trio Pete Chinnery/Mobylette, Pete Smith/New Hudson, and Paul Efreme on a rarely seen Flandria 147 AF-A moped. Rarely seen it appears since they break down so readily, the new paint and all the polished parts seemingly unable to prevent heat related coil failure at barely 3 miles. NM stopped to offer moral support if no resolution as the kerbside autopsy failed to find the missing spark inside the flywheel case. Mr Grumpy dragged it back to the start, and that was the end of the Belgian challenge!
Rubbish! Superior British 4-stroke Dunkley power was called upon to battle the Mercury Mercette back through the field, passing Martin & Sharon Wikner's Puch Maxis - Surrey, Terry Keeble/Raleigh Runabout DeLuxe, Rob Miles/Ariel 3, and Alan Bloys on a very lively Power Pak that was galloping along with the rest of the mopeds! Then Peter Lawson/VéloSoleX 2200, Dennis Iles/NSU 2 - Swindon, and Richard Everitt/Mobylette M40, just about which point the track narrowed through Ringshall Stocks, to emerge beyond the ford at Offton - at which everyone dutifully followed David Evans the wrong way. Obvious really, it was bound to happen! I just waited by the ford for the inevitable returning column, and waved to everyone as they rode by again. Then a spirited ride past Elmsett, Whatfield, through Naughton and Nedging Tye with Billy Doy/Norman Nippy and Roly Scarce/Honda PC50, Carl Harper & Richard Everitt on Mobylettes, made all the better for the decent weather as everyone collected at the Bildeston Red Lion for this years relocated pit-stop.

Halfway stop at the Bildeston Red Lion. Dennis Iles captured in the car park taking in the machinery.
Lunch in the garden, and drinks while chatting around the bikes seemed the favoured pastimes, until setting off on the return leg in several groups. The Mercette was roared away to close on fast runners PS & PN, but misled by LC after only 1½ miles as they sailed straight on by the left turn at Hitchin White Horse. I waited at the junction, but they never returned, so joined with the Moby's of Carl Harper, RE, and Neil Morley who promptly steamed on up the road straight past the next turn! Stopping the Mercette while waiting for NM's return and waving several passing riders on down the turn beside CH's running Moby - his engine sounded terrible! Enquiries to its origin revealed it came from Pete Stanners, who dragged it from the local dump some while back. One strongly suspects that this may be the very same infamous Moby that fell apart on the Coast-to-Coast Run in 1999 (see "Madness of CtoC 3" by David Stevenson - Buzzing August 1999). So here it was again, 4 years down the line, and certainly no better for Carl's mechanically insensitive thrashing. Perhaps the tip is calling again, but that probably wouldn't even provide the final rest it deserves since Pete would probably only 'rescue' it again and the whole awful cycle would start again - no escape!
Setting off again as NM rejoined, the rest of the return leg was just a series of people thrashing away down wrong routes then rejoining from other side roads further on, while PL on VéloSoleX, Mark Astill in support vehicle, and myself seemed the only ones actually following the prescribed route. Back at the museum, Team Norfolk was back in style with Tony Pettingill/New Hudson, Ian Monroe/James Superlux and Jeremy Colley/Puch VS50D all completing with good runs.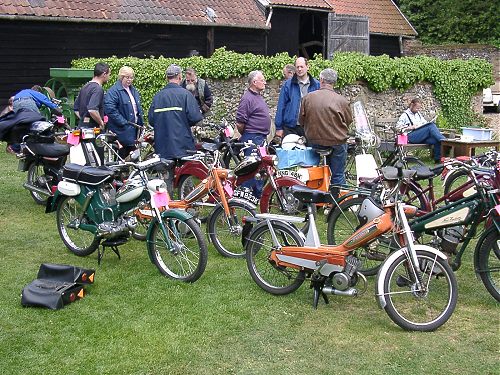 Lining up for judging back at the museum.
Andrew Pattle (right) tots up the scores.
L to R: Carl Harper, Sharon Wikner, Martin Wikner (back),
Terry Keeble, Peter Lawson, Pete Chinnery & Rob Miles.
Sadly no merit this time for the deserving and rare Bown autocycle of Paul Nelmes, which was no more than a rusty pile of scrap just 6 months earlier, pipped to the prize as Pete Smith's New Hudson took the fiercely contested autocycle award. Alan Bloys/Power Pak strolled best Cyclemotor with no competition, and David Evans/Puch 3 best shiny, mass-produced, modern, foreign moped.


A traction engine, several NACC members and a sea of mopeds
As people drifted away, a few of us went up to the top field where I blagged a drive on a mighty Burrell traction engine. A steam regulator replaces the throttle, vague chain link steering, and no braking capability worth mention; the chuffing noise with lots of mechanical clattering for relatively little performance strangely seemed to have much in common with the Mercette!
Once again, as at the Derby Run Railway Museum, Mark Astill and family were lost among the Anglian Rural Museum exhibits, and surely the last ones to leave. The number of visitors from afield just about matched the Suffolk crew at their home ground on this occasion, many thanks to all who travelled to support this year's event at the NACC's Mecca.


The ill-fated Flandria of Paul Efreme and the prize-winning New Hudson of Pete Smith
As a footnote, Paul Efreme found a healthy spark had returned to the Flandria by the time he got home, and frustratingly it was running fine again. Don't you just hate it when they do that?
---
First published, June 2003

Go to the Archive index
---