Go to the Archive index
---
Peninsularis - 6 July 2003
Neil Morley
The Suffolk Section's 1st Peninsularis run, conjured by Mark Daniels (Mercury Mercette) with assistance from Laurence Coates (Honda PC50) and myself (Mobylette M40T) had its first airing on Sunday 6th July. A total of seventeen riders arrived to take part at Bucklesham Village Hall. Again, we were honoured by an excellent turnout from outside Suffolk. Paul Efreme (Flandria) generated several ominous 'Belgian old-master' petroil slicks on the tarmac of the car park, prompting the enquiry, "are they the Aurora Borealis?" The tragic cause was a fractured petrol banjo on the carb. Fortunately Paul's day was saved by a new component from the hugely popular moped-jumble-van, superbly staffed by Richard "Tiger Man" Berry and brother Robert. Prospective customer Carl Harper's failed attempts to start a scruffy old jumble-stock Mobylette AV76 were proved to be merely lack of technique as Robert Berry fired it up first try! Andrew Pattle correctly recognised this machine as a former Sars Poteries veteran, but despite the provenance, no sale. Carl bought a later Motobécane "7" model instead.
Preparations were going well when Mark announced he needed to visit home briefly to pick up "some more goodies for the hall", returning with a crate spidered to the rear parcel rack. Shortly after parking the machine and disappearing into the hall, a resounding crash emanated from the car park - "God, was that Danny's Mercette?" The crate had jumped overboard, but like any good Brit faced with a crisis, the Mercette stoically remained upright. Coffee, tea and biscuits were served in the hall.
The outbound run, 17.5 miles to the Maybush Inn at Waldringfield was preceded by the customary and traditional pre-formation jockeying for position in the car park - then we were off! The leading pack featured the local trio of Laurence Coates (Honda PC50), David Evans (NSU Quickly) and Carl Harper (Mobylette M40 - installed with mismatching parts from a clapped-out ex-Wisp motor). After the mid-fielders, I mistakenly joined near the back of the pack, zigzagging behind Steven Gleed (Zündapp Falconette) in a vain attempt to avoid the billowing clouds discharging from his smoking tailpipe. This despite having being warned earlier the Falconette was running on a heavy mixture of several oils that day! Just before Nacton, I passed Luke Booth (Raleigh/TAS Cyclemotor) and Andrew Pattle (Honda Motocompo) travelling at a more relaxed pace, while other riders were by now rapidly accelerating away into the distance. Into the sweeping green-lane section towards Levington, there came a distinctive "bom-bom-bom" note from behind. Was it a 250cc? No, this meant one thing; a rare British bike with four-stroke 46cc engine! Danny (Mercette) pulled up alongside, and in his own inimitable way invited me to "move up the pack". He clearly intended on maintaining the tail-enders, with Laurence in charge towards the front of the main group.
Off I went passing Glen Duff (Puch Maxi) enjoying his first run in fifteen years, then Nick Bence-Jones (Mobylette AV89, early leading-link) who later explained that his relatively slow progress was due to the variator failing to change down. On the Felixstowe Road towards Trimley, I caught up another trio consisting of Terry Keeble (Raleigh Runabout), Peter Green (Raleigh Wisp - enjoying its first outing this year), and Neal Green (Puch City), and stayed with them for the rest of the outbound leg. In the distance ahead were the rest of the mid-field including Paul Efreme (Flandria), 'Wally' Wright (Vespa Ciao), Steve Cobb (NSU Quickly) who had ridden all the way from Diss to take part, and Pete Smith (New Hudson autocycle) continuing his fiendish experimentation with a "non-original Japanese" carburettor! Around the scenic sections of Falkenham and Kirton, we continued through Newbourne and then onto our lunchtime stop, the Maybush pub at Waldringfield: an idyllic location on the edge of the river Deben complete with local marina and flotilla. This approach down to the pub was heavily defended by its own version of an assault course, featuring speed bumps every 100 feet or so.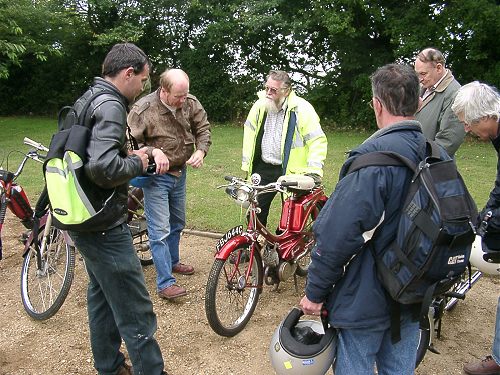 L-R: Carl Harper, Mark Daniels, Terry Keeble, David Evans, Steven Gleed and Glenn Duff
After an excellent lunch, the return journey to Bucklesham, around 7.5 miles, seemed much faster and spirited, following a superb route toward Martlesham, back via Newbourne, and the fabulous sweepy section through Brightwell. The main group was clearly enjoying a great scrap with the various overtaking and counter manoeuvres taking place between riders and machines. Impressions? 48 mph indicated on a Huret speedo of dubious accuracy. Actually becoming airborne, over the little humpback bridge at the bottom of the hill by Newbourne Pumping Station. Paul Efreme (Flandria) outclimbing the main pack up Brightwell hill, then being re-passed on the flat beyond by Steve Cobb and David Evans (NSU), who gave him a pat on the back as he sailed by. David then proceeded to tease the pursuing riders by pedalling furiously whilst accelerating away, then glanced back over his shoulder to observe the whole following group emulating this utterly pointless manoeuvre, much to everyone's amusement!
After our safe return to Bucklesham and more teas back at the village hall, a number of riders complimented the route and a thoroughly enjoyable day. The popular moped-jumble re-opened, and the event was deemed a complete success with every rider completing the course and having no significant problems or breakdowns. The wonderfully signposted route had meant that reference to directions was never required. The twisty and gently undulating green-lane course so suited the battling group of Suffolk Racers, while still providing a most enjoyable scenic ride for more measured riders. As a total package, the new Peninsularis Run just has to be one of the best on the calendar. You can be sure there'll be a lot more on it next year!
Paul Efreme provided a coda (or should it be Codpiece) to end this article. "On behalf of all the participants, I would like to thank Mark Daniels, assisted by Neil Morley and Laurence Coates, for staging the Penisularis Run. We all had a superb day. During the excellent lunch break at the Maybush Inn, Laurie Coates was observed taking a picture of his mighty fish and chip meal. You've really got to get out more, Laurence! One nameless wag made suggestions about Laurie's enormous Codpiece, however we won't pursue that train of thought, shall we?"
Having consumed said fishy meal, Laurence was observed on the riverfront proudly displaying his bulging gut, and frightening the local boating fraternity.


The machines lined up at Waldringfield
---
First published, August 2003

Go to the Archive index
---