Go to the Archive index
---
From Stream to Stream
David Flye
Our date clashed with the VMCC Banbury event and Father's Day, but we had five riders and two supporters: Joyce Downing, Mobylette; Alan Redgrave, Mobylette; Jeff Skinner, Raleigh RM9; Keith Walker, New Hudson; and self on Mobylette. Andy and Margaret Shaw escorted us. Many thanks to Pat and Graham who kindly provided the Corbet Arms overflow car park for the event.
The previous day's Trooping the Colour had inspired Keith to buy a new Union Flag for his autocycle. After paying our respects we set off in glorious weather to cross the Severn heading for Carding Mill Valley, and the delights of the NT tearoom. On the way we stopped to view Cantlop Bridge over the Cound stream; one of three historic iron bridges, and built to prove some of the methods used for construction of the famous one.
On through Pitchford to Acton Burnell and the old Roman road with its two water splashes; one dry, the other a trickle. No fun, too easy, but the views of the Stretton Hills were a compensation. When we reached Church Stretton and the NT car park, we found it was free for two-wheelers, a bonus. The combination of brilliant weather and Father's day had brought out the crowds; the Ash Brook and its tributaries were thronged with paddlers and picnickers; very colourful and happy.

"...the other a trickle."
David Ayres and his lady joined us at lunch; unable to do the run, they had come over to see how we were doing. Nicely thank you, and we hope the health of your machines improves soon. Up the valley to the motor limit was just a half mile run through to the Ash Brook ford, (this did look like a ford), and the final car park. There was no room to park the bikes! No toddle up a hill, (for those riders grafted onto their saddles, to toddle is to walk gently), and work up a thirst.
So we gathered ourselves together, fettled a bike, (Joyce's new vee-belt dramatically improving performance), and set off back. On approaching the Fox Inn at Ryton, would you believe it, we found that we were thirsty after all! A pleasant, non-vibrating interval in the sun, real ale at the right temperature, and plots for runs from that spot. The regulars at the bar turned out to see us off. Past Condover, we warily approached "Keith's Hill", the scene of last year's breakdown, but he just powered up, took the lead and chuckled all the way back. A great day out. No breakdowns, no problems, just "buzzing".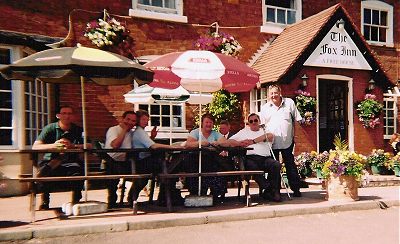 "A pleasant, non-vibrating interval in the sun..."
---
First published, August 2003

Go to the Archive index
---