Go to the Archive index
---
Alistair Currie
The Powderham Castle vintage vehicle show takes place annually in July in the castle grounds overlooking the Exe Estuary.
The theme for our club stand this year, was to have a club allotment, complete with runner beans, compost heap and of course, an old garden shed. It would contain the sort of things you would expect to find in an old derelict shed. A couple of vintage autocycles, dust, old tools and bygone garden implements. We would also have two restored bikes parked outside the shed; the same models as those inside, Knackered and now Nacc'd seemed appropriate. Anyway: grand ideas!
The usual dedicated crew turned up on Friday to start creating our display. As it took shape it just got better and better and boy, was the result spectacular. Show day arrived with glorious weather; the public queued up to have photographs taken in front of the shed. It really looked as if it had been there for years. We also had a full display of other restored club bikes dotted around, a display of parts books, club regalia, leaflets and club members on hand. Generally a thriving area.
Many thanks to all who helped, with their creative ideas, willingness to give their time and to stop and talk to the interested public.
---
First published, October 2003
---
Linda & Chris Bowden
Well, you can't say we didn't plan it, Powderham that is. In fact suggestions were being made as early as September last year as to what we could do for our annual display for the Powderham Rally.
In fact it all started the fateful day Mike Rendall said "can anyone give me a hand to take down my old shed?" "Perhaps we could use it for our display" someone said, and an idea was born. The shed was dismantled by willing volunteers and stored over the winter months. Plans were loosely made to turn it into an NACC exhibition. The idea was to involve everyone in the Club, with everyone making a contribution to the eventual display. We started at the monthly meetings, members throwing in their ideas as to what would make an eye catching display.
It was decided to do a "before and after" display, those bikes in the shed would be pre-restoration and a duplicate restored bike would be lined up outside. We would call it "KNACC'rd" for those bikes in the shed and then "NACC'd" for those bikes on display outside( well, we thought it was funny anyway!) Everyone had plenty to offer to fill the shed to make it look realistic, as you can imagine all of our members have a shed just like our mock up one, at home.
The Thursday night before the show, saw us down cutting the grass and the Friday, the by now famous shed was delivered to the site by David and Alistair. Sandra Rendall had secured us a plot on the edge of the field, as we wanted the shed to look authentic against a background of greenery. By Friday night it had been tacked together and draped with ivy from our garden and was beginning to look like it had been there for years! Inside we tucked a two speed NSU Quickly and a Rudge Autocycle both of which were in tatty barn fresh condidtion. Outside, around the side of the shed, covered in ivy was an Ariel Three. These were mirrored outside by similar machines in restored condition. Everyone contributed something to the shed, from oil cans, petrol tins, old cyclemotor engines and bits, wood work tools, lamps, a vice and an assortment of other tools, even down to a sprinkle of sawdust for the floor. Look in your shed and it was on display in ours!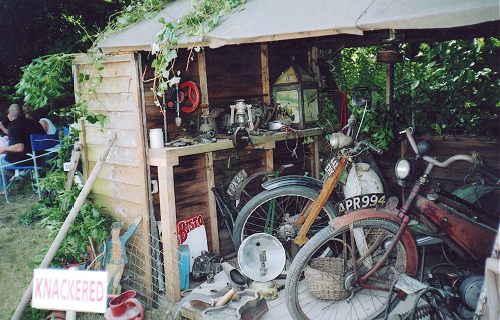 A familiar scene to any NACC member...
Outside there was an impressive display of garden tools, an old lawnmower and even a stationary engine covered with an oily rag. The final piece of staging was the garden display, cleverly constructed by Alistair and Andrew, of an old piece of fencing, cunningly disguised by compost and grass and planted out with veggies. We called our display "the NACC allotment" and it represented all the sheds we would like to find tucked away at the bottom of people's gardens. We surrounded the shed with a brilliant display of members' bikes, which included everything from Cyclemotors, Autocycles, Mopeds and a display of manuals, together with a welcoming area for members, and all this certainly attracted a lot of interest.
People loved it, they came in laughing and smiling, some even had their photos taken against it, saying "we've got a shed at home just like it". Many people said we should have taken the prize for the best display in the show, but we were happy to have brought off the whole idea. It was a brilliant weekend, helped by the marvellous July weather, but we have been left scratching our heads how we are going to top this year's display, but talks have already started so watch this space. Thanks to all the Devon Section members who helped with the display and made the whole thing possible.
---
First published, October 2003
---
Some pictures of the Devon Section's display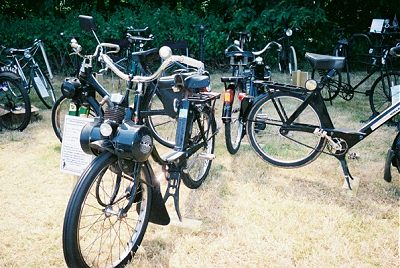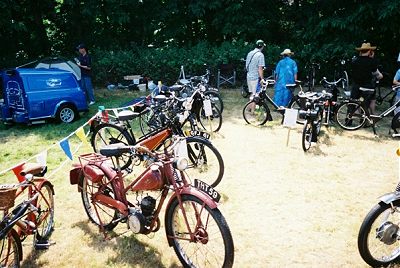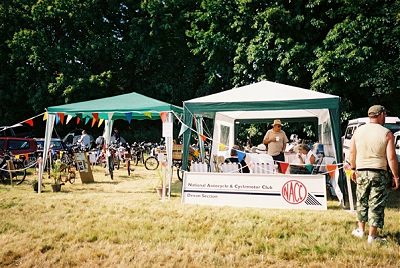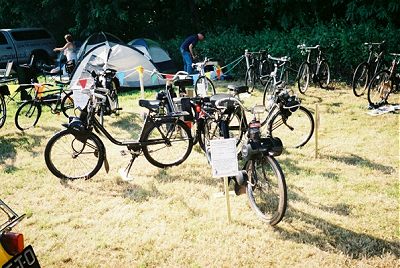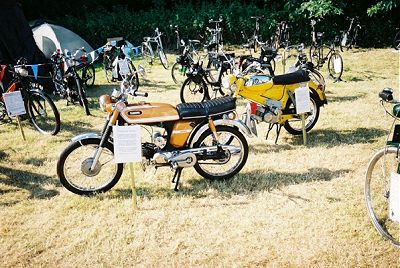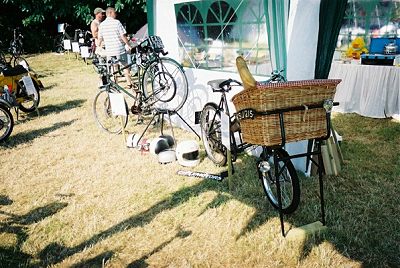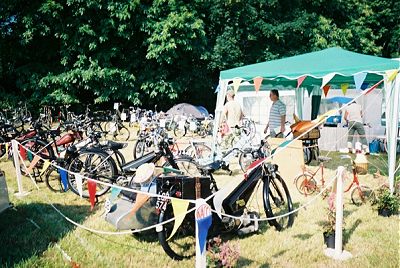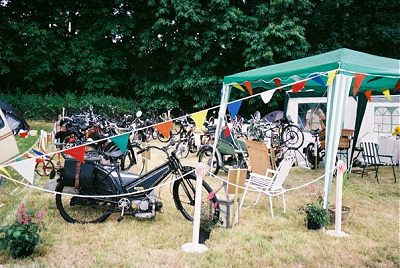 ---

Go to the Archive index
---