Go to the Archive index
---
Buzzing to Bickleigh 2003
Linda & Chris Bowden
The annual gathering by the Devon Section took place on Sunday 21st September at the Devon Railway Centre at Bickleigh.
The usual warm welcome was received and we set up an impressive display of 4 mopeds, 1 cyclemotor, 5 autocycles and a lovely 1920 Douglas 3hp motor cycle, together with a display of 27 vintage and veteran bicycles ranging from 1910 to 1950.
Amongst the exhibits were:
Puch Maxi - David Cox
Puch Maxi - David Bowden
Puch Maxi - Linda Bowden
Excelsior autocycle - Mike Rendall
Trojan Mini-Motor - Sandra Rendall
NSU Quickly - Stan Agar
Norman autocycle - Chris Bowden
James autocycle - Chris Bowden
Cyc-Auto - Keith Lamprey
New Hudson autocycle - Vic Bond
Douglas 3hp - Robin Morris
Robin Morris's Scott Cyc-Auto was, unfortunately, not ready for the day but he surprised us all by turning up on an immaculate 1920 Douglas 3hp flat twin, making a faultless round trip of about 30miles. It was also nice to see new members Vic Bond and Keith Lamprey from North Devon with Keith's early 1936 Cyc-Auto and Vic's newly aquired beautifully original 1956 New Hudson.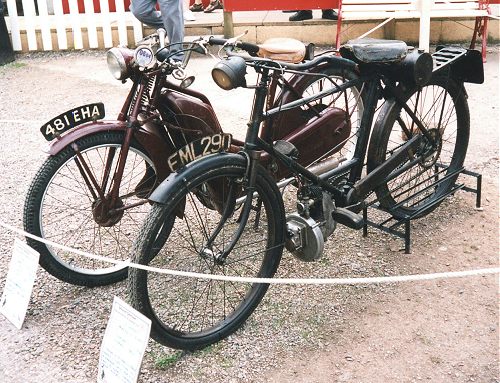 Autocycle beginning and end:
Vic Bond's 1956 New Hudson next to Keith Lamprey's 1936 Cyc-Auto,
photographed at the Devon Section's Display
at Bickleigh on 21 September. [photo: Peter Soper]
Members rode out on a run of 15 miles around the local lanes returning the bikes to the static display. Thanks again to Linda and David Swallow for their help as backup.
A few of us had a walk around the now famous Devon maze (and this year we lost Stan), fast becoming a local attraction and later we all enjoyed a ride on one of the restored diesel trains at Bickleigh Station.
A very enjoyable day, apart from the two trailer loads required to get everything home again. With the usual cry of "I'm not doing this again, this is ridiculous! We should be buying a van!" But we all know we'll be back again next year.
---
First published, December 2003

Go to the Archive index
---