Go to the Archive index
---
Golden Eagle cyclemotor
Frank Auton
Warning: reading Buzzing can be a dangerous occupation!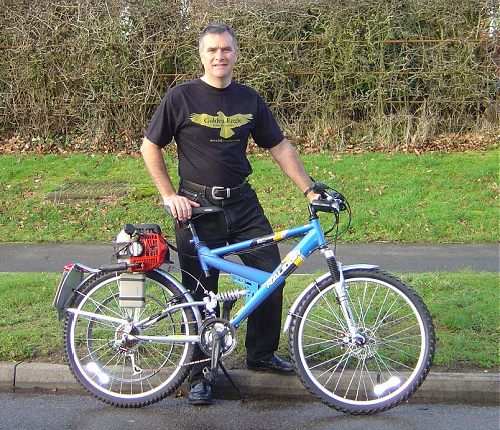 Flying High! Frank Auton with his belt drive Golden Eagle cyclemotor
Last summer reading the colourful June edition of Buzzing I noticed a small item in the Editor's Desk section about an American firm Golden Eagle making modern cyclemotor attachments. Although I always enjoy the relaxed pace of my Coast to Coast Solex, I have often wondered if it were possible to re-engineer the Solex from roller drive to a toothed cam-belt drive. The roller drive is a very inefficient method of transferring energy and the wet weather effect is well known to all. At 14mph on a 100-mile trip you have a lot of time for musing upon such things.
I followed my musing with a visit to www.bikeengines.com and had a look at the laid-back Michigan web site offering high tech Japanese 25cc engines and Kevlar toothed cam-belt drive gear for fitting to mountain bikes. Lots of photos and testimonials of epic Stateside cyclemotoring and I was hooked - this was my 2003 project. With a few clicks of the mouse and a credit card, a Golden Eagle Bike engine was literally winging its way to me.
The engine and fitting kit arrived quicker from Michigan than a second class letter in the UK. Irritant No1: you have to pay UK Customs Duty and VAT adding about £100 to the bill!
I then set out and bought a cheap mountain bike. It is amazing how well equipped and cheap these things are these days. I bought a Raleigh mountain bike with full suspension front and rear and a front disc brake for under £200.
The fitting kit was straight-forward except that the toothed wheel drive ring which fits to the spokes was for a 36 spoke wheel - standard in USA but standard in Europe is a 32 spoke wheel. Before I set to with my drill and hacksaw an exchange of e-mails had a free-of-charge replacement drive wheel with me in days.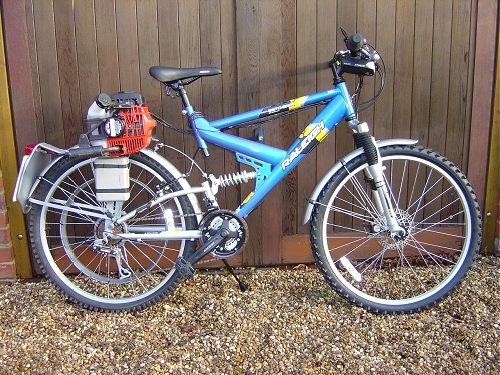 The Golden Eagle cyclemotor
The bike was soon completed and I then started the process to get it on the road. A quick call to the local DVLA office made it sound easy, a form V55, an insurance certificate and an MoT and that's it. Not so - they were out of date. As from June 2003 new regulations are in force which means all new vehicles have to have a European type-approval certificate. Easy for Honda and Ford, but not easy for a one-off hand-built cyclemotor. I rang the Ministry of Transport and amazingly found the man whose job it was to write the regulations for Motorcycle Single Vehicle Type Approval Certification (MSVA). He said no one had asked for them yet and this was a good prompt to get on with it. We discussed the exhaustive list of requirements and we negotiated a few areas in the light of the low powered nature of the vehicle in question. The phrase "but it is only a push bike with a 25cc chain saw motor" was a frequent part of my negotiation!
It transpires that you need to take the vehicle to a MSVA Testing station whose normal job is plating heavy goods and Public Service Vehicles. I made an appointment, paid my £45 test fee and turned up after spending hours fitting the necessary ancillaries. My powered mountain bike caused much hilarity in the queue with juggernauts and buses at the test station. Everyone thought this was a fun diversion and I was confident that I would breeze through. Not so. An inspection taking almost two hours failed my bike on about 15 points. Every type of test equipment was used, weighbridge, dynamometer, sound equipment, rolling road brake testing, light testing, horn testing, power to weight ratios, emissions test and best of all the giant road cone on castors which was rolled around me while seated on the bike to test for sharp edges and pedestrian unfriendly protrusions. Amazingly the only thing they do not do is ride it! I was in despair at the complexity of what was being asked for.
Sensing my dismay we retired to the tester's office as he said it was all new to him and we got out the manual - no doubt written by the man from the Ministry. He did tell me it was unheard of for an amateur built vehicle to pass first time. The requirements were daunting until I fortunately noticed some small print which saved the day. This was a reference to amateur built bikes and a category that Dave Casper alerted me to called "low powered mopeds" (Speed less than 16mph and under 1KW). These two categories allowed dispensation from a mountain of impossible regulations. The fail list was whittled down to six items and then uncharacteristically the tester told me how to simply rectify my bike to meet the requirements.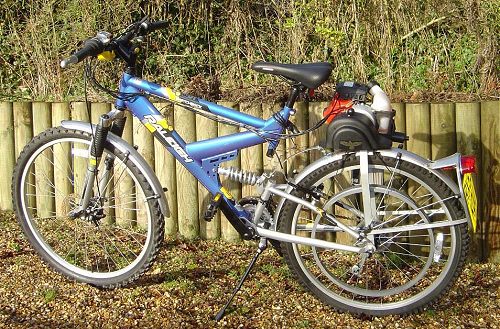 I returned to my shed and fashioned ball ended levers for the brakes out of magic-metal body filler and silver spray paint, glued plastic piping to the offending sharp mudguards and number plate edges, filed the exhaust pipe end to a 27mm radius and best of all found an engraver to etch the name "KOMATSU", the engine maker's name, on the silencer.
In case you are tempted here is a list of what a modern cyclemotor or "low powered moped" needs; a higher powered bike gets into unbelievable complication probably beyond an amateur builder.
Design and construction: thoroughly robust, sound and road worthy construction
Two rear view mirrors
Front white lamp capable of making a beam on the road, no dip beam needed
Rear lamp: red
Rear number plate fixing with white illumination
Stop lights: red, operated independently by front and rear brakes
Ball-end brake levers
Good brakes
Audible warning device: electric not a bulb type horn
Security device: padlock and chain or shackle lock fitted to machine
Side stand
Rear reflector
Pedal reflectors
Speedo: cycle computer type OK but needs to be capable of being illuminated
No external projections
Radio suppression
Noise below 65db at 75% power
Exhaust system needs European approval or manufacturer's name stamped on it
Proof of engine power below 1kW: I used the Japanese handbook downloaded from the internet. Ideally they wanted it stamped on a plate on the engine.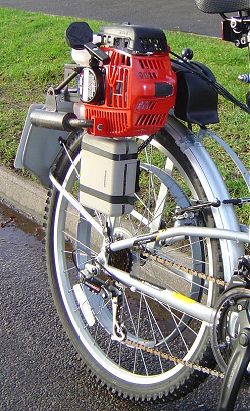 The Golden Eagle's engine unit
A £15 retest fee and another trip to Leighton Buzzard and 15 minutes later I had my official European Motorcycle Single Vehicle Type Approval certificate, my Christmas present to myself.
Next insurance and DVLA. Snag No 2: I rang Carole Nash who insure all of my weird and wonderful selection of bikes and asked for the Golden Eagle to be added to the policy. Impossible! They are now large and computerised and if the call centre operator cannot find the vehicle on their computer database they cannot insure it. Needless to say a Raleigh mountain bike with a Japanese chain saw engine on the back was beyond them. I asked to speak to someone in charge and this was refused. (Just wait until insurance renewal time.) I rang several other insurers and got the same response - despair!
I rang Dave Casper in despair and he confirmed that this was happening more and more often and threatened the existence of one-off or obscure machines. He agreed to have a chat to Footman James who do the NACC insurance. A few days later he rang back and said he had smoothed the way and told me to ring a senior person who knew how to transact insurance without a computer. A very reasonable fee of £45 a year was agreed which would cover all my low powered machines was agreed and I had a certificate in days.
I then filled out the form with help from DVLA as most does not apply to home made mopeds. I sent off all the documents with my £25 registration fee and £15 road tax fee. Within 24 hours I received a rejection. I had to prove that the engine and bike were new. Although I had included receipts for both these did not state "new and unused". I visited my local bike shop who furnished the required paperwork. The project has caused the keen Lycra clad mountain bikers who work there much amusement. An e-mail to Michigan and almost by return I had numerous certificates and authorisations. The project had clearly become a cause celebre at Golden Eagle as in the States you just bolt it on your bike and off you go - anything under three litres doesn't really count as a vehicle!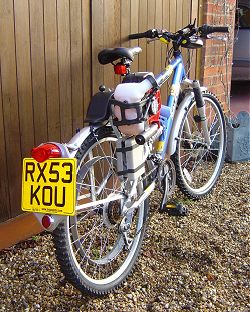 Rear view
At the next attempt I got my new registration number and tax disc and am waiting for it to stop raining long enough to go and try it out properly. A quick illicit test run after completing the construction seemed to indicate a respectable speed was possible on the flat!
The first planned major outing is an attempt to do the 2004 Coast to Coast and back in a weekend - see you there.
Many thanks to Dave Casper and all of the folks at Golden Eagle for making it possible to deliver the first road-legal Golden Eagle in UK - or Legal Eagle as they now are calling it in Michigan!
---
First published, February 2004

Go to the Archive index
---