Go to the Archive index
---
Five go to Rivington
"E Ned Blighter"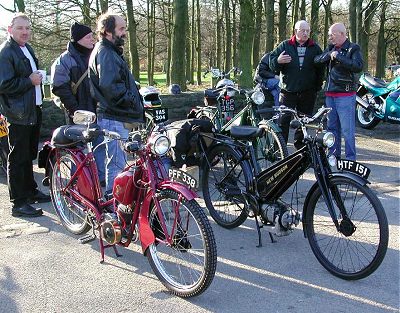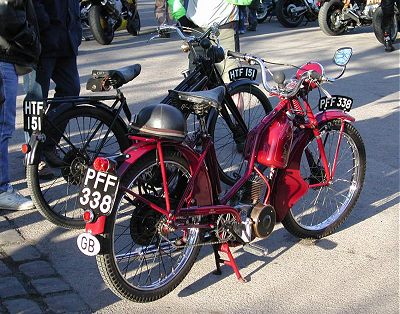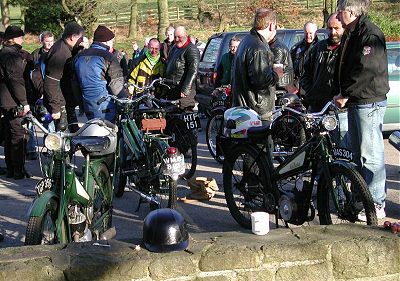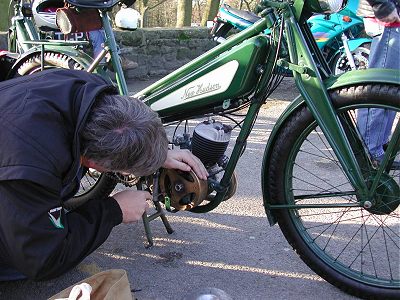 The Five: Andy, Martin, Bob, Geoff, and of course Derek, were last seen in the Summer in the company of "Il Duce" Mad Frank on a weekend of drinking interspersed with long periods of autocycling. When he judged that memories had faded sufficiently, Andy suggested a gentle run up the mountains to Rivington (north of Bolton, Lancs). Derek just smiled and nodded, and the others didn't hear him properly - so the run was on!
Sunday 6th December dawned fine and bright but Bob's steed was none too impressed with the whole affair, shedding a tank bolt and a shoe (well, half a pedal) before mislaying its sparks, while Martin was more spavined than his steed, being in the depths of a particularly nasty cold, which robbed him of much pedalling power.
Geoff's mount (or was it Bob again) entertained the populace with a firework display over the humps in the driveway to the Hall Barn courtesy of a centre stand with weakened return spring. Derek smiled, nodded, and accepted the adulation of his many fans, as his crimson showjumper performed impeccably and took another clear round.
Bob put on a one-man tableau for the onlookers as he played hide and seek with the sparks, and the other endearing local characters stood with mugs of coffee offering helpful advice. There had been some talk of The Five returning to the Drinking Weekend with Cyclemasters in 2004, but when asked about this, Martin answered that he didn't think so, using a pithy and unprintable two-word phrase!
---
First published, February 2004

Go to the Archive index
---