Go to the Archive index
---
Letters to the Editor, April 2004
Dear Paul,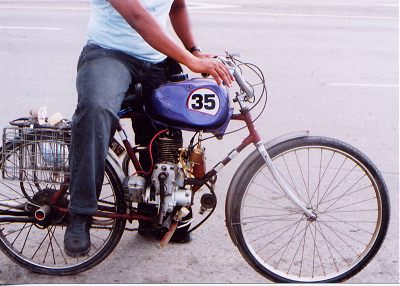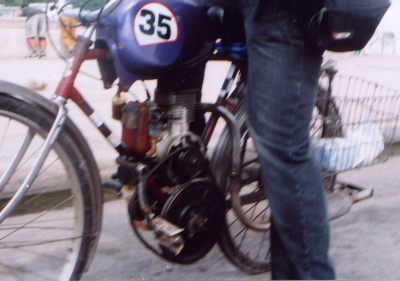 We were in Cuba in September on holiday,and enclosed are pictures [above] of a home made autocycle, no registration number, and even on big bikes you don't have to wear a crash helmet.
Yours,
Michael Carwood (Irish Republic)
---
Dear Paul,
It was nice to see a picture of my Prior in the August Buzzing, and on that subject may I say that as the machine was a result of badge engineering, ie: it is really produced by Hercules of Germany. I contacted the German Hercules Club, who have been very helpful in the five years of my ownership. The club's technical adviser has informed me that he has no objection should anyone in the UK like to make any calls regarding any German bikes and I can assure you that he is very knowledgable. The man you need is Heiner Brinkman, telephone number [from UK ] 0049 217 383 422. He has provided me with a large amount of copied information on the various Sachs engines fitted to these machines.
Please find the handbook for a Scintilla electric bike for inclusion in the Library. I was given one of these by a local Doctor who used it to call on patients, but it didn't live up to his expectations. I scrapped it as it appeared to be one mass of electrical complications to me.
Yours,
Rod Williams
---
Dear Paul,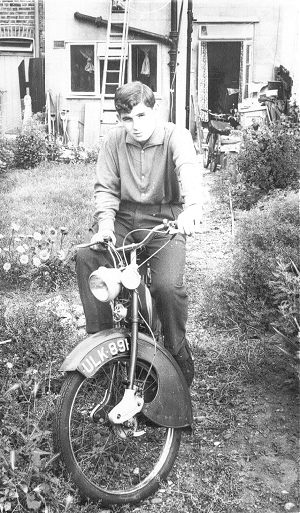 Mark Daniels's article on the Bown 50 brought the memories flooding back - because the Bown was my first powered transport! Made in 1958,it was bought for me for £10 by my father in 1964 - a few months before I was legally able to ride on the public roads. After a bit of fettling (father was a gun fitter in Woolwich Arsenal), I was ready to go on my 16th birthday in March 1965. And wow - the power! Well, compared to the push bike, anyway! Mind you,after a few days,I was 'tuning' the carburettor to see if I could make it go faster!
I recall the Bown as well built, with generally good pulling power for its time. When the time came for a move upwards, I bought a Tiger Cub and the Bown had to go. Sadly, the new buyer ignored all warnings not to start the machine on the centre stand and immediately broke that component - outside our house! I recall an argument along the "I want my money back" lines - he didn't get it!
Shame in a way - I'd love to have the little thing back today. I attach a photo [left] with a view of the front of the machine - now where did all that hair go?
Best wishes,
Richard Workman
---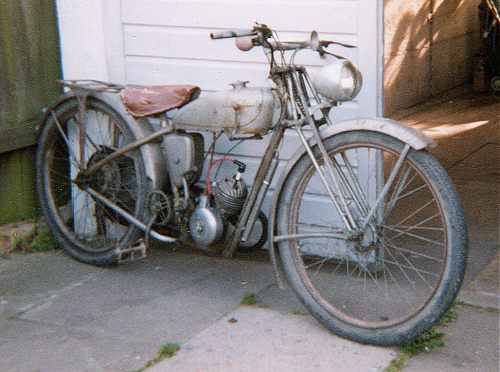 Barrie Portas's Motoconfort Poney
I enclose a photograph of one of my bikes, which was imported from France by an antique dealer. It is in original condition and in running order. The paint and transfers are worn, but too good to restore. The colour is silver grey with red lining. The make is Motoconfort. The en- gine appears to be 50cc Mobylette type with a two speed hand gear change on the tank. It has 24"×2¼" wheels, pedals, a kickstart, flywheel magneto and a nice chrome headlamp. "1948" is stamped on the engine.
Regards,
Barrie Portas
---
Dear Paul,
I enclose a photo [below] taken during a holiday in Sorrento last year. It looks a very neat modern clip-on. However as my Italian conversation was not up to any technical discussions, maybe one of our members could identify it. Maybe next time I go to Italy I will buy one!
Roger Brown
[It's a 35cc Eusebi Bicimotore, sold as a complete motorised bicycle, but according to the Eusebi website it no longer appears to be on the market - Paul]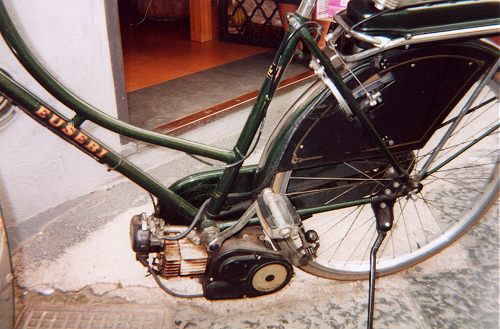 Eusebi Bicimotore
---
First published, April 2004

Go to the Archive index
---