Go to the Archive index
---
Technical Tips
by G Allen
Last year I received a very rusty New Hudson from a late relative, and set about restoring it, starting with the wheels. On speaking to the Spares Secretary the other week he mentioned how hard it was to find and buy good rims for the New Hudson. No where makes the rims, not even cycle manufacturers, so I opted for motor cycle rims, which are wider. Instead of being 47mm wide they are 61mm wide, which fit and make the machine look more robust. I've been told that some of the tyres currently available for autocycles have a tendency to pop off the original rims if you 'throw it about', but they are a perfect fit on these rims. However the width variation means the original mudguards are very tight, if not impossible to fit, but never mind, mine were totally rusted through as well. The company that made the rims and new spokes was Central Wheels Components in Birmingham. Tel: 01675 462264. Hopefully they may have kept the pattern if anyone else is interested.
---
by Alexander Lees
I have recently rebuilt several Raleigh RM machines and excellent machines they have all proved to be. Even took an RM6 to Montlhéry for use as a paddock bike. The RM8 & 9 with the sprung forks are certainly the most comfortable, especially when fitted with the clamp arrangement for the handlebars, ie: you can alter their position by rotation.
You do not have this facility on the RM6 as you have push bike forks with the centre stem for the handlebars. Now,I am only 6ft tall (and perhaps a little overweight!) but I find the frame a little on the small side, especially when on full lock and manoeuvering in traffic. The handlebar ends are pulled back and constantly seem to be in contact with my knees. So on this restoration project I decided to make some alterations, and my problem was virtually resolved for me.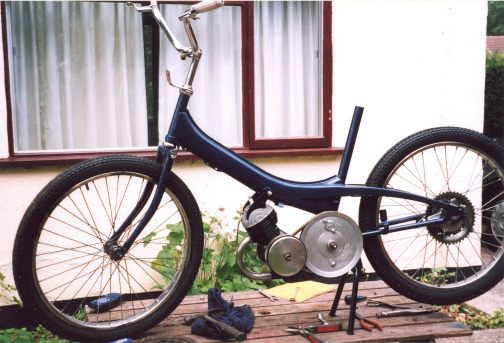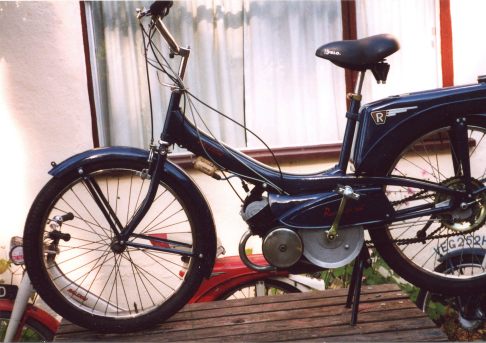 When on my weekly visit to a relative, I spied in a gateway, fly tipped, several old Raleigh bicycle frames and handlebars, etc, from the seventies, I think. I relieved the countryside of this refuse and on reaching home dismantled the frames. The chrome was in excellent condition and with a bit of cutting and shutting, I have what you see in the photographs. Maybe if Raleigh had kept going this could have been the Raleigh 'Easy Rider Runabout' no more knee knocking and it's a lot more comfortable - and all for free!
---
First published, April 2004

Go to the Archive index
---