Go to the Archive index
---
Chinese Takeaway from Ecuador
Nick Smith
My mongrel machine's first visit to the NACC at the Dukeries Run on 12th October left it feeling quite dazed by the interest it created. I sensed a bashful, self-aware pride from it, as many Club members wanted to make its acquaintence and enquire as to its origins.
My partner and I had been backpacking around South America, when, towards the end of the trip, in Ecuador, I saw a motorised bicycle carving through heavy Guayaquil traffic at a very respectable pace, even by fiery Latin American standards of driving. Short of grabbing the pilot around the neck as he flew by, I was not going to get to talk to this guy. Fortunately, I saw two or three more, and intercepted one being used for inner city despatch work. I got a contact address, and three weeks later, on stepping off a plane back from the Galapagos Islands, went on a hectic wild goose chace around the city, leading me eventually back to the importer's warehouse at the airport four hours later, not 20 paces from the aforementioned plane!
The vendor could tell me very little about the whole cyclemotor kit, which came in a cardboard box approximately 18"×10"×6" and weighing 9kg. There is no maker's stamp or identity on the motor. Lettering on the carburettor, inner crankcase, magneto and levers look to be Chinese, though the vendor suggested it was Japanese, probably for the sake of his own sales pitch! Any help with positively identifying it would be gratefully received.
The kit included everything needed: carb, coil, natty little exhaust pipe, throttle, mini locking clutch lever, all cables, a 2 litre fuel tank and mountings to clip under the crossbar, drive chain and rear sprocket which mounts with a rubber cush drive clamped around the left side spokes, leaving the cycle's pedal gears undisturbed for un-engined pedalling. Even the HT lead, suppressor cap and spark plug were included.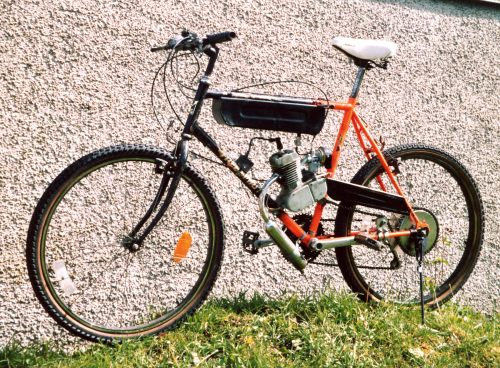 The kit has two concave semi circular mounts cast into the crankcase at approximately 45° angles to each other, in order to sit snugly in any conventional cycle frame, with clamps fixed with four threaded studs. It only took 2 hours to fit, and it a simple pleasure for a mechanically challenged person of my status. And it started straight away! The first ride made me realise that it's a quite capable and torquey little motor, handling its high gearing with my 14 stones aloft, on the level, even at running-in revs. Although it's too high geared to be of any help on a very steep hill, when even frantic pedalling won't keep the engine speed high enough to be in power range.
With a few hours running now snugly under my belt, I fitted wider rims, fatter tyres, and a sprung saddle to absorb the bumps. Oh, yes, and better brakes as the engine is now running-in nicely.
The Specification as per the manual is:
Year of manufacture

2001;

Engine

49.8cc, 2-stroke;

Compression Ratio

6.4:1;

Power

2.2 bhp;

Maximum speed

40-50 kph [25-31 mph];

Transmission Ratio

16.4:3;

Fuel

20:1 pre-mix.
---
First published, April 2004

Go to the Archive index
---