Go to the Archive index
---
Recommendation for the Award of Posthumous Membership of the NACC to Che Guevara
Frank Auton
As part of my holiday reading, I always like to read books linked to the place I am going to, and I read a book about Che Guevara. This book recounts how before becoming a freedom fighter Che was a keen motor cycle adventurer. He travelled all around Latin America on a beaten-up Norton motor cycle. What I did not know was that this all started because of Che's interest in cyclemotors. The following extract describes how a home-made cyclemotor is what stimulated Che's wanderlust. In recognition of this extraordinary discovery about one of the world's most famous Marxist revolutionaries, I propose we award a posthumous 'Lifetime' Honorary Membership to Che Guevara.
Extract reproduced from CHASING CHE - A Motorcycle Journey in Search of the Legend of the Che Guevara by Patrick Symmes, published by Robinson, 2001.
"He [Che Guevara] was restless and believed in doing everything himself. During the summer of 1951, Guevara bought a tiny motor to attach to his bicycle and set off across northern Argentina. This month-long expedition by moped had been something of a lark, an adventure conducted entirely within the orbit of his own world, but it laid a template that I recognised. I'd begun my own wanderings with a few short journeys around New England on my father's tiny Honda Supersport, rides that at the time were meant only as vacations but that began a process I could no longer control. I had learned to travel, to trust in the road and those along it; this was the dangerous lesson that Guevara took away from his moped journey."
The rest of the book describes how Symmes follows Che's journey on his Norton around the South American continent prior to becoming more famous by helping Castro to liberate Cuba.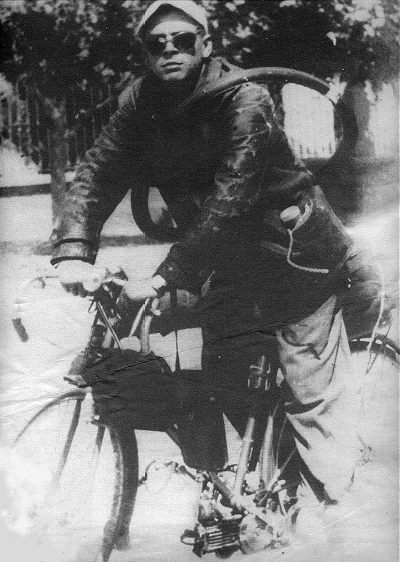 This picture of Che was published in The Independent on Sunday in 1995. It clearly shows a 38cc Mosquito.
---
First published, April 2004

Go to the Archive index
---