The final entry of this year's Coast to Coast, the biggest yet, stood at 49 if we include the Team Zubi-Ondo support driver (non-member) who was punished by occasionally having to ride the Triumph T10.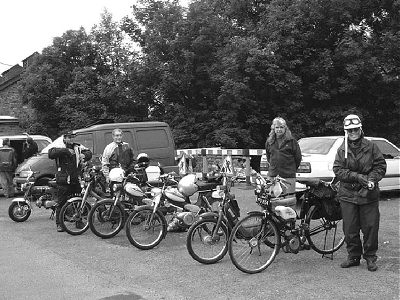 Above: Philippa Wheeler [right],
Dave Stevenson [2nd Right]

Below: Frank Brzeski and Power Pak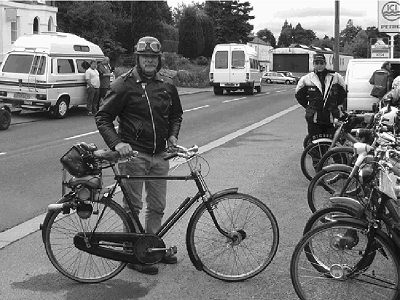 Non-Starters
Of the 49 entrants the following did not start the event:
No 5, Chris Richards, Busy Bee. Chris attended the start of the event but couldn't ride due to ignition problems. He intends to enter the event again next year.
No 4, Chris Price, Honda Express did not sign on and
No 36, Julian Mayne, Suzuki AP 50 withdrew his entry.
Machine changes:
No 3, Frank Auton, due to development problems with the Golden Eagle (a loose rear wheel belt rim). Frank rode his Honda ST70 instead.
No 34, Peter Edgely, rode a Honda 90 and not an NSU Quickly.
Riders:
Team "Just Escaped from the NHS": No 2, John Bailey, Honda Express, only rode to Alston before riding back to High Force to be collected. John has recently had heart surgery so this was his first run out. He gallantly looked after No 31, Barbara Smith, also Honda Express mounted, on her first run out on this machine and first two-wheeled drive since she broke her arm and her leg last year falling off her scooter.
No 7, John Aston set off early at 8:30am on Saturday morning to ride the event in one day on his Puch MS50V. He arrived at Whitehaven in the late afternoon with no problems other than the bad weather - heavy rain from Alston onwards. This caught the rest of the field between the lunch stop and Alston.
Team "Sports Moped Club Men": No 28,Paul Simcox is an NACC member while brothers Brent and Dean Fielder (Nos 29 & 30) took out temporary membership for the event. The three rode from west to east on Saturday. After staying overnight in Whitehaven they rode back to Blackhall on Sunday. Apart from very bad weather on Saturday afternoon and Sunday morning, which the main field mostly missed because of a later start, they had no problems. They send their thanks to the club for "a great event".
Team "With no Name": Nos 33, Peter Rose, 34, John Rose and 35, Peter Edgeley, all from Southport set off on Friday and rode to the start. They then completed the event before riding back home to Southport.
No 37, Mark Shimmin, was unable to ride on Saturday as he was at work. On Sunday he rode his Honda SS50 from Manchester to meet us at Penrith. After riding with the main group for a few miles he then rode back to Manchester.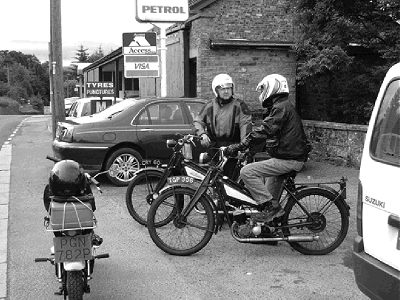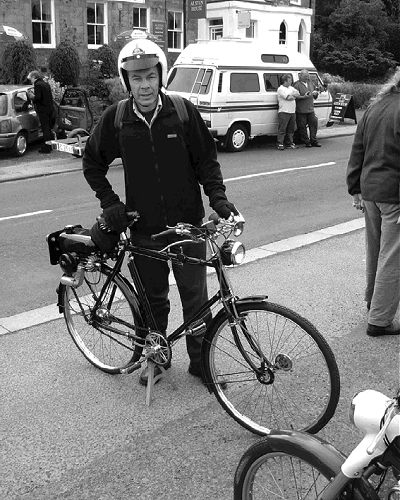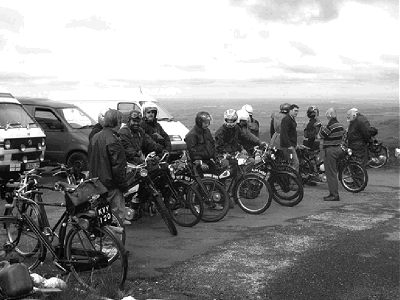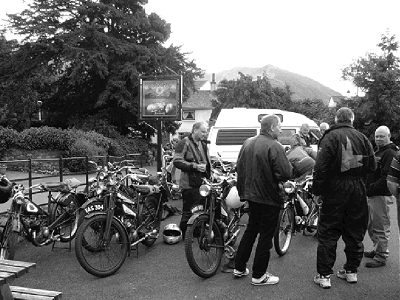 Machines
Amongst the entry were:
4 cyclemotors: Ducati Cucciolo, Power Pak, Mini-Motor and Bernardi.
15 Autocycles: Many of them New Hudsons. At least one James, one Francis Barnett and, unusually, a two-speed Excelsior and a Sun were also present.
22 Mopeds: Puchs and Hondas appear to have been the favoured marques although Mobylettes and an NSU Quickly also featured.
3 Sports mopeds: Garelli, Fantic and the Honda SS50.
2 Scooters: The infamous Triumph Tina and an elegant Vespa ET2.
1 Small Motorcycle: Honda CB100
Teams
The largest team was 'The Black Widows/Back Peddlers' from the Bolton area, all riding autocycles. We're not sure of exact numbers because like a swarm of flies it was impossible to count them as they buzzed past and not all of them seemed to have got round to sending in an entry form. 'Team Granadaland' were probably the next largest team although they were difficult to count because a recalcitrant Mini-Motor with persistent tyre problems on day one spread the team thinly across the field.
'The Rotherham Ramblers' consisted of three lady riders, the fourth on the event being Philippa Wheeler, and an escorting son. No 30, Katy Brown, was the youngest rider on the event this year. 'Team Passe' passe-d by almost unnoticed as they rode to Penrith on Saturday, stayed there overnight, and completed the run on Sunday. 'The Suffolk Racers'", both Puch MS50V mounted, lived up to their name by riding ahead of everyone so that Dave Evans could pose with a leisurely cigarette as the rest of the field caught up.
'Team Zubi-Ondo', named after a cheap and nasty foreign-made adjustable spanner, was aptly named. The said spanner was used regularly to coax a reluctant Triumph Tina back to life. After cheating somewhat by riding a Honda ST50 from Alston to the top of Hartside Pass, Marcus Allard rode the Tina from there to the finish at Whitehaven. By running from Hartlepool to Alston last year and from Alston to Whitehaven this year, the Tina is not only the first elderly mini-scooter to complete the CtC but has also, by taking twelve months, completed the slowest traverse of the Pennines since the wheel was invented.
Hartside Pass Conquered
This year's event, despite the weather, was probably the best yet. Although the event had not really been promoted outside of the club, 2004 saw the best turn out in the event's seven-year history. Notwithstanding the inclement weather, everyone seemed to be enjoying themselves. On Sunday morning I drove up to Hartside passing a long strung out line of riders. Many were flat on the tank as they desperately sought to climb the hill without resource to HPA (Heavy Pedal Assistance). In spite of the rain, many were actually grinning. Then there was the descent, it's almost impossible to pass a moped rider going down the Pass whilst driving a van. I followed Team Zubi-Ondo riders Hugo Wilson and Matthew Pardoe on the downward rush. Both were again flat on the tank, desperately wringing the necks of their mopeds. Hugo, resplendent in his leather jacket and bright yellow 'pudding basin' (courtesy of Davida) was particularly impressive with his feet tucked up on the back of his Mobylette.
Why wasn't I riding my Honda Dream 50 this year? Because I saw the long range weather forecast for the weekend. There's always next year—2005's crossing will take place on the weekend of 18th and 19th June. It would be fantastic to exceed the half-ton of entrants. The organisers are also keen to have someone film the event. If you have any contacts please get in touch.